[Opinion column written by OBA MP Nandi Outerbridge]
During the past few months Bermudians from a variety of backgrounds have reached out to me wanting to talk about issues important to them.
Three of the most frequent questions I am asked are: Why did you get involved in politics? What has been your biggest obstacle or the hardest part about being involved? And how do you stay involved?
I got involved in politics because of two main things. Firstly, when I became a mother, I realized exactly what I was put on this earth to do. And that was to nurture and protect my son.
When my son was born my outlook on life changed overnight. My primary concern was how to safeguard his future when I'm no longer around. My family of children has now grown to three nephews and nieces as well as godchildren.
I felt compelled to get involved in steering my country in the right direction and to fight for current and future generations. I came to this realisation around 2010 – the same time as the peak of gun murders in Bermuda.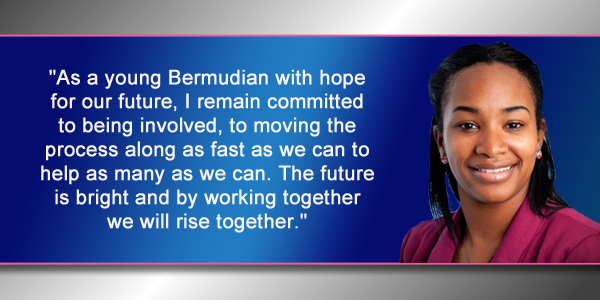 Which is the second reason I threw my hat into the political arena. As an 80s baby, my generation's coming of age coincided with the spike in gun murders.
Being the mother of a young black son, this worried my greatly. I saw the destruction of our community as friends, classmates and even family members, almost exclusively young black men, were killing each other in the streets.
I had to do something but what? How could we stop the carnage and devastation wrought on the black community? I didn't dive into politics with the sole intention of taking the guns off of the streets and stopping the killings.
My motivation was to be a voice for the voiceless. To show my contemporaries that they can make a difference. That they can be anything they want to be. I had to demonstrate that there is hope for our generation who have always felt ignored.
I realised that, as has been said before, we can't arrest our way out of this problem. We needed to engage our young men with compassion in open and honest dialogue and provide them with opportunities.
As Dr. Martin Luther King said, "Darkness cannot drive out darkness; only light can do that. Hate cannot drive out hate; only love can do that."
What has been my biggest obstacle since being involved in politics? The process!
When I first became a Member of Parliament I thought things could be changed overnight and had a list to implement ASAP.
I was determined to create a scholarship program to help children eager to learn but who couldn't afford to go to college or compete with the top students.
I wanted to end social promotion in schools and re-establish a trade school. I wanted to create a programme for college students to have internships arranged at businesses before they returned from school.
I wanted to help struggling single mothers find jobs that were flexible but still paid enough to make ends meet.
Decriminalizing marijuana was and remains high on my agenda. Far too many Bermudians, particularly young black men, have been criminalised for far too long. I am glad we are making progress in this area.
These are just a few of the things I wanted to fix. As I have learned during the past four years, there is a process to be followed.
Committees need to be established to make decisions on scholarship programmes, public consultation is required on cannabis decriminalization. Employers need to be consulted on flexible work hours and student employment opportunities. Legislation and policy needs to be written, reviewed and revised. And so on.
What I have learned is following the process requires patience.
When my friends contact me because they are struggling or looking for a quick fix to a problem, I explain what we are working towards and that it's going to take patience and their partnership as we work through the process.
My commitment going forward is to let people know what we are working on and that everything we do is for the benefit of all Bermudians.
Another frequently asked question is "what keeps you involved?"
Every day I see progress. After many years of economic contraction, we have finally turned the corner. The economy is growing, investment and jobs are returning. Opportunities in many sectors are there for the taking and Bermuda's future is promising.
Are we there yet? Clearly not as there are still too many struggling, unemployed or underemployed.
Many Bermudians are frustrated with the partisan politics, including myself. Putting political point scoring above serving those who elected us only leads to cynicism and disengagement.
My message to fellow Bermudians is this: Governing is not an easy task. When trying to effect change obstacles always appear. But together, in the spirit of partnership and cooperation, we will continue to move Bermuda forward.
As a young Bermudian with hope for our future, I remain committed to being involved, to moving the process along as fast as we can to help as many as we can. The future is bright and by working together we will rise together.
- Nandi Outerbridge

20 Most Recent Opinion Columns

Opinion columns reflect the views of the writer, and not those of Bernews Ltd. To submit an Opinion Column/Letter to the Editor, please email info@bernews.com. Bernews welcomes submissions, and while there are no length restrictions, all columns must be signed by the writer's real name.
-
Read More About