[Updated] The PLP has announced that Kim Swan will be their candidate for Constituency #2 St. George's West in the upcoming general election.
Mr Swan is a former MP and the former leader of the United Bermuda Party, however  he joined the PLP in 2014.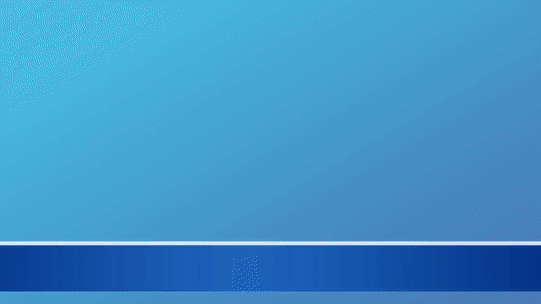 The seat is currently held by the OBA's Nandi Outerbridge, who won 38.69% [359 votes] in the 2012 General Election, with the closely contested seat seeing a three way race with the PLP's Renee Ming earning 38.25% [355 votes] and Kim Swan receiving 23.06% [214 votes] while running as in Independent.
Mr Swan, who was the incumbent in 2012, ran as an Independent after the UBP officially dissolved following the merger with the BDA to form the OBA; while Renee Ming stepped in as a candidate a few weeks before the election after the original candidate stepped down.
Results from Constituency #2 St. George's West in the 2012 General Election: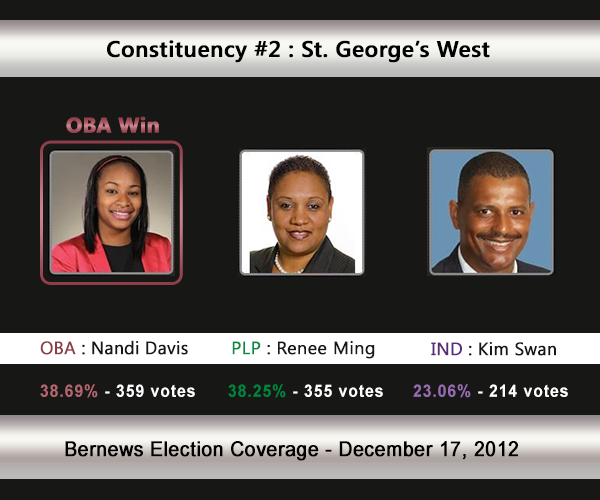 The General Election has not yet been called, however both parties seem to be moving into election mode, and this is the second candidate announcement, following after the confirmation earlier this week that Senator Renee Ming will be the PLP's candidate for Constituency #1 St Georges North.
The announcement has just concluded, and we will have photos and additional information later on, and in the meantime, the live video replay is below.
The 18-minute live video replay is below:
Update 3.38pm: Speaking at this afternoon's announcement, Opposition Leader David Burt said, "I am delighted to spend another beautiful day this week in St. George's, the birthplace of Bermuda politics, to present the Bermuda Progressive Labour Party's next candidate for the general election.
"It is with great pleasure that I introduce the PLP candidate for Constituency 2: Kim Swan.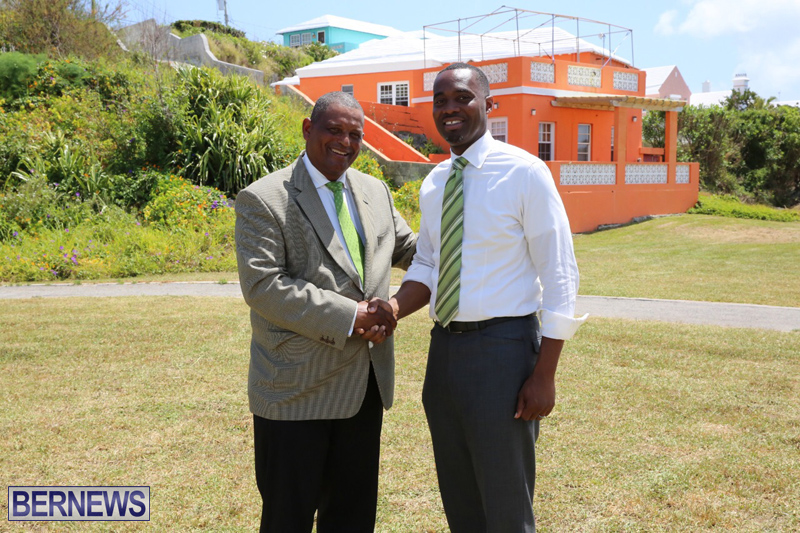 "Kim's relationship to St. George's has many levels. He has called St. George's home for many years. He is committed to its well being and is a constant presence at community events.
"Most importantly, he has represented this constituency in the House of Assembly and represented it well. Many know Kim as I do, as a man who perseveres; a man who is passionate about the people he seeks to serve; a man who does not tire; a man who does not give up when others do.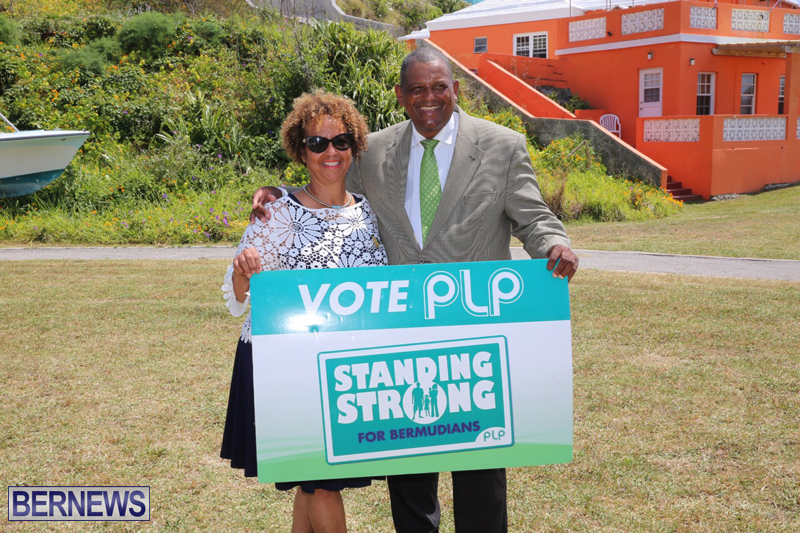 "In many ways, Kim demonstrates exactly those attributes which saw him become a trailblazer for Bermuda in golf. He was the first Bermudian to compete on the PGA European Golf Tour. He won two NCAA collegiate golf championships. Like a true sportsman, he knows how to compete with dignity; he knows how to fight honourably; and he knows how to win with humility.
"Kim is a seasoned representative for the people. He has an admirable track record of serving his country as a Senator and as an MP. He has spent hundreds of hours knocking on doors, listening to constituent concerns, resolving problems and directing people to resources that could help them.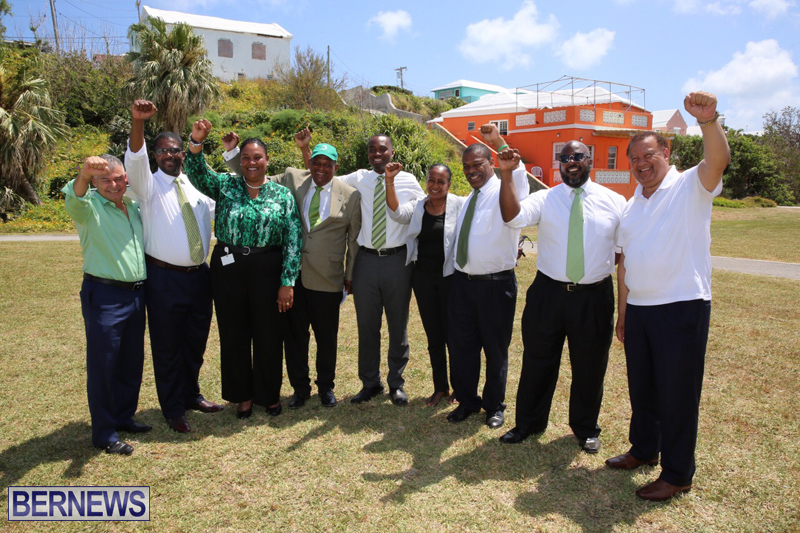 "It is this passion for service and this dedication to helping his fellow Bermudians that makes Kim qualified to represent the people of Constituency 2 in the House of Assembly.
"Kim's past found him standing across the aisle from the PLP, but his enduring commitment to the people gave us cause to wholeheartedly embrace him and he has proven to be committed to the PLP's vision of a just and fair Bermuda society.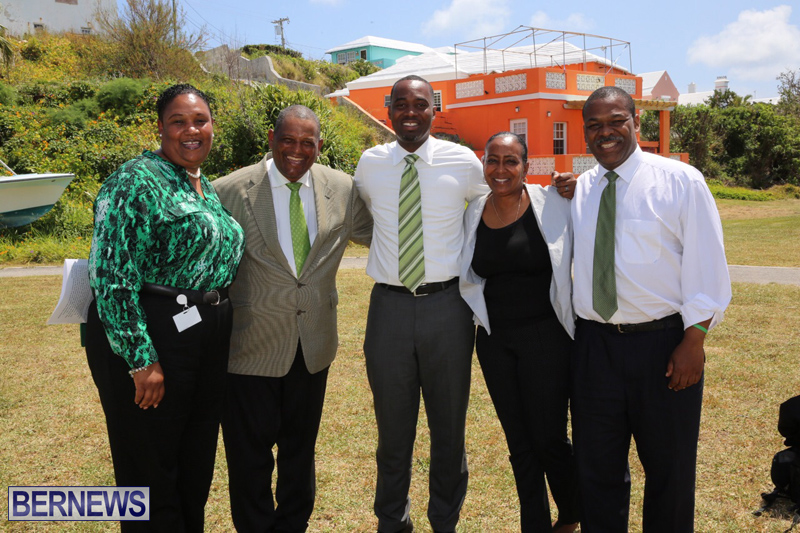 "He has never forgotten where he came from or how he got to where he is now. He is equally comfortable engaging with a St. George's centenarian as he is coaching a teenage golfer. Kim connects where it counts – with people's needs – to make our community a better place for all.
"Kim Swan is here to do the people's business in Constituency 2. Not his business; your business. His familiar name on the ballot paper shows perseverance and dedication; it shows experience, it shows knowledge, and it shows a true servant of Bermuda."
Update 6.05pm: Kim Swan's full statement follows below:
Good Afternoon Party Leader, Mr. E. David Burt, PLP Constituency #2 Executive and Branch, Family, Friends & Media gathered today.

I am both humbled and honored to be here today, having been selected as the candidate for the Bermuda Progressive Labour Party in Constituency #2 – St. George's West.

As is the case at every Progressive Labour Party meeting I have attended since 2014, I pray to God Almighty for the wisdom, guidance and strength to serve our community and country to the best of my ability.

Notwithstanding that my political journey took a longtime to bring me to the PLP, it would be remiss of me if I didn't acknowledge persons who have long encouraged me to join the PLP. Judy Jones, Thomas Paynter, Gregory 'Brutus' Foggo, Sharon Tyrrell, Eugene Wainwright, Bootsie Wolffe, Glen 'Poochie' Blakeney, Chris Famous and Leroy Riley; you are persons I must single out for believing in me as a person and encouraging me to join the PLP. They were the ones along with our former Leader, Marc Bean, who encouraged me to join the PLP and make a political contribution standing on a solid foundation. I am grateful to all for being welcomed with open arms.

In addition, I must also single out the many good people I have long admired within the PLP – my cousins Reg Burrows & Stanley Morton, Captain Neville Darrell, Cromwell Shakir, Cal Smith, Ottiwell Simmons, Walter Lister, Former Premiers Alex Scott & Paula Cox and of course the late Dame Lois Browne-Evans.

As an adopted St. Georgian I am most appreciative of the persons of this constituency who have become my family – Lydia Foggo, Winslow 'Bronkie' Minors Kathleen Brangman, Aunt Betty Smith, Perry 'Mr. P' Simons of Wellington Slip Road, along with my actual family in this constituency-The Postlethwaite Family, Wilkinson Family & the Hall Family.

To the good people of St. Georges West, Const. #2, I on behalf of the PLP, respectfully seek your support in the upcoming General Election. I pledge to be accessible and responsive to your concerns.

As your Progressive Labour Party Member of Parliament, the issues of our constituency will remain on the front burner. Our team will address the restoration of the St. George's Golf Course, and coastal erosion along Mullet Bay. We will support all education institutions especially those in St. George's, such as East End Primary, St. George's Prep, St. David's and Clearwater Middle School by focusing on educational, cultural and social development. We will provide solutions to those residents calling for a pipeline providing potable water to households west of Khyber Pass, St George. And I will work with the Mayor and Corporation of St. George to ensure the Towne of St George's is restored to a vibrant working town.

In support of the PLP Vision 2025, I will work to ensure greater economic activity is created in St. George's and that Bermudians are given precedence in selection for these jobs.

I will assist in ensuring that residents of St George's feel safe and secure in their homes and that our community is regularly policed. I will show a commitment to our young people by partnering with St George's Cricket Club, local churches and community organizations to support and enrich our young people in St George's.

I cannot stand here today and not acknowledge my teammate who was unveiled on Tuesday as the candidate for St. George's North, Senator Renee Ming. I congratulate Senator Ming on her candidacy, and together we pledge to work on behalf of all St. Georgian's. The PLP Team for St. George's is committed, dedicated and passionate about our community, and we offer ourselves to you.

Ladies and gentlemen, in addition to the issues mentioned above and any other issues that may arise, the people of St George's West can count on me to be their humble servant – I will work for you!

With the help of you, the constituents of this community, we will work to provide you with the representation you deserve; as your PLP MP in waiting, the work has already begun connecting with you on local and national issues.

I will be your voice.

To our Hon. Leader David Burt, I stand with you and your competent Parliamentary team and I applaud you all for the great job you have done this Parliamentary session holding the feet of this callously insensitive government to the fire.

People of St. George's West and Bermuda, the hour has come for us to lock arms and walk in step on behalf of marginalized Bermudians …… we must provide assurance to Bermudians in desperate need of good leadership that we will put their needs – the needs of our Bermudian people – first and foremost.
Read More About