The OBA officially announced two of their election candidates for St George's at a press conference this afternoon [June 8], with Nandi Outerbridge for Constituency #2 and Kenneth Bascome for Constituency #1.
As the PLP has already announced their candidates for St George's, this marks the first officially confirmed matchups for the upcoming election, with Kenneth Bascome to run against Senator Renee Ming in #1, while Nandi Outerbridge will run against Kim Swan in #2.
The east end, which unlike some other areas that are considered 'strongholds' of certain parties, has a history of electing MPs from various parties, so will be widely watched in this election.
This is OBA's third set of candidate announcements, following after their five Warwick candidates being named; Nalton Brangman for Constituency #24, Jeff Baron for Constituency #25, Robyn Swan for Constituency #26, Sheila Gomez for Constituency #27, and Jeff Sousa for Constituency #28.
The OBA have also confirmed four of their candidates for Pembroke, with Andrew Simons in Constituency #17, Nicholas Kempe in Constituency #18, Jeanne Atherden in Constituency #19, and Susan Jackson in Constituency #20.
The PLP has also announced four election candidates so far; Senator Renee Ming for Constituency #1 St Georges North, Kim Swan for Constituency #2 St. George's West, Rev Dr Ernest Peets as the candidate for Constituency #10 Smith's North and Senator Tinee Furbert in Constituency #4 St George's South.
The Election has not yet been called, however both parties are in election mode, and with the No Confidence Vote scheduled to take place this Friday in the House of Assembly, some people have been speculating about whether the election will be called in advance, however as of this time it has not been called.
The OBA's Kenneth Bascome is the incumbent in C#1, having won with 51.62% of the vote in the last General Election. The results from C#1 in the 2012 election are below, and the PLP has already confirmed that Senator Renee Ming will be their candidate for this area.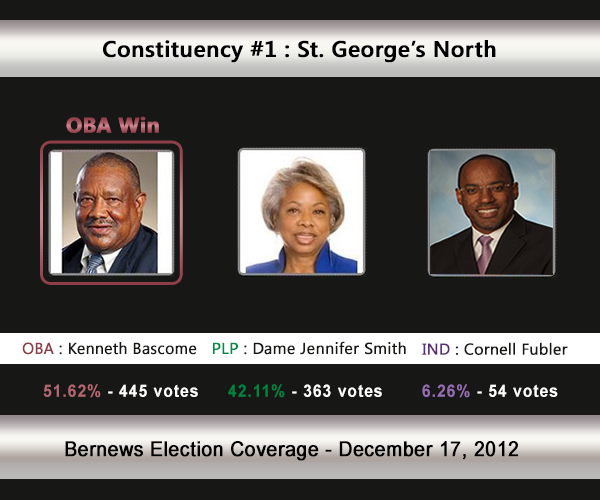 The OBA's Nandi Outerbridge is also the incumbent in the seat she will contest in the upcoming election, having won with 38.69% of the vote in 2012, winning by a 4 vote margin.
The results from C#2 in the 2012 election are below, and the seat will see somewhat of a rematch, with the PLP having already confirmed that Kim Swan, who ran as an Independent in the last election, will be their candidate for this constituency.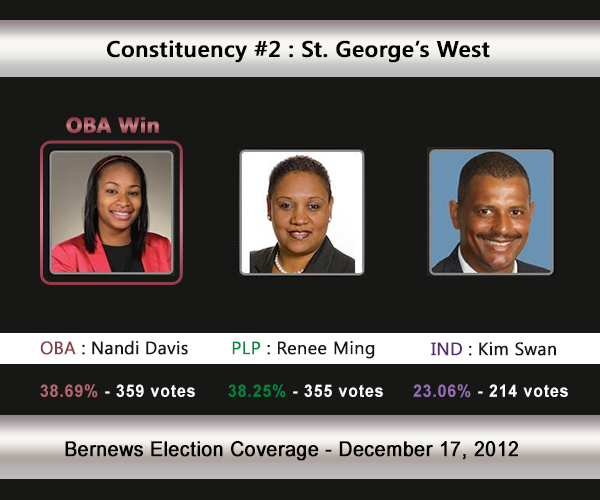 Read More About