On Monday the Department of Youth, Sport and Recreation hosted its second Youth Parliament Roundtable, with the Minister of Social Development and Sports Nandi Outerbridge and members of Youth Parliament Bermuda.
The discussion focused around preventing domestic violence in Bermuda, the legal rights of a child under Bermuda's Laws, and the importance of sport and recreation in the lives of young people.
Photo: Ariana Caines [Youth Development Officer – Policy ], Alfred Maybury [Youth Minister of the Environment, Saltus], Théo Wolffe [Youth Premier, Warwick Academy], Taj Donville – Outerbridge [Youth Speaker of the House, Berkeley], [front] Olivia Washington [Dep Youth Clerk to the Legislature, Saltus], Natalie Lightbourne [Youth Clerk to the Legislature, Saltus], Minister Outerbridge, Youth Opp. Leader: Ajai Peets [Saltus], Halle Teart [Dep. Youth Premier, the Bermuda Institute], Veronica Swan – DeGraff [Youth Shadow Minister of Tourism & Recreation, the Bermuda Institute], Courtney DeGraff [Youth Development Officer – Policy]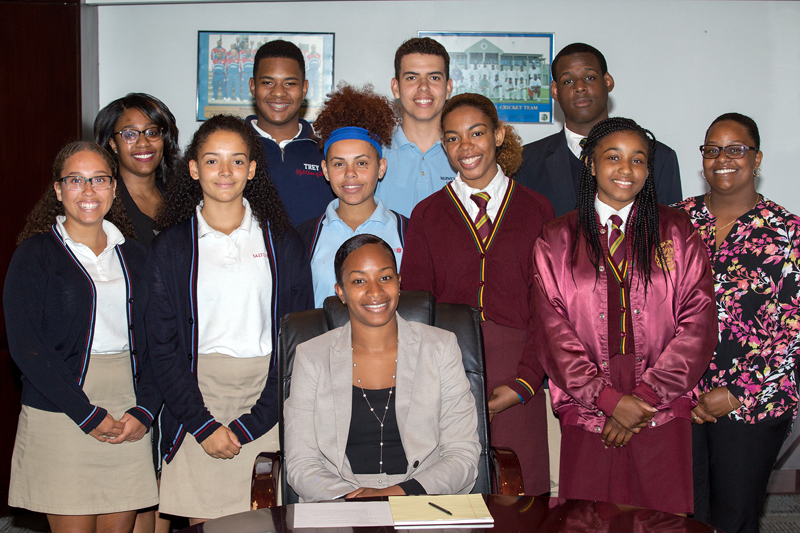 Deputy Youth Premier Miss Halle Teart commented to the Minister that sports in Bermuda offer a positive "outlet" for youth, and should be used to help reform those engaged in anti-social behaviour, instead of exclude them.
When asked if the sporting opportunities offered to young people are diverse, the Youth Parliamentarians answered, "yes," however the Youth Premier Mr. Théo Wolffe observed that opportunities can be limited for many Bermudians due to financial strains.
The Minister and the Youth Parliamentarians all agreed that initiatives like the Endeavour Programme help to make sports accessible to all.
"I was extremely impressed at how enthusiastic and knowledgeable the Youth Parliamentarians were about dealing with and discussing these issues," said Minister Outerbridge.
"They didn't shy away from offering their thoughts, suggestions and concerns, and I listened with great interest to what they had to say. Who best to discuss the issues affecting our youth than our youth themselves?"
The Youth Parliament Roundtables were created to allow Youth Parliamentarians to speak with Government Ministers about areas that directly affect Bermuda youth.
The first roundtable event, with Minister of National Security Sen. the Hon. Jeff Baron, focused on the issues of Gang and Gun Violence and was held in March.

Read More About