Yesterday [Apr 30] Minister of Community, Culture and Sports Wayne Scott was the invited guest speaker at the closing session of Bermuda Youth Parliament.
Minister Scott was joined by fellow Parliamentarians from both sides of the House in offering their congratulations to the students for their exemplary community service as Youth Parliamentarians.
MPS in attendance yesterday included Michael Scott, Kim Wilson, Michael Weeks, Walton Brown, Derrick Burgess, and Senators Jeff Baron; Alexis Swan and Marc Daniels were also in attendance.
Minister Scott with members of Bermuda Youth Parliament 2013-14: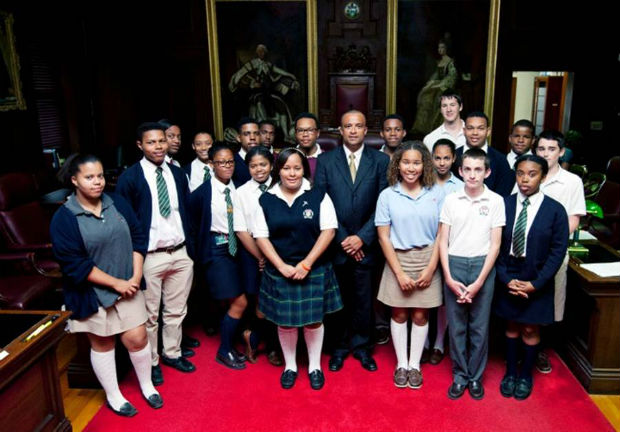 Youth Premier Kennedy Middleton's full speech follows below:
"After a successful year of debating, discussing, and challenging the issues, topics, and ideas relevant within Bermuda's communities, the 2013-2014 Youth Parliament term must come to a close. I began the term by promising on behalf of the Youth Parliamentarians that as a collective we would go to war with the issues plaguing Bermuda.

"My honorable members analyzed, debated, and discussed the challenges they felt affected every aspect of Bermuda as a whole. Mr. Speaker, members did not cower at the sight of our country's issues; they tackled those challenges by creating solutions they deemed appropriate and most efficient.

"Through our formal debates and discussions, Youth Parliamentarians had the privilege of fostering new relationships and forming understandings concerning differing ideological perspectives. Youth Parliamentarians offered fresh, unbiased solutions as their political perspectives developed.

"We cannot solve our problems with the same thinking we used when we created them," stated intellectual Albert Einstein. As our members evolved, they also gained enough experience to propose innovative ways of thinking that could eventually help in solving certain problems.

"As a voice not just for Bermuda's youth but for all citizens, Youth Parliamentarians fought through formal debates for changes concerning the environment, religion, international business, and education.
Our first formal debate, as discussed in my throne speech, allowed us to begin the term by recognizing the effect one factor of our country has on another.

"The motion, "This house believes that a marine reserve should be implemented in Bermuda's Exclusive Economic Zone," drew an encouraging response from politicians, press and the debate judges.

"Members of Youth Parliament were able to draw a deal of inspiration from the likes of Reverend Tweed, Senator Rabain, MP Burgess, and MP Roban for our second formal debate, "This house believes that religious based opinions should be minimized when laws regarding morality are to be debated."

"By the time our third formal debate rolled around, Youth Parliamentarians were experienced enough to argue in a more serious debate. The motion, "This house believes that International Business is stifling growth in Bermuda," caused Youth Parliamentarians to conduct extensive research and really analyze international business and its growing affects on Bermuda and other countries.

"Our final and most powerful formal debate, "This house believes the Government should amend the financial budget by increasing the funds towards scholarships," drew heartfelt responses and arguments from both government and opposition. Youth Parliamentarians felt they were directly affected by the government's decision and voiced their concerns, opinions, and personal thoughts throughout our healthy debate.

"Throughout the year, members took part in numerous discussions, not including those in my throne speech in relation to the urgent care center, the justice system, and trade schools. Open discussions included:

Bikes charged for parking in the city of Hamilton
Gender issues pertaining to the sexual age of consent
The role between church and state, which also became a formal debate
The rights a women has involving abortions
The Death Penalty

"Former President Ronald Reagan ironically stated, "The greatest leader is not necessarily the one who does the greatest things. He is the one that gets the people to do the greatest things."

"Mr. Speaker, this sounds exactly like something Reagan would say nearing the end of his second term, however he is correct. It's not about the great things us as Youth Parliamentarians have done because our sole purpose is to inspire those coming behind us. What matters the most is whether or not we've made enough of a difference in the lives of other Bermudian youth and have encouraged them to do and be better than us.

"The Youth Parliamentarian's mission to inspire and encourage was in full effect during Bermuda's Commonwealth Day 2014. 35 students from the high schools gathered at XL on Monday, March 10 to take part in a Youth Summit. The event promoted the theme "Team Commonwealth." The youth summit was an opportunity to promote the understanding on global issues, international co-operation, and the work of Commonwealth organizations, which aims to improve the lives of citizens.

"As Youth Parliamentarians, we made a promise to dedicate ourselves to efficiently represent and to be the voice of our peers and our schools. As the 2013-2014 term comes to a close, we must continue to do just that. Although Youth Parliament is over, our jobs are in no way done; we've only scratched the surface of our capabilities and, as we grow and develop, I hope to see you, my honorable members, continue to do extraordinary things.

"On behalf of all of my fellow Youth Parliamentarians, I thank you for coming to our closing ceremony. We will remain committed to being a voice of our generation and look forward to being a voice our current elder Parliamentarians can look toward for meaningful and insightful opinions on current topics facing Bermuda today.

"I now declare the 2013-2014 session of Youth Parliament closed. Thank you, Mr. Speaker."
-
Minister Scott's full speech follows below:
"Good afternoon Mr. Speaker and my fellow parliamentarians.
It is indeed a pleasure to be invited by this Honourable House to address you at the commencement of this session of the Bermuda Youth Parliament.

"I can recall the first time I walked into this House as a newly elected Member of Parliament. I was anxious and definitely inspired by stepping into this stately chamber. For in this House, I knew myself, and the other members were here because of the hard work we did to get here. And we knew there was more hard work to come.

"This is the House of Assembly; the Lower House, up on the Hill. This is the place where, contrary to what some people believe, the business of managing and leading Bermuda is conducted. Whether a member is part of Government or the Opposition, this House is where the elected Parliamentarians meet to do the business of the people of Bermuda.

"This is my second year in office and it has been a privilege to serve with all of my colleagues on both sides of the house. There is never a dull moment.

"What I do believe is that we, on both sides of the House, want to strive for raising the level of debate. Admittedly, sometimes politics gets in the way and we fall in to dissension and contentious sparring across the floors. At which point, we get admonished by the Honourable Mr. Speaker Randolph Horton. As sitting Members of Parliament, we must remember that dissenting views and plausible arguments have their place in healthy debate.

"I hope that in your time here as a member of Youth Parliament, you have grasped that concept. I trust that while you researched and prepared for your debates, you have learned that in this House we should be about delivering quality and effective debate on subjects that directly affect the electorate.

"Our role as Parliamentarians is to serve the people and to be here to do their business and make sound judgments and deliver laws and policies that improve the quality of life for all Bermudians.

"I am sure you have also learned that this House is also a place of decorum and protocol. By now, you've experienced the orderliness and dignity that is inherent to our Westminster democratic parliamentary system of government modeled after the politics of the United Kingdom. The tradition is filled with procedures for operating a legislature with dignity and formality.

"These rules of the House can sometimes be daunting, but now that you are mastering them, I hope you've come to value how this effects how we should accomplish doing business for the people of Bermuda. I have found that it is no easy road for those of us who appreciate and even enjoy politics, debate and serving people. It is definitely a balancing act but the rewards of seeing your efforts bringing change and new opportunities for Bermuda make it all worth it.

"I hope that you have truly enjoyed your experience in Youth Parliament and that it has lighted a fire within you and inspired you to return next year or in years to come and serve our beloved Bermuda and her people. As Youth Parliamentarians, you should be proud of your contribution to this extracurricular programme. You could be off doing so many other things but your passion and desire to take on tough debates will only enhance your future endeavors.

"Thank you for your service and I wish you the very best."
-
Read More About
Category: All