The 2017 Central American and Caribbean Swimming Confederation Championships [CCCAN] is being held in Trinidad from June 28th to July 2nd, and Bermuda has a team of 16 swimmers competing at the Championships and they have won 17 medals in the first 2 and 1/2 days of competition.
Payton Zelkin, Elan Daley, Jessica Bruton, and Taylor White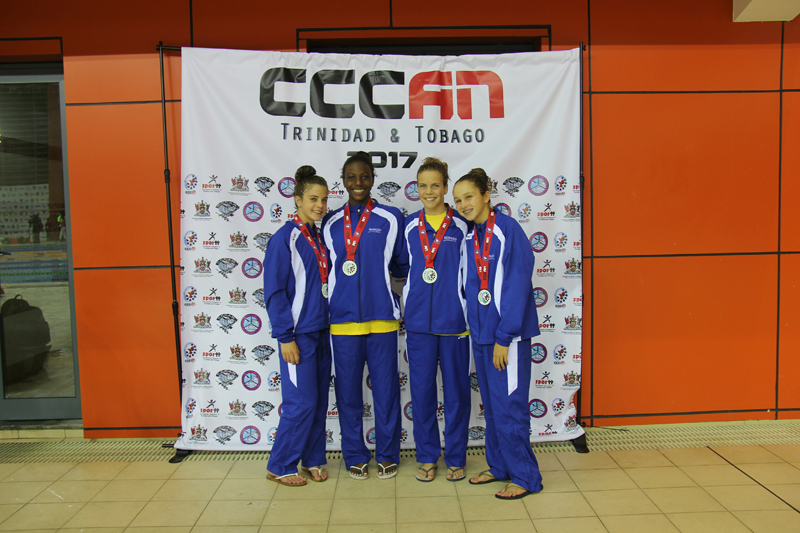 A spokesperson said, "Bermuda Swimming has a team of 16 young swimmers participating in the 30th installment of CCCAN. There are 21 countries from the Caribbean, Central America and South America competing at the Championships being held com June 28 to July 2nd.
Payton Zelkin, Sam Williamson, Finn Moseley, and Elan Daley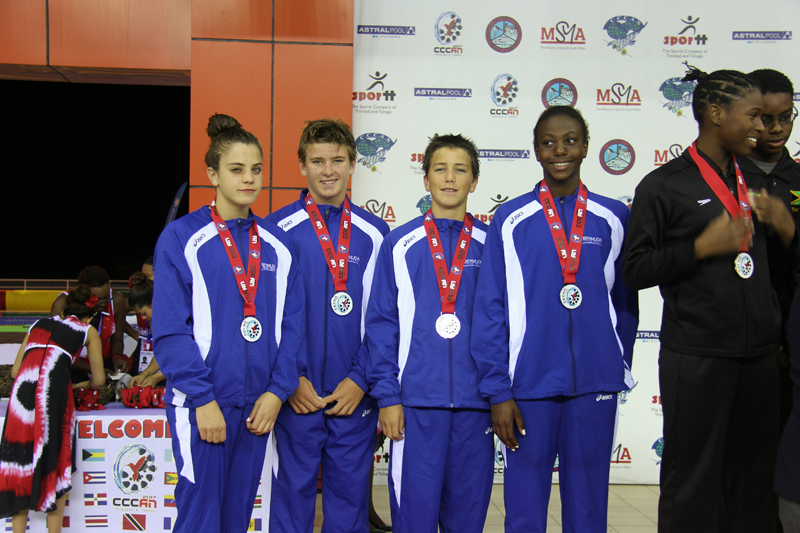 "Over the first 2 and 1/2 days of competition BERMUDA stands in 6th places on the point table after winning 17 medals. Payton Zelkin started the medal haul in the 200 breaststroke where she placed 3rd getting the bronze with a significant personal best. She was followed by Sam Williamson with his gold medal in the 11-12 200 breaststroke.
Sam Williamson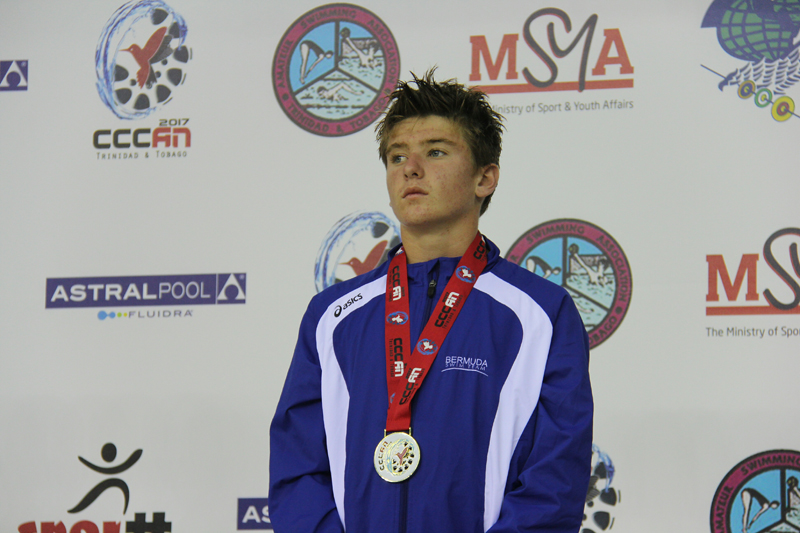 "In the 50 backstroke 11-12 girls we captured gold and silver with Payton Zelkin taking gold and Elan Daley taking silver. Logan Watson-Brown was up next with her silver medal in the 13-14 50 back. We next shifted to the 100 fly where Elan Daly struck again with a silver medal where she also set a CCCAN record in the preliminaries. We finished the day with the 4×50 mixed freestyle relays. This is an exciting event where we get to combine 2 girls and 2 boys in the event. Our 11-12 team of Elan Daley, Payton Zelkin, Finn Moseley and Sam Wilson set the CCCAN record in the morning but were beat out in the finals and settled for silver. Our 13-14 team of Keagan Woolley, Brian Desmond, Logan Watson-Brown and Gabriela Pitman had a very strong race and took the bronze. It was exciting to have first time medalist in both of these relays.
Jesse Washington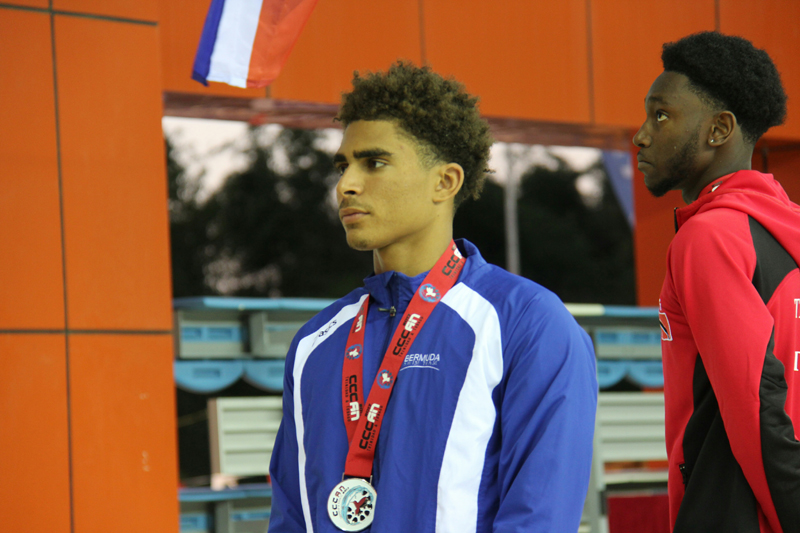 "In the next full session we started with the 200 free where our dynamic Duo continued their winning ways with another 1-2 finish with Payton first and Elan second. Next was the 50 fly where they finished 2nd and 3rd with Elan on Silver and Payton on Bronze. Sam Williamson kept the momentum with his silver for boys 11-12 50 fly. Jesse Washington was back on form with another silver while lowering his record.
Gabriella Pitman, Logan Watson-Brown, Keagan Woodley, and Brian Desmond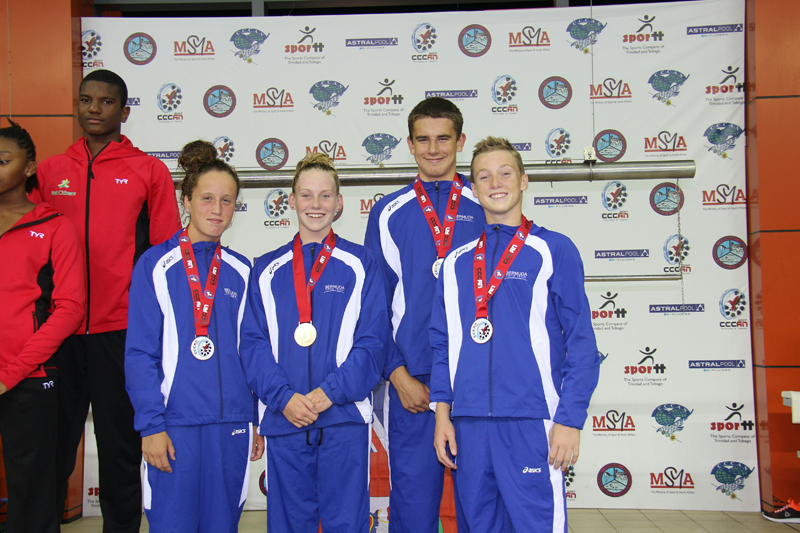 "The 100 back saw Elan team up with Taylor White to take more medals with Elan in the gold position and Taylor taking bronze. We finished the night with the girls 11-12 4×100 free relay Payton Zelkin, Jessica Bruton, Taylor White and Elan Daley lead wire to wire for Bermuda gold.
"With 2 more days of competition we are looking for continued strong results."
Elan Daley and Taylor White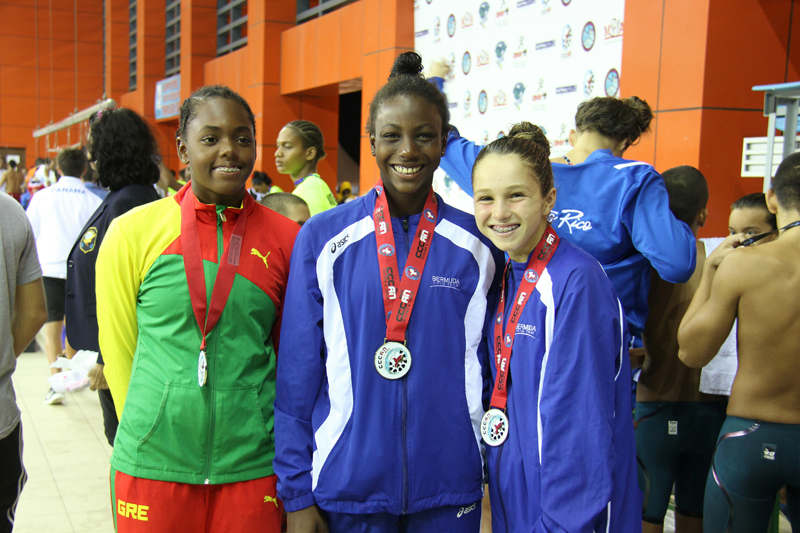 Read More About