Bermuda swimmers continue to excel at the 2013 Central American and Caribbean Amateur Swimming Championships in Costa Rica, with Lisa Blackburn winning yet another gold, Rebecca Sharpe claiming bronze, and our relay team winning a gold medal in record setting style.
Bermuda's women's 4×100 medley relay — consisting of Rebecca Sharpe, Lisa Blackburn, Rebecca Heyliger and Ashley Yearwood — won the gold medal and set a new national record when they finished with a time of 4:32.
National Swimming Coach Ben Smith said: "The morning session of Day #4 started with the 400 free and both Stephanie Myles and Andrew Beveridge will be in the 18 & over girls and boys finals.
"Shannon Hassell and Jesse Washington had to qualify for their 400 finals and they both swam personal best times to get into last night's finals. Shannon broke Ashley Yearwood's record of 4:51.40 by swimming a 4:50.79 and Jesse lowered his own record by swimming 4:28.21 which beat his previous of 4:28.80."
"Lisa Blackburn continued her impressive form and swam the 50 breast in 34.81 which made her the number #1 seed for the finals. Rebecca Sharpe, Rebecca Heyliger and Andrew all passed through to the finals without having to swim in the heats for the 200 back. Shannon Hassell was just outside her PB and is in the first alternate spot for the finals."
Bermuda's Gold Medal-Winning Relay Team: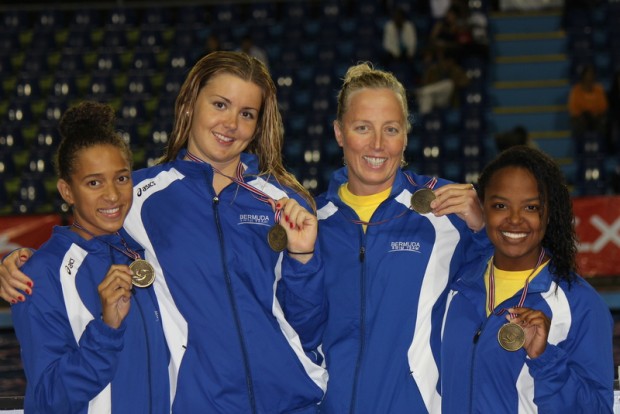 "After rain, thunder and lightning delayed the start of the meet for a short time we started with the 400 freestyle. Stephanie swam a good 400 and finished in 4th place and Andrew was up next finishing in 5th place.
"Shannon Hassell was close to her PB from the morning but was unable to close out against the older girls in her age group. Jesse also was close to his morning PB in the finals but came up a little short against some very fast swimmers."
"Lisa had another shot at a medal in the 50 breast and once again came through with flying colors as she won the gold! The 200 backstroke saw us have Rebecca Heyliger and Rebecca Sharpe in the final.
"Rebecca Heyliger swam well in an event that she does not normally compete in and was able to finish in 5th place while Rebecca Sharpe was able to capture her second bronze medal of the meet."
"Last up was our women's 4×100 medley relay and I had doubts of how they could perform. The two Rebecca's had just jumped out of the 200 back while Lisa and Ashley were bothered by shoulder pain. Rebecca Sharpe finished the back in third place handing over to Lisa Blackburn in the breaststroke.
"Lisa caught the leader and finished just ahead before Rebecca Heyliger dove in with a spirited first 50 fly. On the last 25 she tired a bit and the lead shrunk before handing over to Ashley Yearwood to bring us home with the freestyle.
"The frustration of losing a day of competition showed as Ashley attacked the race like never before and widened the margin on the way to the gold medal and a new National record. They finished with an impressive time of 4:32 crushing the old record of 4:35.32. Having Bermuda Team Manager Janice Irby present the medal to the girls made it even sweeter."
Bermuda's medal tally is now up to ten, with Lisa Blackburn leading the way with five medals.
Read More About