Selecta Fray of Irie FM will be hosting the Cup Match After Party tomorrow [Aug 4] inside Fort St. Catherine.
A spokesperson said, "Its Cup Match time again and it's also time for one of the biggest events of the year – the official Cup Match After Party.
"This year we are back in Fort St. Catherine after a six year absence. This promises to be like the Fort itself – historic. The event will kick off as soon as the last ball is bowled. If the game finishes early, then gates will open at 8.00pm.
"We have assembled one of the most formidable and diverse local and international DJ lineups ever seen before in one event, including international DJs like Young Chow, Spin Citi [Gyptian official DJ] and Jagga Movements. We also have one of biggest female DJs in the Caribbean, Nikki Z. She is ready to give patrons a night to remember.
"Representing Bermuda, we have King Jyrus [with iBreeze, Mista Genius, and Hershey], Twin Star, One Life Sound, DJ Sheep, and DJ Coolie.
"Unlike other events, this is an after party with non-stop action. All genres of music are played. We take you back as well as keep you present.
"Fort St. Catherine is the perfect venue for this event. Its open space and high altitude allows for a very comfortable atmosphere. Patrons will get that nice ocean breeze to cool them down as they party.
"One level higher and 180 degree of breathtaking ocean views is the Platinum VIP area. Here patrons can see the entire party below. There will be open bar from 8pm to 11pm, as well as a complimentary plate of food.
"General admission is $40 and VIP is $100. Tickets can be purchased at Peoples Pharmacy, Kit n Caboodle, Jazzy Boutique, Hunts, Freshmens in Heron Bay, Belvins stores, Somers in St Georges, and online at bdatix.bm.
"We urge patrons to get tickets early. The Fort only holds a limited amount of people; once that limit is reached, we will not be letting anyone else in."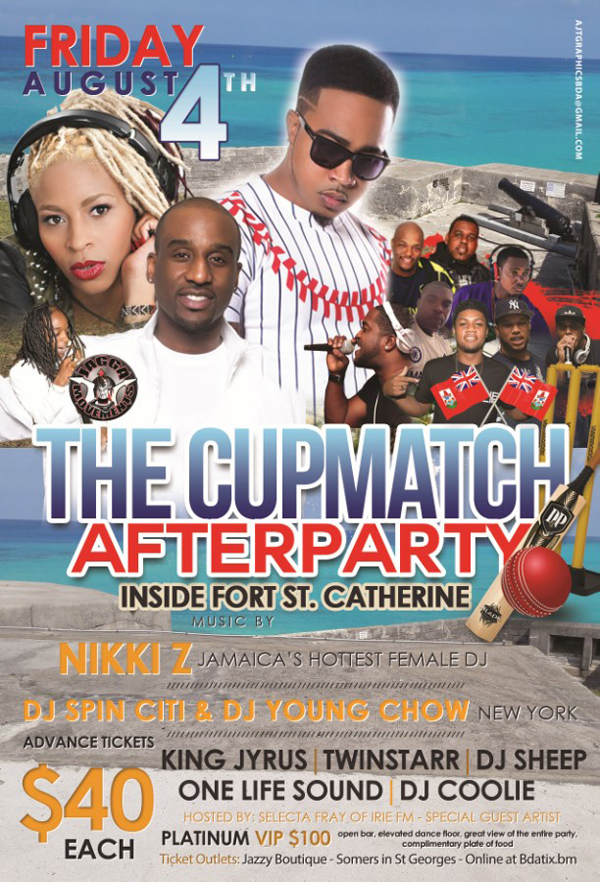 Read More About
Category: All, Entertainment, Music