The Government aims to balance the budget by 2019 and is committed to growing the economy and making sure they fix the immediate challenges, Premier and Minister of Finance David Burt said today.
Premier Burt sat down with Bernews today [Sept 14] for a live interview on our Facebook page, discussing a wide range of topics including the election victory, the budget, the airport deal, a living wage, job creation, independence, financial assistance, economic growth and more with guest interviewer Jeremy Deacon.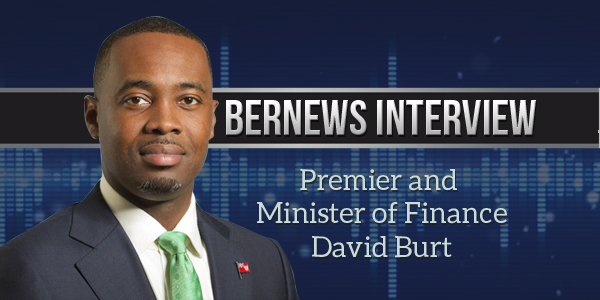 Speaking on balancing the budget, Premier Burt said, "It is going to be a challenge, and what we have committed to in our platform, and what we have committed to in the Throne Speech, is we are going to do everything we can to bring economic growth to Bermuda.
"Our budget problems become a lot simpler when we create jobs in Bermuda, our budget problems become a lot simpler when we are unable to unleash economic growth, those are the things we are focusing on."
"Growth is the thing that is required," the Premier added.
Addressing the matter of independence — which recently came to public attention following comments from BPSU President and Senator Jason Hayward at the Labour Day celebrations — the Premier said, "Independence is in the PLP Constitution, it's not an issue that we hide from, however the fact is of the matter is, that this Government, right now, is not committed to pursuing independence at this time.
"This Government is committed to growing the economy and making sure we fix the immediate challenges that are inside of the country right now."
Speaking on the airport contract, which the PLP strongly opposed when they were the Opposition, Premier Burt said, "There has been no change of the PLP's position that the airport contract is not the best deal for the country."
"We understand that there are contractual obligations, you've never heard us say that we are going to cancel the contract, like the former Government cancelled a contract, but it is our right to review it, and we will."
The Throne Speech said "unhealthy foods are often appealing due to their lower prices, the cost of treatment is significantly higher than the cost of prevention. Accordingly, the Government will begin a consultation for the introduction of a Sugar Tax on the sale of certain foods and beverages in Bermuda."
Asked if they know what type of products this could be applied to, the Premier said they do not, and explained that "that is why we will engage in a consultation process, we are at the beginning, nowhere near close to the end."
"Consultation is important, and the basis for forming good policy, and that's what this Government will do," Premier Burt added.
If you want to listen 'on the go', you can also access the audio only version of this interview, and all our past interviews, in the podcast section of the Bernews app.
Read More About