CedarBridge Academy students recently visited the boardroom at Global Atlantic Re to learn about the Life Insurance and Reinsurance Industry in Bermuda, a growing sector of Bermuda's international business economy.
Representatives from a variety of professions, including actuaries and accountants, provided insight on working in the industry, skillsets and types of university courses required. The session was interactive and provided students with plenty of opportunities to ask questions.
This program was developed by the Bermuda International Long Term Insurers and Reinsurers [BILTIR], an association that represents nearly 60 companies in Bermuda.
Wendy Outerbridge, Corporate Secretary at BILTIR said, "This program was designed to help students learn more about careers in international business and, in particular, the Life Insurance and Reinsurance Industry; which is a growing sector of Bermuda's insurance marketplace. We plan to expand this program to all high schools on the island to ensure that students know there are great career opportunities in Bermuda."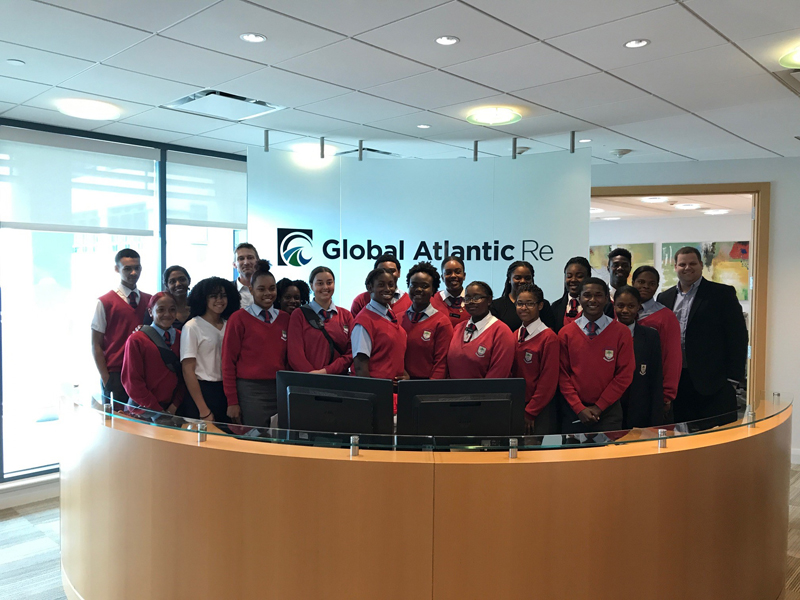 Global Atlantic Re, a member of BILTIR, hosted the session to provide an opportunity for students to come into Hamilton and participate in a business environment. April Galda, Co-CEO of Global Atlantic Re said "We are very happy to host this program to help students learn more about our growing industry and the career opportunities available."
Kiara Somner, Senior Analyst, Operations, Global Atlantic Re, and coordinator for the program, said "We were very pleased with our session with CedarBridge students. The students were great participants and very interested in learning more about the career options available to them."
LeVar Bassett, Career Pathways Coordinator, Department of Education, further stated "As a Career Pathways Coordinator, I was most pleased to see the participation of speakers from various career fields within reinsurance as well as from other firms.
"This spoke volumes of the industry. I am sure you too would have noted the enthusiasm with which our students asked questions and articulated themselves. It seemed as if the hour flew by as it was very well spent."
CedarBridge Academy Principal, Mrs. Kalmar Richards, added "When students have the opportunity to experience firsthand the actual work environment of business professionals and to interact with those professionals in their work environment, students are able to easily connect their learning with the real world.
"I extend my thanks to BILTIR for extending and enriching the career activities and business education experiences of the CedarBridge Academy students who attended."
For further information on this program, contact secretary@biltir.bm.

Read More About