While the main thrust of Kiwanis Clubs is "serving the children of the world," there are times when the clubs show their appreciation for the older generation.
Earlier this month, Kiwanis St George honoured some of Bermuda's war veterans – the veterans were feted at a special dinner and each received Kiwanis certificates of appreciation.
Prior to the dinner, several club members turned out to assist with the sale of poppies, the red flower symbolic of the war veterans. Kiwanians from St George's helped with the poppy sales in Hamilton and in St George's.
Some of the Kiwanis St George members who 'tagged' in St George's along with Veteran Isabel Flood, Veteran Donald Jolliffe, Kiwanian Past President Rose Douglas, Kiwanian Secretary Scarlett Pottinger, Kiwanian Director Lily Oatley, Kiwanian Lt Governor Marie-Kent Smith, Veteran Carol Everson, Veteran Canon Thomas Nisbett, and Kiwanian Past President Harold Millett.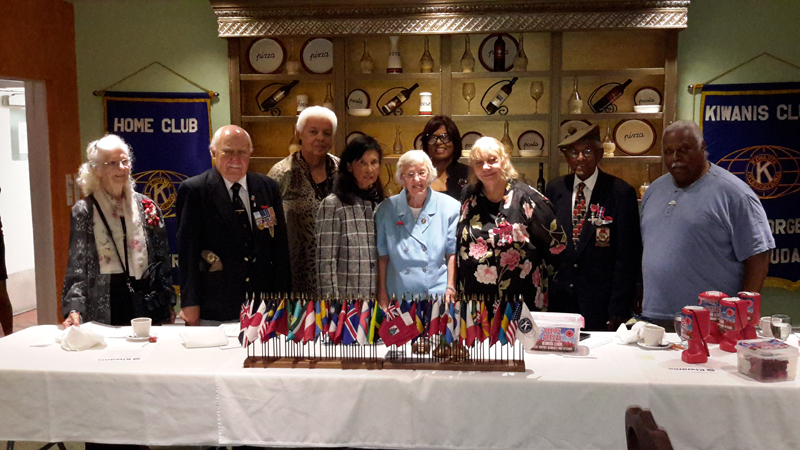 During the dinner the veterans told of some of their war-time memories, and among the audience were representatives of the K-Kids Club at St George's Preparatory School – this group represented one of the 'junior' divisions of Kiwanis.
A spokesperson for Kiwanis St George explained that, "The club felt it fitting to have the war veterans tell some of the youngsters of their war-time experiences, either on the home-front here in Bermuda, or on the actual battlefields. It was designed to give some younger members of our community a first-hand picture of events that took place nearly 80 years ago."

Read More About