Outgoing Bermuda Casino Commission Chairperson Alan Dunch sat down with Bernews this morning [Nov 23] for a live interview, speaking with veteran journalist Jeremy Deacon.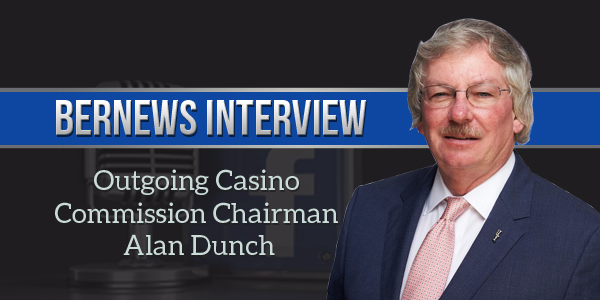 Mr Dunch issued formal notice of his intention to "resign as a member of the Commission, such resignation to take effect immediately upon the conclusion of the next scheduled monthly meeting of the Commission on December 6th, 2017."
"It is my sincere hope that in making this decision to resign, you and the Government might now consider it un-necessary to move forward with the proposed amendments and, in the best interests of Bermuda, choose instead to withdraw the Amendment Act which, as stated above, is ill advised," he said in his resignation letter.
Update 11.40am: The interview has concluded, the live video replay is below, and we will transcribe some of Mr Dunch's remarks and add text extracts later on today.
If you want to listen 'on the go', you can also access the audio only version of this interview, and all our past interviews, in the podcast section of the Bernews app.
Read More About