Principal Kalmar Richards — who is expected to be named the Acting Commissioner of Education this week — was recognized by her colleague — school principals from both the Public and Private sectors as CedarBridge Academy celebrates its 20th Anniversary.
Kalmar Richards, centre, with  Acting Principal at Clearwater Middle School Anthony Wade and BHS Principal Linda Parker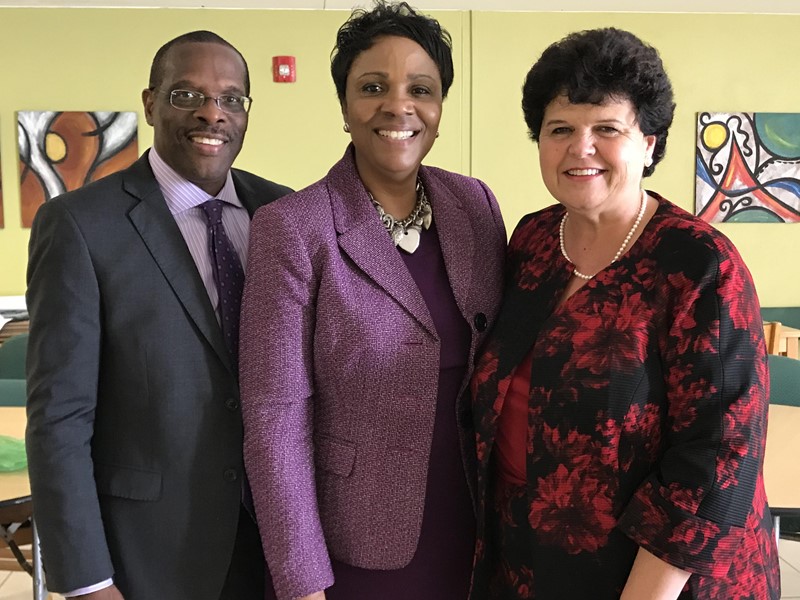 A group of Principals recently gave Mrs Richards flowers, and  Glenn Fubler from Imagine Bermuda said, "Her peers have sought to 'give her flowers while she still can smell them', as a token of appreciation for the stellar, foundational work that she has done from the start of Cedarbridge. Like noted pioneers in many circumstances, Kalmar Richards has had to overcome the odds, as often occurs in new approaches in any society.
"She has been an exemplar as a 'servant-leader' in her roles at the Academy. She was one of the original 3 Deputies and within a couple of years took over the helm, 'in difficult waters'. Always the professional, Kalmar is also able to connect with others.
"Mrs Richards knows each and every student at the school by name and demonstrates this no-small-feat as she very often meets each student as they enter the building at the beginning of the school day.
"Kalmar has also been a mentor to a number of fellow teachers and some of her mentees are now serving senior roles in various venues.
"Given her generous spirit, Kalmar Richards has also been an advocate and practitioner of collaboration, throughout her career.
Principals contributing to the 'Token of Appreciation' of their colleague included: Garrita Coddington – T N Tatem Middle School,  Keisha Douglas – Berkeley Institute, Tina Duke – Dellwood Middle School, Wayne Edwards – Bermuda Institute, Dr Duranda Green – Bermuda College, Dave Horan – Warwick Academy, Deryn Lavell – Saltus Grammar, Sue Moench – Mount Saint Agnes, Linda Parker – Bermuda High School for Girls, Carlos Symonds – Somersfield Academy, Reeshemah Swan – Whitney Middle School, and Anthony Wade [Acting Principal] Clearwater Middle School

Read More About