Royal Bermuda Regiment Boat Troop soldiers and marine police officers saved the day for Minister of National Security Wayne Caines after a Boston Whaler boat carrying him to meet family and friends at the traditional Mangrove Bay raft up broke down en route from Riddell's Bay on Sunday.
Minister Caines said: "It was good to see the team working first hand – the response was quick, everybody was pleasant."
Pte Donavin Trott Burchall and L/Cpl Taneah Bean on Heron I at the raft up in Mangrove Bay.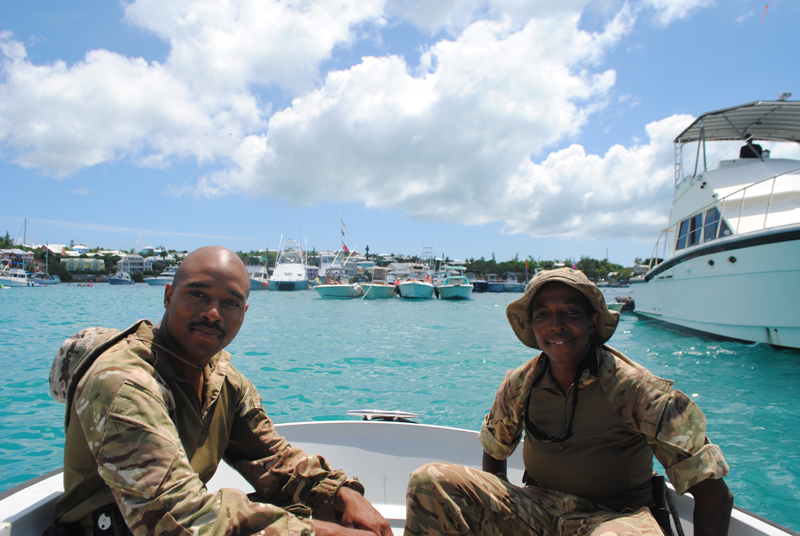 The boat Minister Caines had hitched a lift on developed engine problems yesterday afternoon and was marooned for about half an hour before the joint services' manned Heron I picked up the passengers and delivered them safely and also towed the broken-down boat back to Riddell's Bay.
Minister Caines said: "If this had happened late at night, it could have been totally different. It's good to see all the mechanisms we have working."
He added that boaters should remember basic safety rules, including filing a float plan and the key numbers to call if there is a problem.
A joint RBR and police team put to sea to patrol the holiday weekend waters.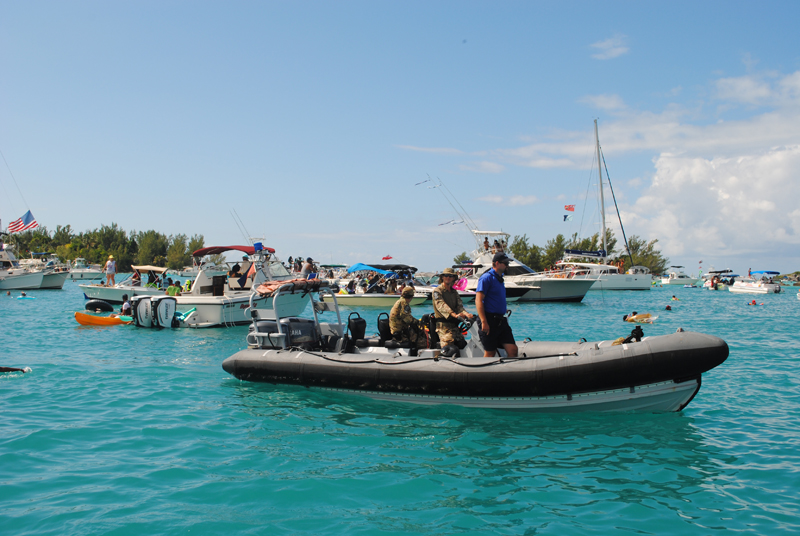 The crew – RBR soldiers Lance Corporal Taneah Bean, Private Donavin Trott-Burchall, Reserve Police Section Officer Jeffrey Benevides and Reserve PC Suzie Williams-Stovell – also rescued a lone woman whose semi-rigid inflatable had run out of gas well short of her destination at Riddell's Bay.
The grateful woman, Hollie Payne, of Riddell's Bay, Southampton, said: "I was so very happy to see them. I called people in Mangrove Bay to come and get me, but no-one responded."
L/Cpl Bean said: "I enjoy the work. It's keeping people safe and I'm getting paid for it at the same time.
Teamwork: RPC Suzie Williams-Stovell and Section Officer Jeffrey Benevides [front] are backed up by L/Cpl Taneah Bean and Pte Donavin Trott-Burchall on Heron I in Mangrove Bay.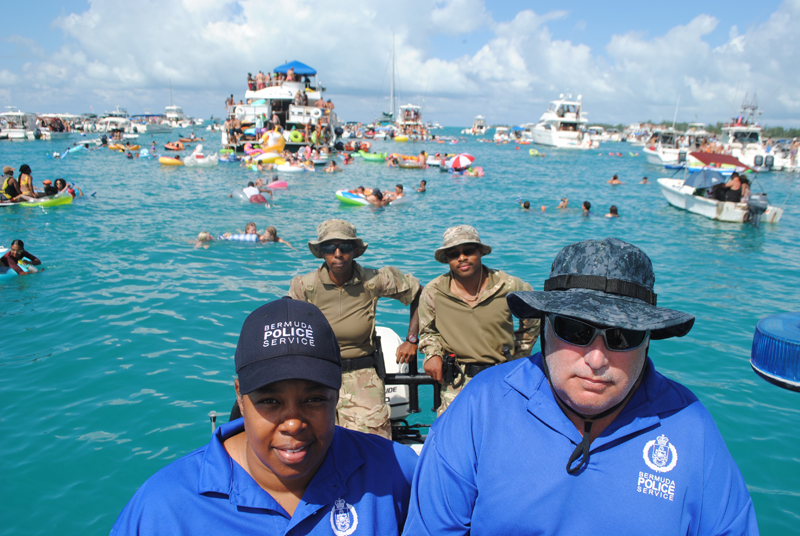 The 30-year-old commercial diver, from Pembroke, added: "There are breakdowns, people get too tired to swim back to their boats, that kind of thing. It's been a busy day, but the whole holiday has been very relaxed."
Pte Trott-Burchall, who works at the Rosewood Tucker's Point resort, said: "I like the water and being out on the ocean, so I joined Boat Troop to learn more about boats and navigation."
The 26-year-old, who earlier this year completed a tough three-week nautical skills course run by the Royal Navy in the Caymans, added: "I also like interacting with people – that's what I do on a daily basis in my job.
Water patrol: Pte Donavin Trott-Burchall and L/Cpl Taneah Bean patrol the waters of Mangrove Bay with police colleagues.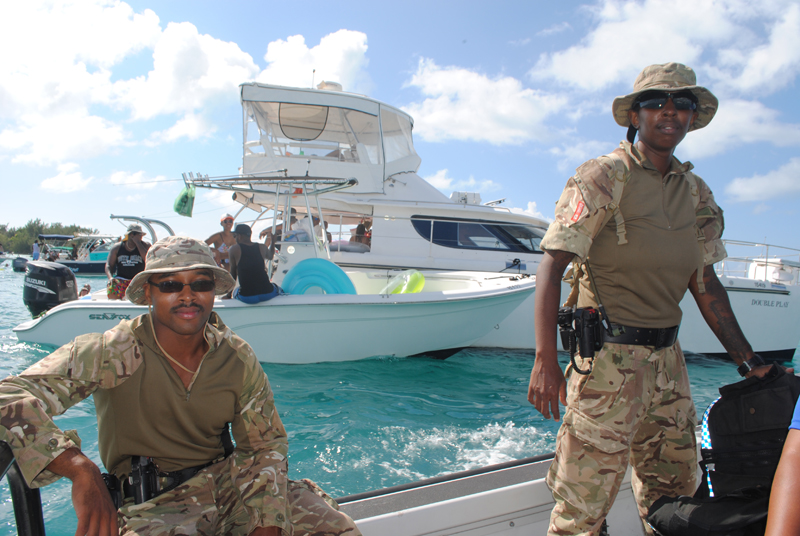 "The Regiment and the police work well together – I try to learn from everyone and they have a lot of experience."
Section Officer Benevides, animal control officer with the Bermuda Government, said: "I've cross-trained with the Regiment, so we work together well – it's a good collaboration.
"They are very useful to have around for big events like this."
In addition to the boat rescues, the Heron I also picked up three teenage girls who had tired themselves out swimming in Mangrove Bay and delivered them back to their parents.
Cast off:  [L to R] L/Cpl James Woolf, Pte Bryan Saraiva and RPC Dragan Pakovic prepare to leave Dockyard on raft up patrol.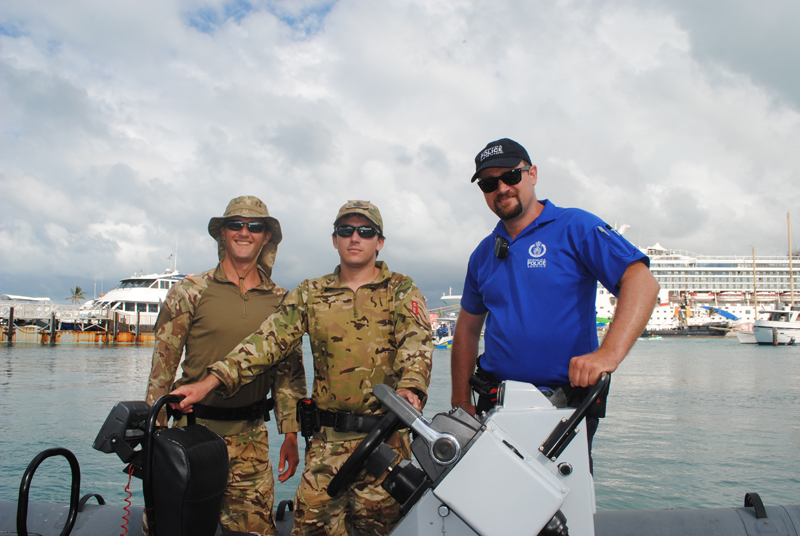 The boat, along with other joint services vessels, also patrolled the bay area as a deterrent to crime and a safeguard to party-goers.
RPC Suzie Williams-Stovell, a Customs officer in civilian life, said: "Our main job is to be visible and keep the peace. We work a lot with the Regiment when there are big events and it's good to have them with us."

Read More About