Student presentations followed BFIS internships on July 30, with insurance professionals, former interns, and BFIS scholars on hand to hear what the interns had learned during their time in the insurance markets of Atlanta, Bermuda, Chicago and London this summer.
A spokesperson said, "BFIS is most grateful to XL Catlin which sponsors the Atlanta, Chicago and London Programmes and to Allied World which sponsors the Bermuda Programme.
"The BFIS intern programmes are short but intensive and give the four teams of university students who ranged from sophomores to graduates the opportunity to learn what the insurance industry is all about and the careers that could suit their goals.
"Each applicant chooses the jurisdiction they would like to go to and BFIS endeavours to accommodate them. The programme is open to undergraduates usually in their junior or senior years. Students who are interested in the 2018 programmes should email BFIS at info@bfis.bm."
Photo: Atlanta Interns: Chelsea Warren [Business/ Alabama A&E], Walker Campbell [Economics/ William & Mary College], Danielle Wall [Business/ Wilfrid Laurier] and Aaron Rego [Economics/ East Anglia]; London Interns: Daniel Oatley [Philosophy, Politics and Economics/ Warwick], Zachary Friesen [Finance/ Trinity Western], Kimika Jackson [Quantitative Risk and Insurance/ St. John's], Ciara Burrows [Law and Economics/ Waterloo]; Bermuda Interns: Courtney Kerr [English/ Western University] and Courtney Browne [Geography & Environmental Science/ University of Waterloo]. [Missing] Meagan Stecko [Actuarial Science/ Western University, Ontario], Evan Watkins [Business Management & Marketing/ University of Stirling, UK] and visiting Katie School of Insurance and Risk Management students, Sal D'Acquisto and Adrian Villa [Risk Management, Insurance & Finance]; Chicago Interns: Tomisha Goater [Economics/ Florida], Cayla Wade [Insurance & RM/ Georgia State], Khaeljah Burgess [Finance/ Nottingham Trent] and Tashae Trott [Psychology/ Nottingham Trent]: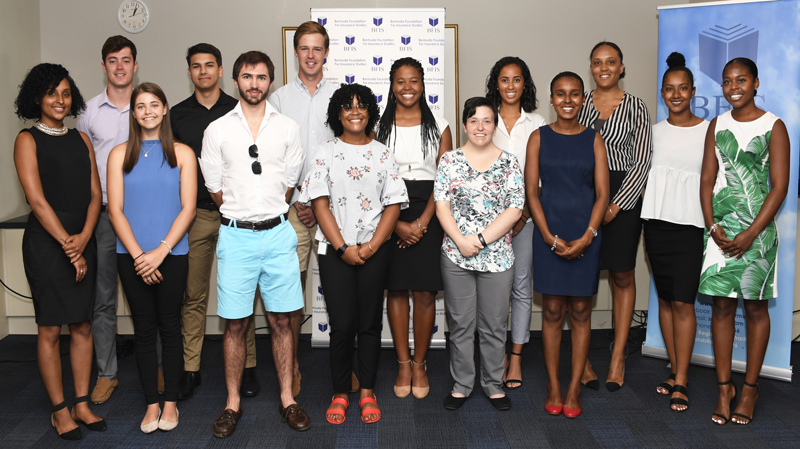 Cathy Lapsley, BFIS Executive Director said, "Employees from a combined total of 51 companies in the 4 jurisdictions hosted our students and the time and effort they put into ensuring the presentations, meetings, workshadowing and networking events were meaningful is invaluable to the interns.
"We thank them all for participating: AIG, Allianz, Allied World Assurance, Alston & Bird, Aoelus, AmWINS, Aon, Aon Benfield, Appleby, Arch Insurance Group, Argo Re, Artex, Ascot, AXIS, Bermuda Business Development Agency, Bermuda Monetary Authority, BF&M, BFIS London Alumni Group, Chubb, Chubb Tempest Re, Clyde & Co, ,Coca-Cola Company, Colonial Group International, Condie Risk Consultancy, Cunningham Lindsey [MCL Global], Fidelis, Hamilton Group, Hiscox, Ironshore, Lancashire, Lloyds of London, Lockton Companies, Markel Corporation, Marsh, MS Amlin, Merlinos, OIL Casualty Insurance, OIL Group, Renaissance Re, RPS Atlanta, Sompo International, Southern Company, Sun Life, Swiss Re, Talbot Underwriting [Validus Holdings], Thomas Miller P&I, Tokio Millennium, Tokio Marine Kiln, Travelers, USI Insurance Services, Validus Group, Wells Fargo, Willis Towers Watson, XL Catlin, and Zurich."
"She went on to note that BFIS thanked the 'BFIS Alumni in London' group for organizing an after-work networking event for the London interns to meet other Bermudians working or studying in The City; Debbie Babcock of the Katie School of Insurance and Risk Management at Illinois State University for helping to organize the Chicago schedule.
"Special thanks to Laura Greene and others from Georgia State University for chauffeuring the Atlanta interns to their appointments; and Mark Lima [former BFIS President] assisting with the programme schedule and hosting them at his home.
"Cathy ended by thanking BFIS Administrator Jane Bielby who manages all the overseas programmes, noting that the process of contacting each company starts in January each year; and KPMG for providing the venue for the Monday's final presentations.
"159 Bermudian students have now taken part in the programme, finding it a great adjunct to their academic studies. The Bermuda programme started in 2002, Chicago in 2006, London in 2008 and Atlanta in 2012."

Read More About