The Aon Group has renewed its sponsorship of the BFIS Mentor Networking Programme with a pledge of $30,000.
Paul Markey, Chairman of the Board of Trustees of the Aon Rhondelle Tankard Memorial Fund, said, "We are proud to continue our support of this BFIS programme which can make a difference to the careers of so many of Bermuda's high-school and college students.
"It is an important vehicle for educating the students in a very tangible way on the career opportunities that are available to them within the insurance industry."
The BFIS Mentor Networking programme has progressed from matching college students with insurance professionals to running several speed networking events for high-school and college students during the year.
From left: Laurence Noble and Debbie Brown [Aon], Chris Wright [BFIS Scholar], Carol Eastham [Aon], Jonathan Allen [BFIS Mentor Network chair], Joe Rego [CEO of Aon Group Bermuda] with Gail Martin [BFIS Chairman] and Paul Markey.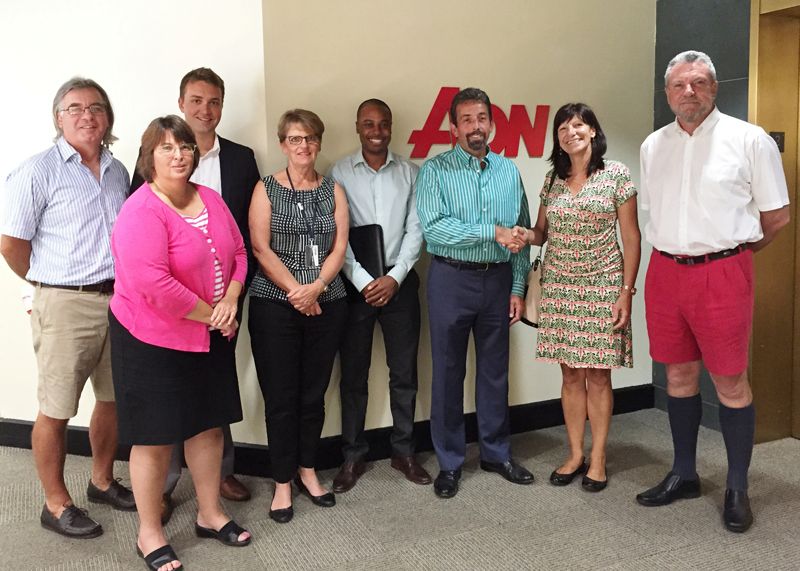 Networking events for Bermuda's S3 and S4 high-school students are held in February each year for those students who are interested in actuarial science, accounting, finance, underwriting, broking and corporate law.
Events for college students in summer and at Christmas are more focused on general networking and making those all-important connections within the insurance industry.
The BFIS Networking volunteers come from all areas and levels of Bermuda's insurance and accounting sectors and include BFIS alumni and insurance-focused organizations: CPCU [Chartered Property Casualty Underwriter] Bermuda Chapter, Bermuda Under 40s and CABER [Casualty Actuaries of Bermuda].
The Aon funding comes from a trust established in memory of Rhondelle Tankard – a young Bermudian who was on secondment to Aon's New York office and lost her life in the Twin Towers tragedy of 9/11.
Read More About