Use of the netball courts at Bernard Park has been "suspended until further notice" due to offensive messages being left on the court, with the Bermuda Netball Association explaining that they do not want their members to be subjected to the "defamatory and discriminatory" messages.
Bermuda Netball Association President Kimale Evans said, "As a result of the most recent vandalism at the Bernards Park Netball Courts, it is with regret that we inform you all use of the courts has been suspended until further notice to allow for Youth, Sport & Recreation to carry out the necessary maintenance.
"We the BNA take this very serious and do not want any of our members to be subjected to any form of defamatory and discriminatory dialect. We will not aid in desensitizing our members both young and young at heart."
As of this writing the vandalism remains visible, and the photo below is taken from a distance as the words are too offensive to fully depict, as the messages are of a violent, homophobic and racist nature.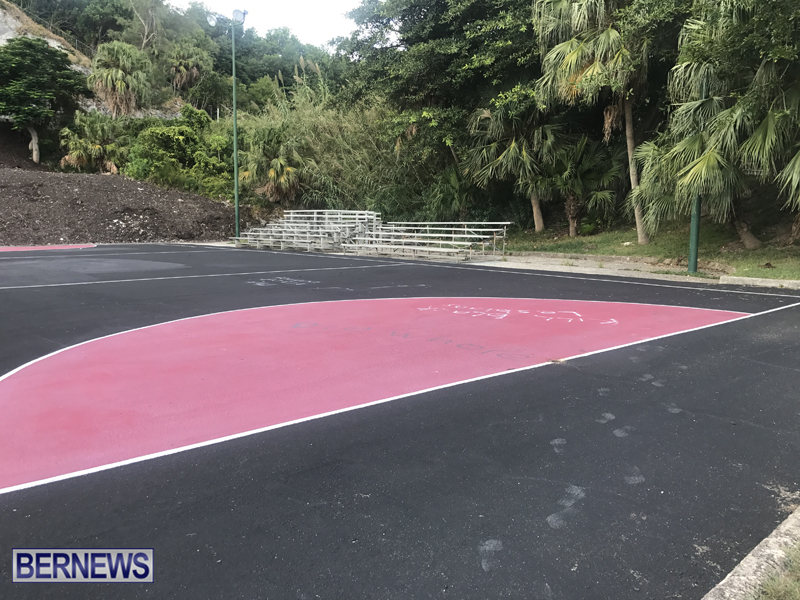 A police spokesperson said, "Sometime between Thursday night [September 13th] and Friday morning [September 14th] a vandal yet again defaced the surface of the Netball Court on Dutton Avenue in Pembroke in an act of wilful damage, with the suspect[s] writing offensive language.
"Police have commenced an investigation and we are appealing for witnesses or anyone who may have any information that may lead to the arrest and prosecution of the suspect(s) to contact police on 295-0011."
Unfortunately this is not the first time the netball courts have been vandalized, in fact it has been a repeated occurrence.
The acts of vandalism have varied from paint being thrown on the courts to cooking grease, glass and trash being thrown on the courts; with the vandalism now escalating to include highly offensive words.
Read More About