The Government should "consider instituting employment and pay equity legislation," BTUC President Jason Hayward said, saying that the purpose would be to "achieve equality in the workplace" and correct the "disadvantage in employment experienced by women, people of color, and persons with disabilities."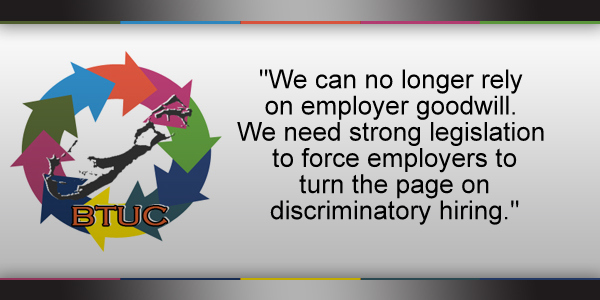 BTUC President Senator Jason Hayward said, "The Bermuda Trade Union Congress joins in solidarity with our global affiliate, the International Trade Union Confederation, and Workers from around the world to celebrate the 11th World Day for Decent Work on October 7, 2018.
"The Decent Work Agenda was developed in 1999 by the International Labour Organization [ILO] around four pillars: employment creation, rights at work, social protection and social dialogue.
"It has achieved high-level international endorsement, first in 2008 when it was included in the Millennium Development Goals [MDGs] under MDG 1, and later as part of the 2030 Agenda for Sustainable Development and the accompanying Sustainable Development Goals [SDGs], where it is specifically included in SDG 8: 'Promote sustained, inclusive and sustainable economic growth, full and productive employment and decent work for all.'
"The International Labour Organization defines decent work as: 'Decent work sums up the aspirations of people in their working lives. It involves opportunities for work that is productive and delivers a fair income, security in the workplace and social protection for families, better prospects for personal development and social integration, freedom for people to express their concerns, organize and participate in the decisions that affect their lives and equality of opportunity and treatment for all women and men.'
"This year's global theme, "Change the Rules", highlights the deeply entrenched injustice of the global economic system alongside shrinking democratic space and deteriorating labour rights in many countries.
"On this occasion, the BTUC would like to call on the Government of Bermuda to consider instituting employment and pay equity legislation.
"The purpose of the legislation would be to achieve equality in the workplace so that no person shall be denied employment opportunities or benefits for reasons unrelated to ability, and to correct the conditions of disadvantage in employment experienced by women, people of color, and persons with disabilities.
"By doing so, this would give effect to the principle that employment equity means more than treating persons in the same way, but also requires special measures and the accommodation of differences.
"We can no longer rely on employer goodwill. We need strong legislation to force employers to turn the page on discriminatory hiring. Employment equity seeks to eliminate the discrimination which takes place in employment and would provide an opportunity for equally qualified candidates who have been denied opportunities in the past for reasons other than their ability.
"In addition, pay equity will ensure that equal wages for work of equal value are received regardless of gender, race or national origin. We must be bold in 'Changing the Rules' as we progress to a fairer Bermuda that works for all."
Read More About