Qualified staff have been recruited this year to provide an "almost full complement to the electrical and mechanical engineering section of the ministry," Minister of Public Works Lt/Col David Burch said today.
Speaking at a press conference, Minister Burch said, "I am joined today by some outstanding young Bermudian men who have been recruited this year to provide an almost full complement to the electrical and mechanical engineering section of the ministry.
"They are Mr. Remi Subair – Principal Electrical Engineer, Mr. Daniele Bortoli and Mr. Jamar Dill – electrical engineers, Mr. Zeeko Johnstone – mechanical engineer, and Mr. Van Dyke Bean – electrical engineering assistant.
"Remi participated in the ministry trainee programme after graduating from Western New England College [now University] in 2004. He was seconded to Associated Engineering in Edmonton Canada in 2008 in order to complete the requirements for his professional designation. He returned to a full time post in 2009 as an Electrical Engineer and was promoted to Principal Electrical Engineer in September 2017.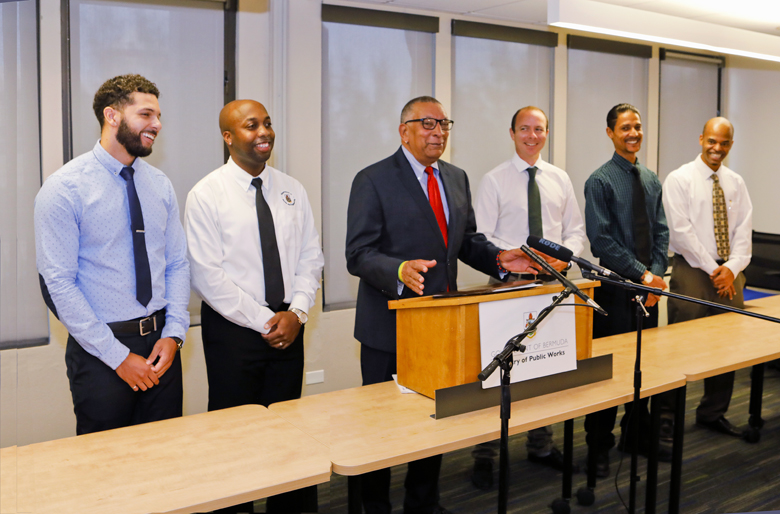 "Van Dyke has been with the ministry since 2012 and lends technical assistance to the engineers in the department. They were the only two members of staff in the section when I arrived in July 2018 – where the establishment is 6 – we set about immediately to recruit staff.
"Daniele rejoined the ministry this year after a 2-1/4 year hiatus working for one of the leading design engineering firms in Manchester – BDP [Building Design Partnership] Ltd.
"The firm recently won the mechanical and electrical engineering contract to modernise the Palace of Westminster. There Daniele was employed as an electrical design engineer working predominantly on new hospital projects and university campus developments. Prior to this he was an engineering trainee who subsequently also worked overseas in Canada.
"He holds a Bachelors Degree in Engineering from the University of Leicester and a Master of Science Degree in Sustainable Electrical Building Services from Manchester University.
"Zeeko Johnstone [full-time Mechanical Engineer] joined the ministry in April this year. He became interested in engineering while attending Miami Dade College.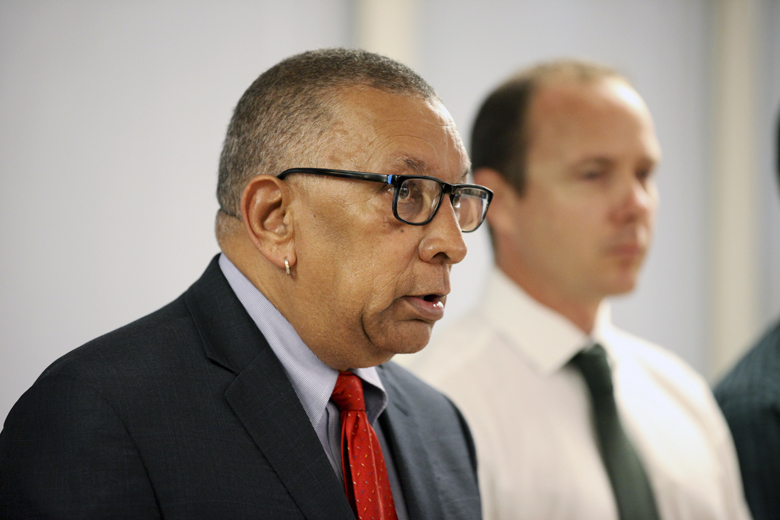 "His interest was heightened when he participated in the BELCO S.T.E.M programme. After achieving his Associates Degree he transferred to Florida International University where he studied Mechanical Engineering. During this time Zeeko achieved multiple awards including the Llewellyn Vorley scholarship.
"He also, interned at BELCO during the summers of 2014, 15 & 16 where he assisted with maintenance engineering. In 2017, he graduated Cum Laude [with distinction], with a Bachelor of Science Degree in Mechanical Engineering degree.
"Zeeko is also currently working towards his professional engineering license and registration with The Professional Engineers of Ontario.
"Jamar Dill [full time Electrical Engineer] began working in the electrical trade at Universal Electric in 2000 after graduating from CedarBridge Academy.
"There he completed his electrical apprenticeship before moving abroad to study Electronics in 2008. After obtaining a Higher National Certificate in Electronics he then began at BELCO as an Electrical Fitter in the Energy Delivery Department in 2010.
"While at BELCO he developed an interest in engineering and was awarded a scholarship in 2012 to attend Glasgow Caledonian University to study Electrical Power Engineering.
Zeeko Johnstone [Mechanical Engineer], Jamar Dill [Electrical Engineer], Minister Burch, Daniele Bortoli [Electrical Engineer], Van Dyke Bean [Engineering Assistant], Remi Subair [Principal Electrical Engineer]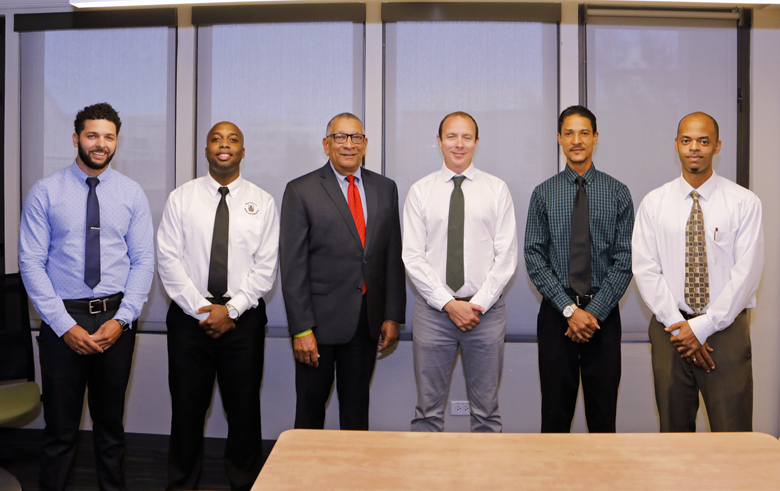 "He completed a Bachelor of Engineering Honours Degree in 2015 and moved on to pursue a Master's Degree in Maintenance Management with an emphasis on Reliability Engineering. During that time, Jamar worked a summers with the Ministry of Public Works – Engineering Section.
"In July 2017 Jamar graduated with a Master of Science degree from Glasgow Caledonian University and returned home and began full time employment with the Ministry in May this year. He too is presently working towards his professional engineering license and registration with The Professional Engineers of Ontario.
"As part of the requirement for the professional designation – engineering students must spend a year working in a cold climate as designs differ based on climate changes. Both Zeeko and Jamar will commence a ministry arranged secondment with AECON in Canada in January 2019.
"I must also acknowledge three other young Bermudian students studying for engineering qualifications who have worked for the ministry over the summer – Lance Brown – who completed highway surveys and cross walk lighting upgrades this summer and is studying at Plymouth University.
"Cody Simons who is studying mechanical engineering at the University of New Brunswick and Alex Doyling who worked in highways and has started his freshman year at Kutztown University.
"As you will readily see – there are 5 success stories standing before you today – a testament to both the training regime within the ministry but also the personal interest that is taken by the Chief Engineer in their recruitment and development.
"The current Chief, Mr. Yves [Bob] Lortie has almost single handedly been responsible for the progress we have made this year in the recruitment of Bermudians in the engineering department."
Read More About