[Written by Robin Holder]
Runners can improve their performance on and off the road by incorporating yoga into their fitness routine
Yoga is perhaps the best cross training method to prevent injuries, gain strength and optimize breathing. Yoga can make you a better runner. The repetitive nature of running and the overuse of some muscle groups while underusing others can create muscular imbalances that may lead to injury. Cross training with yoga is a great compliment to your strength and conditioning regimen. Yoga will provide other mental and physical challenges unseen in your running routine.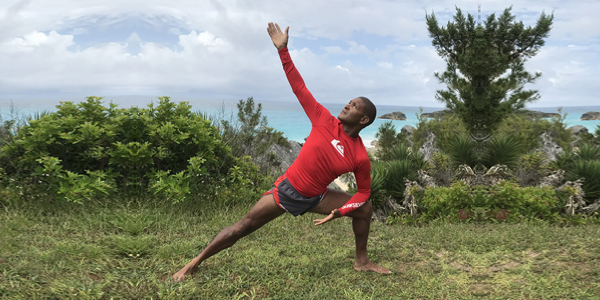 Runners are unique athletes that need more stretching and mobility as their hips, knees and ankles are overused. The lack of strength in the surrounding joints and tendons are often neglected. By incorporating Yoga into your routine it will target these specific areas and increase strength.
Circuit training and yoga will increase cardio vascular capacity, physical strength, address muscle imbalances, relieve sore muscles and tightness and improve mobility.
As a runner for more than 10 years I have become a stronger athlete by including yoga and other forms of strength training such as Crossfit and experience fewer injuries. One of the more surprising discoveries while practicing yoga, was gaining an awareness of the breadth and its ability to enhance both speed and long distance running.
Lung capacity is critical for runners in order to maintain a sustained and even breathing pattern through all phases of running. The greater the lung capacity the more oxygen is circulated in the respiratory system in order to run longer and stronger.
Yogic breathing requires slow, deeper and longer inhalations, making use of the upper, middle and lower portions of the lungs. This breathing technique provides for greater lung capacity thereby increasing endurance and improves athletic performance.
The poses used in yoga strengthen the core, quads, hamstrings and hip flexors. Mental and nonphysical benefits include appreciation of a balance between training hard and rest and mental clarity and focus.
Yoga is for everybody, every shape and every person who wants more flexibility and ease of movement. Any runner who may feel they are too inflexible to practice yoga should set their fear aside and join me on the mat.
Reference List:
Felstead. C. Humankinetics.com "Yoga for Runners: The Benefits And Effects Of Yoga For Runners"
Eddins. J. peanutbutterrunner.com "How To Balance Running With Yoga And Training Without Losing Endurance And Speed"
Rice. A. Runnersworld.co.uk "8 Reasons Runners Should Do Yoga"
- Robin Holder is an RYT 200 Instructor and W.I.T.S. Level 2 Certified Personal Trainer. He teaches Yoga For Runners at Energize Wellness Solutions and Magnum Powerforce Gym

Read More About