[Updated] After Minister Caines challenged "churches, community clubs, fraternities, sororities, the LGBTQ community, and most importantly family," to "step up and be part of the solution" to the island's gang problem, Mark Anderson said he thought it was "very inappropriate" for Minister Caines to "single us out from the straight community," as they are "already a part of the entire community."
Pointing out that he agrees that gang violence "is a matter that concerns us all, and the entire community should do their part," Mr Anderson said what concerned him "is that of all times to include the LGBTQ community in a national matter, why did Government choose this one?"
File photo of Mr Anderson from his 2014 island wide walk to raise money for the Centre Against Abuse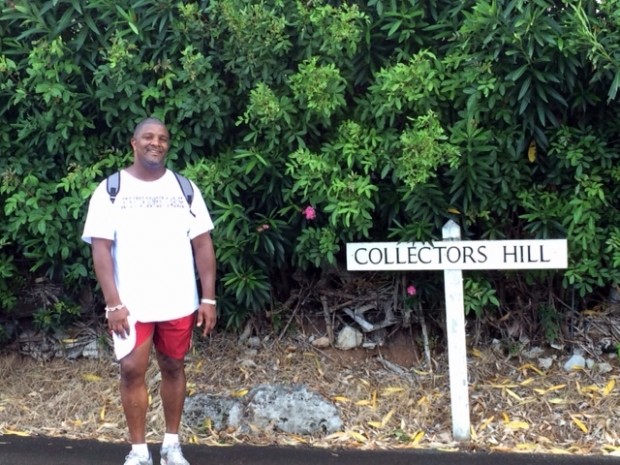 Minister's Comments
These comments follow after National Security Minister Wayne Caines said, "Our gang violence problem did not start overnight and will not be resolved overnight.
"We are steadfast in our belief, that if we are to see an end to violence in Bermuda, our community must rise and play a part in the process. All churches, community clubs, fraternities, sororities, the LGBTQ community, and most importantly family, I challenge you all to step up and be part of the solution.
"Whether through mentorship, job training, big brothers and sisters or chatting with the men on the wall, everyone has the opportunity to tackle gun violence and it is our responsibility to do so."
Mark Anderson Responds
Mark Anderson, a well known local entertainer and activist, said, "I think that it's very inappropriate and I take offense for Minister Caines to single us out from the straight community, as I would like to point out we are already a part of the entire community of this country.
"Let me also say as a citizen of Bermuda I agree that the gang violence situation is a matter that concerns us all, and the entire community should do their part to tackle the situation. What concerns me, is that of all times to include the LGBTQ community in a national matter, why Government chooses this one?
Noting that the Government is trying to "deny the LGBTQ community their rights to marriage," Mr Anderson also added that he doesn't "think Minister Caines has included the LGBTQ community amongst the rest of our citizens in previous statements."
"Yes, the LGBTQ community can play a positive role with our community issues and for that I appreciate the Minister's inclusion even if it is a back handed acknowledgement," he said. "So I was just curious as to what inspired the Minister to include the LGBTQ community in his statement."
We asked the Ministry for a response last night and will update as able.
Update 2.07pm: Minister Caines said, "My intent in including the LGBTQ Community in my statement was not to single out any one group of the community. My goal as always, is to reach out to all of the community."
"At times I do this by calling specific groups within our community to highlight their ability to assist in eradicating the gang problem."
"It just so happened that at that moment I wanted to include the LGBTQ community among others in reaching out for their assistance."
"It is unfortunate that my message was misinterpreted."
Read More About