[Written by Patrick Bean]
Her mind often appears to wonder in boundless abstraction, yet often with a grasping true to life feel of situation, scenario and circumstance. Combining the far flung futuristic with the achievable present to effect that challenges the mind to consider and ask: is it possible?
Possible to what and whom? Such is left to the reader to consume, decide, transform, or figure.
Strangely and powerfully evolved beasts of human existence stalk a place or planet not so different to the earth of today exerting dominion; invaders of mind and body from spiritual and tangible netherworlds have their way with humans, indenturing these to do their bidding mimicking the issues of this world's more recent and distant past.
If to be critical – and, if anything, the reading world specializes in critique – the scripts sometimes venture toward clunkiness and perhaps too far reaching, but such is part of the prose in promoting its audience to dream big, wander wide, and be inspired beyond the realm of perceived limitation.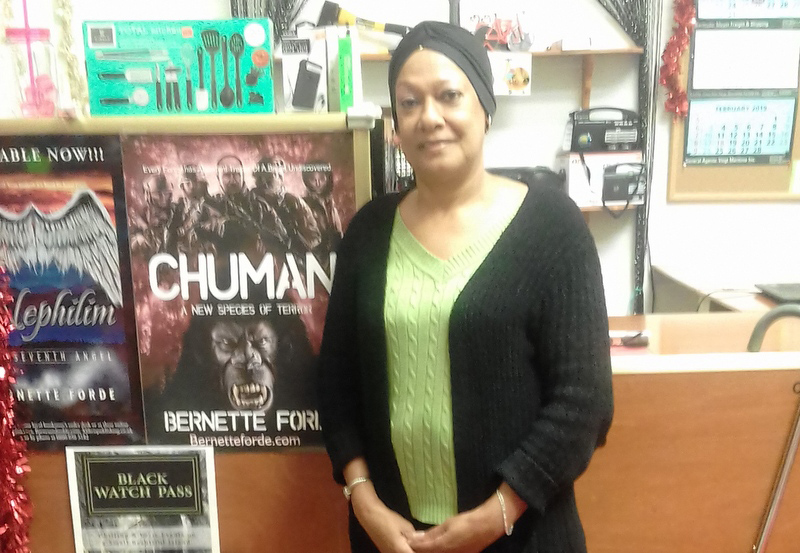 There's also the autobiographical narrative she's published, Reasons, which traces her life journey with its consequent travails, meanderings and triumphs.
Bernette Forde stands victorious and jubilant in life, as she is a two time survivor of cancer and its ravenous desire to render life miserable before putting to death. She's a online enthusiast and a voracious reader who conversely loves to write and has thus far published six volumes, most works of fiction, along with the autobiographical writing.
"I was writing my novels when I was living in England, where it was easier for me to publish and sell them in the book stores out there," said Mrs. Forde, her cheeks flushing with the excitement of discussing her passion.
"While I'm here in Bermuda I've realised that there are a lot of crimes and mysteries that are unsolved, so I wanted to lean more towards that than science fiction, because I like the truth and I want to expose the truth about such things.
"There are murders in Bermuda where drugs were involved," she continued. "I'll be honest, I have no understanding of it and want to find out more about it, but that's my next project, I still have my business to run and the other book to complete."
Already completed and published during her time living in the nation that popularised the English language – English is a West Germanic language that originated from Anglo-Frisian dialects brought to Britain in the mid 5th to 7th centuries – include Nephilim: The Seventh Angel, Black Watch Pass, Reasons, Floaters, Nugatory Existence, and the latest, Chuman, which are all yet available with some effort.
Ms. Forde is the wife of Michael Forde, a retired mason and building contractor, who in a previous career worked as a buyer for a Front Street retailer.
With her husband, she now co-owns and operates a housewares, hardware and bulk goods retail establishment called Housewares and Hardwares with the underlying banner 'bargain buys', which is set in the historical Bermuda National Trust property's former library amongst the Springfield Nature Reserve in the heart of Somerset.
Still, while the business both entertains and sustains during her supposed retirement, writing is her keen passion – and the quest consumes her attention.

Read More About
Category: All, Entertainment, News