[Updated] Police Commissioner Stephen Corbishley is holding a press conference this afternoon [Jan 14] regarding the Bermuda Police Service Change Programme 2018 – 2020. We will have additional coverage later on and in the meantime the live video is below.
Update: The live broadcast has concluded and the 8-minute replay is below
Update January 15, 11.45am: Commissioner of Police Mr. Stephen Corbishley said, "Good Afternoon Ladies & Gentlemen. I am delighted to be here with you to announce the change plan for the Bermuda Police Service in going forward over the next two years.
"It's entitled 7 ambitions and it sets out an exciting programme of change for us to be able to deliver better policing for communities in Bermuda.
"The 7 ambitions are a fundamental review of how we do business – the mission and values that our staff hold, in focusing on victims and doing the right thing for everyone in Bermuda.
"Looking at our organisational structure and making best use of the resources that we have, so that we are efficient and focused on what we have to do.
"A significant area of investment will be in community policing. Many of you will be aware of our plans to launch the Parish Constables scheme, where we will see police officers in each and every parish across Bermuda working on a day to day basis with local residents, community leaders, businesses, voluntary services as well as the church.
"We're also going to focus very clearly around serious and organised crime. We recognise the challenge that we have in regards to gun related violence. And we will do more work, be more focused and target those responsible – but also engage with communities to get their information, their support and to help them to be more confident.
"Another key area that we're going to look at is to protect those that are most vulnerable.
"Often known as hidden harm, they may be victims who haven't got a voice, those that actually can't access our services but are actually suffering – and that would include victims of domestic abuse, but also young people and children, that perhaps are the victims of crime whether it be sexual exploitation or other forms of abuse.
"I also want to invest heavily in regards to what I do for the officers and staff of the Bermuda Police Service. I was delighted on Friday [January 11th] to appoint six new officers and promote them to Inspector. So it represents my stand as Commissioner to invest in the talent that we have to support Bermudians in going forward.
"But we need to focus around other aspects of training, particularly in regards to leadership and the way in which we engage with the public.
"We are a customer service; the most important customer we have is the public. So we need to be professional, considerate, and engaging for all that come into our contact.
"The programme is being led by Superintendent Na'imah Astwood alongside the Assistant Commissioners and other Superintendents. And it's extremely exciting for us to be able to launch it today.
"But it's not just exciting for the Bermuda Police Service – I really do believe that this will make a fundamental difference to the services that we provide to all communities in Bermuda.
"That we're more attentive, more able to listen, and most importantly we're more able to respond to keep Bermuda safer and to do things that really change people's lives and protect them."
The BPS '7 Ambitions' of the 'Change Programme' [PDF here]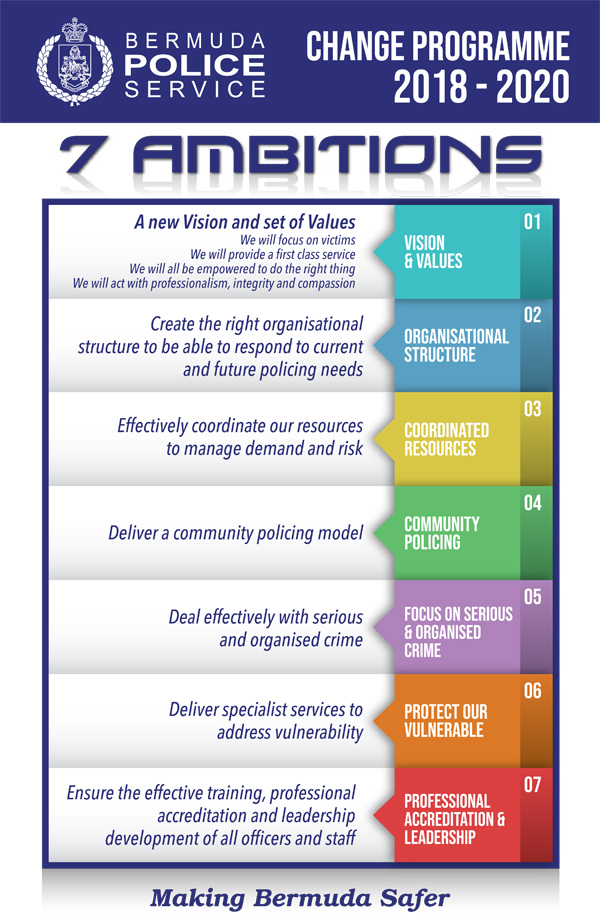 Read More About