Elena Strong took the helm as Executive Director of the National Museum of Bermuda [NMB], in January 2018. The former Curator and Deputy Director of NMB, Ms. Strong has worked as a museum specialist for 15 years and holds a B.Sc. in Anthropology from University College London, and a Masters in Museum Studies from the University of Toronto. She first joined NMB's curatorial team in 2005 as a consultant and was subsequently hired as Curator in 2006.
While leading NMB's Curatorial Department for 11 years, Ms. Strong was responsible for the care of the Museum collections, research, education and public outreach, exhibits, developing curatorial policies and procedures and editing MARITimes, NMB's biannual magazine.
She has encouraged the Museum to follow best museum practices, expanded the student internship programme, worked closely with archaeology field schools, and curated and co-curated a slew of exhibits, including permanent ones such as Shipwreck Island and the Museum Playhouse and Playground. She also played a leading role in the development of the 2016-26 NMB Strategic Plan, which can be found on the Museum's website: www.nmb.bm.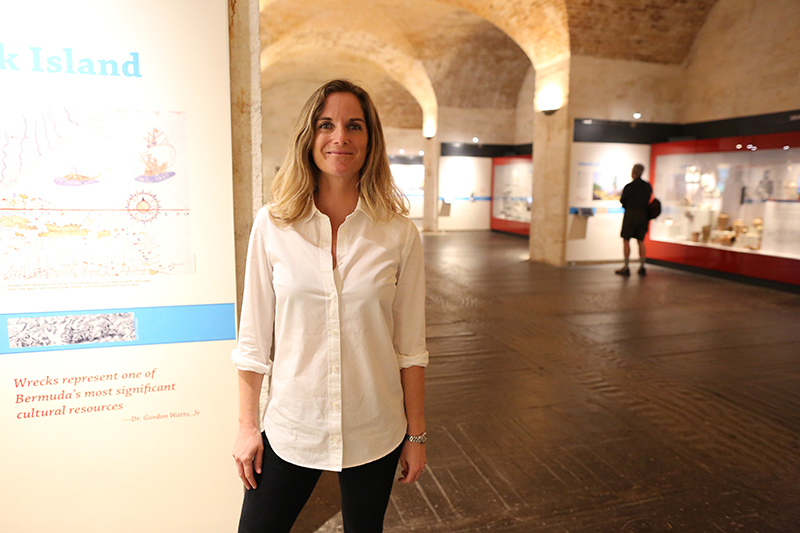 Below is a short interview with Ms. Strong as she reflects on her past and future work at the Museum.
Do you have a favourite object or collection at the Museum?
The Museum's collection is large and diverse, comprised of more than 80,000 objects relating to the history of Bermuda. The objects in the NMB collection – from local watercraft to family heirlooms like a pilot's looking glass and extremely rare artifacts like an indigenous war club dating to the early 1500s discovered on Spanish shipwreck – have the power to connect people to the past and provoke emotion: they are the tangible links to our past.
While I don't like to play favourites, I am drawn to the shipwreck and underwater cultural heritage collections. NMB is the custodian of thousands of shipwreck artifacts relating to every period of the history of the Atlantic World, comprising a tangible archive of the interaction of African, American, and European cultures. These collections help tell the story of Bermudians and Bermuda's significant role in the development of the Atlantic World.
What major challenges have you had? What successes?
The most challenging part of my career so far was dealing with the aftermath of the four hurricanes that hit Bermuda between 2014 and 2016. These storms represent the worst disaster in the Museum's history and caused widespread damage to our buildings and infrastructure, significantly impacting NMB's operations.
The first of the major storms, Hurricane Faye, struck the morning after my wedding. I don't think my husband anticipated he would get a crash course in disaster recovery and artifact salvage on his first day of marriage! Disaster recovery included the temporary closure of Commissioner's House, mitigating mould and water damage, the displacement of the curatorial office and dealing with major restoration and construction for three years.
We were able to continue with our projects because we had a disaster management plan in place and a trained, skilled and passionate team of staff and dedicated volunteers. The result was minimum damage to the collections, reinforced and strengthened buildings and roofs of all the buildings in the Upper Grounds, and expansion and renovation of the Curatorial Department [thanks to a generous donation from an anonymous donor] which allows us to better care for the collections.
What are you working on next?
Museums are fundamentally institutions of learning, so now that we have emerged from the cloud of disasters, my focus will be strengthening our formal and informal learning initiatives, making history more accessible and better connecting all Bermuda residents to their past. Central to this has been my work on the development of an Education Strategy for NMB.
Together with a newly established NMB Education Strategy Advisory Committee, chaired by NMB Trustee Dr. Janet Ferguson, we have almost completed the Education Strategy with input from community stakeholders. This plan will guide the learning landscape of NMB: underpinning not just the formal NMB education programming but publications, research, exhibits, outreach, and collecting practices.
We want to ensure the Museum engages our diverse community and connects people to our heritage in ways that foster a sense of place and identity. NMB's Education Strategy will be a catalyst that fosters insightful and transformative cross-community engagement and learning.
What about plans for the future?
This is an exciting time to be leading the NMB team. Today's museums are increasingly considering how stories of the past and collections of historic and contemporary objects can be used to promote a more equitable and socially just society.
Our 10-year Strategic Plan aims to strengthen local engagement with history and heritage and stewardship of our cultural assets, increase institutional stability, facilitate research, more strongly advocate for the preservation of Bermuda history and cultural heritage, and make NMB a must-see museum. However, you will see a change in our approach which stems from our new Education Strategy which will reposition the Museum as a multi-faceted community institution that encourages and supports the open exploration of history, heritage and identity.
We recognise that Bermuda history is an encompassing complex story involving multiple groups of people and their expressions and by knowing, understanding and appreciating our history and heritage we can effectively confront the issues of the present, shape our identity and our lives. With that in mind, you will see a greater commitment to lifelong learning, teacher training, school programming, public outreach, providing equitable access to history, and producing publications and exhibits that are representative of our diverse community.
We also have big ambitions to expand NMB and restore the Casemates Complex to house the Atlantic World History Research Institute – a multi-disciplinary research facility comprising a consortium of universities from the US, UK, Canada, Europe and Africa, operating under the NMB umbrella.
In short, NMB will be working hard to better connect people to their past, inspire more locals to engage with and protect our cultural heritage and appreciate why history matters.
Read More About