An unsuccessful Ag Show Project has become a promising fundraiser for underprivileged families in Belize, as a box garden, grown as a School Garden entry for the 2019 Bermuda Agricultural Exhibition, is now up for auction to the highest bidder.
Eden Furbert and Maya DaSilveira — who are both 11-years-old — created this food-producing container garden in hopes of participating in the Educational Box Garden competition; however, the garden was disqualified on the grounds of being over the 3ftx3ft size requirement. The base falls within the 3×3 size; however the top measurement of the black garden containers is slightly larger, measuring 3ft 3in.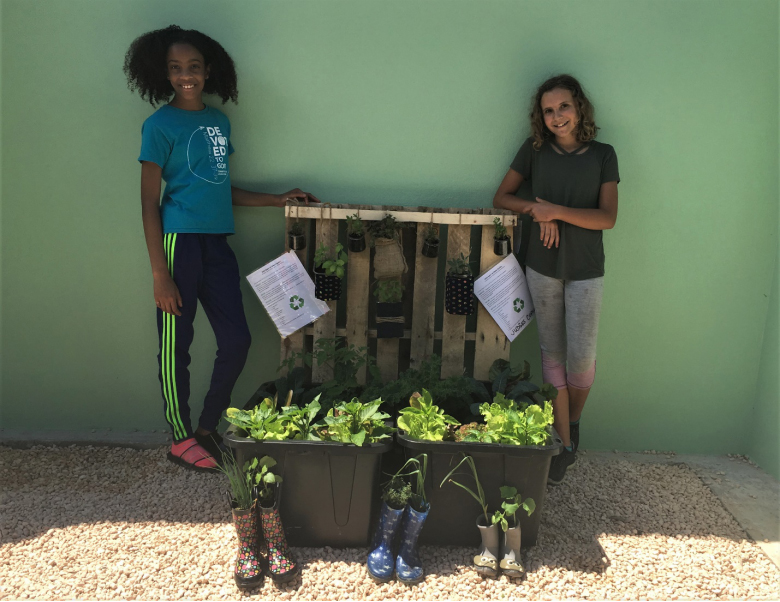 In an effort to change their disappointment into a contribution to the greater good, the girls have decided to auction their creation to raise funds for Eden's family's mission to Belize this July.
The mission, organized through the Cornerstone Bible Fellowship, will see the family join 25 other travellers – over half of whom are youth – to undertake light construction projects, feeding programs, and a vacation bible school for underprivileged families in Belize.
As the girls couldn't send the garden to help those in need of food, it made sense to use any profits raised from the garden to help supply the basic needs of those who are not as fortunate.
They explained that the "garden provides a good amount of food using a very small space. The lay out is based on the concepts of square foot and companion gardening."
The plants growing in the garden are:
Swiss Chard
Kale
Tomatoes
Carrots
Mixed Lettuces
Lemon Balm
Chives
Garlic
Cucumbers
Oregano
Parsley
Sage
Sweet marjoram
Peppers
In order to bid on the garden, please post a message on the Bermuda Eco-Garden Charity Auction Facebook page, with your desired bid amount, or message the administrators privately. Bidding will be accepted until 6pm Tuesday, April 30, 2019.
Read More About