The Paget Parish Council 2019 AGM will take place on Wednesday, April 17 at 7:00pm at Paget Primary School on Ord Road, and this year's meeting will open with a 60-minute panel discussion on Cyberbullying Awareness and Prevention.
The panel of subject matter professionals who will share their knowledge and expertise include Mark Clarke, Retired Detective Inspector, Chardonae' Rawlins, student mental health worker and researcher, Kelly Hunt, Executive Director of The Coalition for the Protection of Children and Larry Mussenden, Director of Public Prosecutions.
This discussion will be moderated by Paget resident Evelyn James-Barnett, Director of Communications at The Bermuda College, who is pleased to lend her experience to guide such a worthy conversation. An opportunity will be provided for community questions on this important topic.
Bill Pitman, Council Chairman stated: "The Council is pleased to join island-wide efforts to create awareness and discuss strategies to combat Cyberbullying. It is vital that we work with parents, our Government and community agencies to bring information to our residents. This issue concerns everyone as we are all impacted by its repercussions. I look forward to an engaging discussion."
The meeting is open to all residents and is being hosted as a community service.
The panel presentation will be followed by parish business items from 8:00pm for the residents of Paget. This will include a review and ratification of the 2018 AGM minutes, Chairman's Report, Outstanding Person Award Presentation, general updates and any other parish-related topics parish residents wish to raise.
Council Member Sinclair White says, "We thank our Paget schools, churches, businesses, community agencies and neighbours for contributing to our efforts to spread the word. We invite all Paget residents to be a part of this productive conversation to enhance our knowledge on this very important topic and to increase community awareness and safety."
For more information, please contact Council Secretary, Jodi Virgil at paget.parish@outlook.com or 704-3725.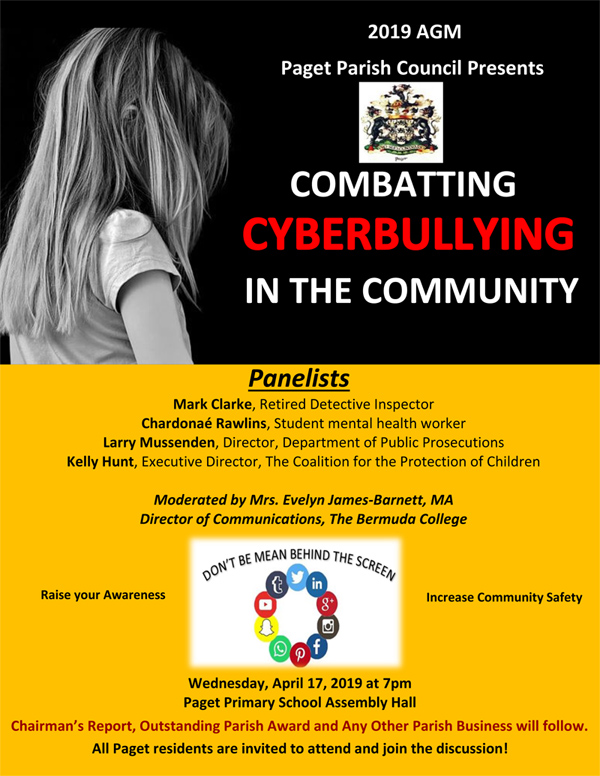 Read More About
Category: All