This Thursday [May 30] a Panel Discussion will be held on 'The Pitt Report, 41 Years Later,' with the panelists to include Laverne Furbert, Cordell Riley, Rolfe Commissiong, Phil Perinchief, Alex Scott and John Barritt.
A spokesperson said, "Former Premier Alex Scott, will join a dynamic panel discussion this Thursday, May, 30th at a public forum, designed to examine just how the island implemented changes in the wake of the wave of violence here in 1977.
"The specific structural changes were contained within recommendations in the Pitt Report, a report developed after the 1978 Commission of Inquiry headed up by then Lord Pitt from the House of Lords, London.
"The Royal Commission into the 1977 Disturbances was established in early 1978. Public hearings took place in April and May.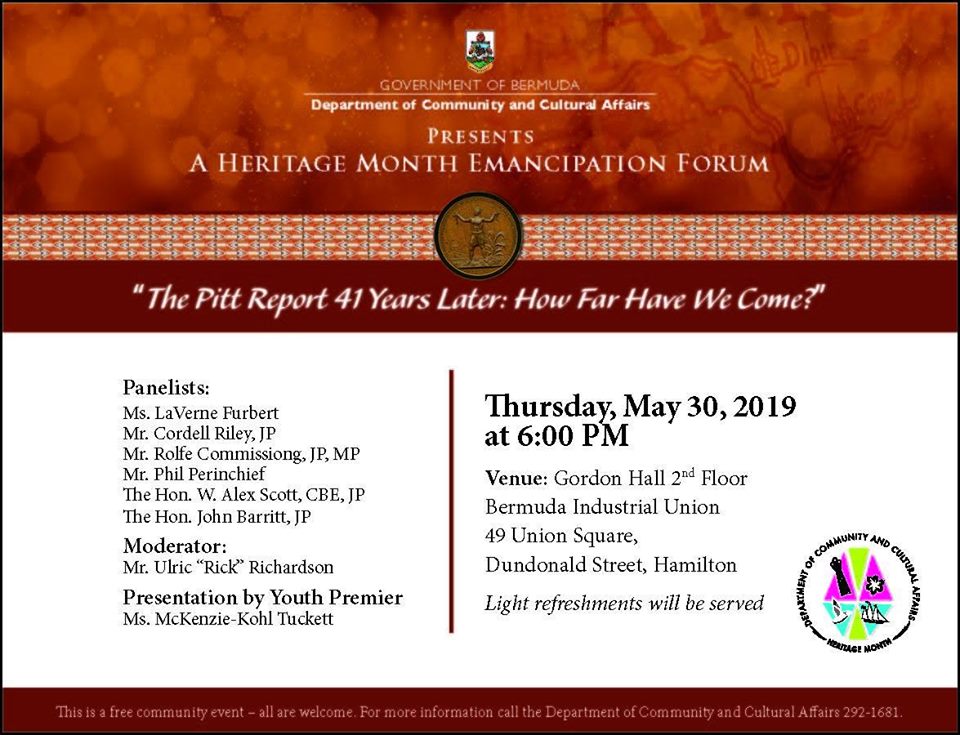 "Members of the Commission were Lord Pitt, chairman; Professor Michael Banton also of the U.K.; the late Reginald Cooper; the late John Irving Pearman; the late Walter Robinson, a former leader of the P.L.P. and former Premier Alex Scott.
"In short the Commission cited the decision not to reprieve the hangings of convicted murderers Erskine 'Buck' Burrows and Larry Tacklyn as one of the causes of the riots, and went on to cite what it termed the strong belief that there was inequality of economic opportunity in Bermuda.
"It also highlighted a number of issues relating to housing, education, distribution of wealth; a lack of job opportunities for Blacks and a number of social issues plaguing the Island.
"The forum this week Thursday — under the theme 'The Pitt Report 41 years later: How far have we come?' — will take place at the Gordon Hall in the Bermuda Industrial Union headquarters on Dundonald Street in Hamilton at 6pm.
"The forum will be moderated by Mr. Ulric 'Rick' Richardson. Before getting into the meat of their presentations, the panel will hear from Youth Premier Ms. McKenzie Kohl Tuckett."
Read More About