[Written by Don Burgess]
Dale Eve has won so many superlatives for what he has done for Bermuda on the field, all well-deserved, but what he is doing off the field is causing an impact too.
This continued Monday night when Eve gave a pair of signed gloves to Semaj Baisden-Scott. Young Semaj, 8, had written Eve a letter that went viral on social media. In it she wrote, "Tomorrow I am going away to watch Bermuda play in New Jersey. I hope Bermuda wins the game. They have one of the best goal keepers in the world." She went on to describe Eve and as to why she thought he is the best due to all the shots he saved.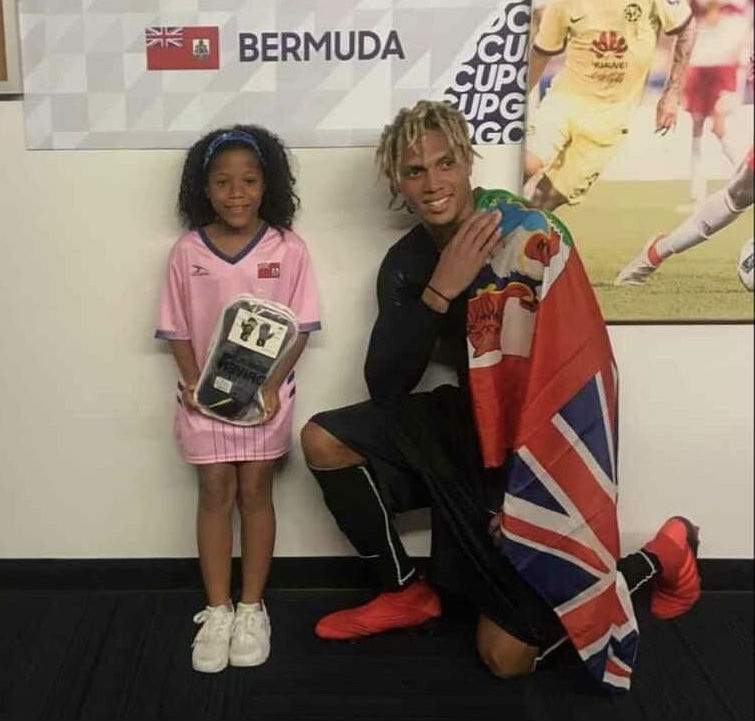 After the game on Monday night, Eve came out of the locker room, got down on one knee and signed his gloves and gave them to Semaj, who plays for PHC Girls.
Mr. Eve told Bernews "It was the sweetest thing I've ever read. Honestly gave me goosebumps, I immediately knew I had to reply there and then after I read it, on the team bus leaving training."
The Bermuda keeper added he hopes it inspires Semaj to continue to pursue football. "I just hope it encourages her. The reason I play football is because my mother was once Bermuda's goalkeeper. I'm hoping it gets the women back out encouraging the younger girls to want to play football."
Earlier in the tournament, Eve pulled off his jersey and handed it to a youth in the stands. In a Concacaf video, Mr. Eve said, "Really, we do this for the kids like. We hope the next generation and the ones behind them want to be professional footballers and try to keep the sport going as long as they can.
"So having a kid reach out and ask for my jersey was an honour to me because that meant he wanted something of mine and to give it to him made me feel lovely inside. It was heart warming."
Eve, who won several accolades during the tournament for his footballing ability, is also winning praise for his off the pitch behavior. 'Bermudian Excellence' was the theme for Heritage Month, but Dale Eve is proving Bermudian class and excellence have no limits.
Bermuda's history making team included Nahki Wells, Dante Leverock, Jonte Smith, Reggie Lambe, Dale Eve, Oliver Jalen Harvey, Calon Minors, Roger Lee, Kacy Milan Butterfield, Jaylon Bather, Lejaun Simmons, Donte Brangman, Chikosi Basden, Zeiko Lewis, Willie Clemons, Jahquil Hill, Osagi Bascome, Cecoy Robinson, Justin Donawa, Wendell Tre Ming, Liam Evans, Marco Warren, and Quinaceo Hunt.

Read More About