Benedict Associates is getting set to welcome international speaker Dan Newby, who will be in Bermuda on October 10 to celebrate World Mental Health Awareness Day.
A spokesperson said, "Dan works with people and organisations worldwide who have a desire to grow their emotional intelligence in a practical way. His newest book is titled, 'The Unopened Gift: A Primer in Emotional Literacy.'
"Minister of Health Kim Wilson will open the seminar highlighting mental health in the workplace."
Minister Wilson said, "This event is an excellent way to raise awareness of mental health issues in Bermuda. The majority of adults spend most of their day at their jobs, so it's important to promote and protect all aspects of their physical and mental health in workplace environments. Burnout and anxiety are increasing in both adults and young persons, and as a society we have to re-think our attitudes.
"Ultimately, highly-stressed adults will be less productive and will struggle with care-giving responsibilities at home so it's important to keep work-places healthy so the whole of society can function optimally. I thank and welcome Dan Newby and his 'Unopened Gift.'"
The spokesperson said, "Mr. Newby will deliver an engaging seminar on the vital role of emotions in successful leadership and organizational health and well being. Organisations have traditionally minimized the role of emotions in the workplace, missing out on a vast resource for enhancing the work environment. Dan's work provides a practical approach to stress, anxiety, depression, apathy, overwhelm and burnout at work."
Mr. Newby said, "It's a smart business strategy to have an emotional tool box that assists in building positive relationships and healthier corporate cultures."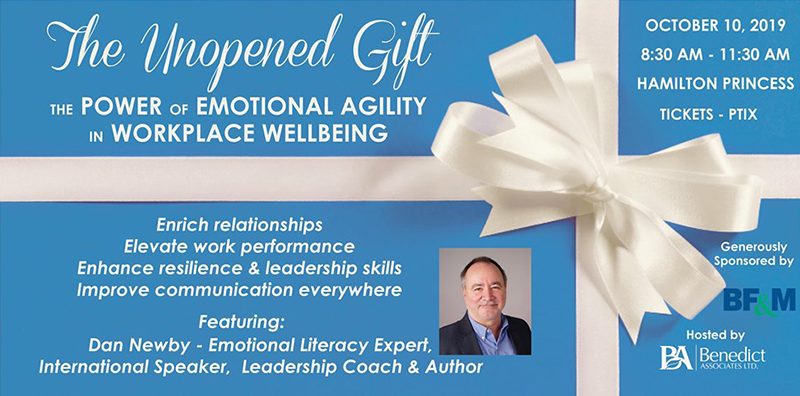 The spokesperson said, "Health and well being at work includes how people feel about their jobs as well as how efficiently they perform and interact with colleagues, customers, and clients. By becoming aware of the positive and intricate link between reason and emotions, this relationship can be maximised to:
Create more effective leadership
Elevate motivation and performance
Increase the positive impact of our emotions
Provide a more productive, safer and happier workplace
"Kindly sponsored by BF&M, Abigail Clifford, BF&M Group Chief Operating Officer, said: "We are pleased to support Benedict Associates and to welcome Dan Newby. His message is fully aligned with BF&M's LiveWell philosophy, which aims to help individuals better understand and manage their personal wellbeing. 
"Awareness of emotions—both one's own and those of others around us—plays an essential part in navigating the dynamics in the workplace."
"The Unopened Gift: The Power of Emotional Agility in the Workplace will be held on October 10 – World Mental Health Awareness Day. This community corporate breakfast and seminar will be from 8:30 am – 11:30 am at The Hamilton Princess. Purchase tickets at Ptix.bm to Open the Gift and forever change your relationship with emotions,.
"For more information, email Cathy Sousa at BenedictNewby2019@gmail.com, call Vaughn Mosher at 295.2070, or visit www.benedict.bm."

Read More About
Category: All