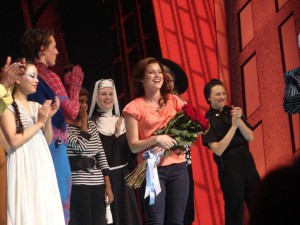 Bermuda actress Rebecca Faulkenberry made her Broadway debut earlier this year as small-town girl Sherrie who arrives in Hollywood in search of stardom in "Rock Of Ages".
Now the young  Bermudian  is continuing to  live out her own dreams of stardom after swinging into another Broadway blockbuster as the title character's love interest Mary Jane Watson in "Spider-Man: Turn Off the Dark",  one of the hottest shows in New York [she is seen here receiving flowers and a round of applause from castmates on her opening night in November].
Playing at New York's Foxwoods Theatre, the musical is inspired by over 40 years of the Marvel Comics character co-created by writer/editor Stan Lee and artist Steve Ditko.
"Spider-Man: Turn Off The Dark" follows the story of teenager Peter Parker, whose unremarkable life is turned upside-down when he's bitten by a genetically altered spider and must learn that with great powers comes great responsibility.
Ms Faulkenberry spoke to "Theatermania" website this week about her two star-making 2011 Broadway roles.
The former Bermuda High School student who began acting as a youngster in Bermuda Musical & Dramatic Society and Bermuda Gilbert & Sullivan Society productions, recently said: "You know I'm super proud of my Bermuda roots!
"Hoping to be home for 24 hours on Christmas, — literally flying in Christmas morning, flying out Boxing Day morning. But I get to go home all the same!"
The full " Theatermania" interview appears below:
THEATERMANIA: Rebecca, how did this role come about for you?


REBECCA FAULKENBERRY: The whole process happened very quickly. It took about a week from my first audition to being cast. I was looking forward to getting to play another role. The vocal demands of "Rock of Ages" are very high. You have a limited social life! I needed to rest my voice. I was doing a lot of high belting. You are really just screaming. At least with "Spider-Man", I have some beautiful, intimate songs, and I am able to relax a little. They are both rock musicals, but are completely different.


TM: Did Jennifer Damiano, the original Mary Jane, give you any advice?


RF: She was lovely. I didn't want to get in her way as she was finishing her run. She gave me her number and told me that I can call her if I had any questions.


TM: How was your first show?


RF: It was so much more relaxed than I thought it would be, which was great because I was able to concentrate on the show and the role. I got lovely notes and flowers; I couldn't believe the supporters that I had. The Foxwoods is such a big theater, but I feel as if I am in my own world.


TM: What is your relationship like with [leading man] Reeve Carney?


RF: Reeve is awesome! I also get to work with Matthew James Thomas [the alternate Peter Parker/Spider-Man, who plays the dual role twice weekly]. They are both very good-looking!


TM: Are there any similarities between Mary Jane and Sherrie?


RF: Both of my characters are trying to be actresses. Mary Jane is more successful than Sherrie. She doesn't have to become a stripper.


TM: Was it more challenging for you coming in as a replacement?


RF: It's the first time I've done that, and it worked out well. I love to build relationships with the cast, and that's usually done during rehearsals when everyone is rehearsing together. Everyone in the cast has been so nice, so open and welcoming.


TM: Would you consider more replacement roles?


RF: I love creating stuff, but have been fortunate that directors have let me give my take on the character and that's what happened here. Every role has been original to me.

Rebecca Faulkenberry Plants A Kiss On Reeve Carney In An Iconic "Spider-Man" Scene
Read More About
Category: All, Entertainment, News