[Opinion column written by Vejay Steede]
There's an old adage that life can become decidedly unbearable if you don't slow down, even stop, and smell some variety of fragrant plant that will somehow rejuvenate your spirit and get you high stepping along the road to happiness. Well, when you're forced to stop, sometimes the only option is to smell the roses, or freesias, or peonies, or whichever metaphorical scent you can access in your captive state.
I was recently forced to stop. There was a grueling medical condition involved; a soul-sapping thing. Mere days into my recovery, however, circumstances found me at the Fairmont Southampton, checking in to stay for a night. Now I had heard about the fabulous amenities at the Fairmont, and casually ignored recommendations to go and stay for a weekend for years; dismissing the thought of such an extravagant lark out of hand due mainly to cost concerns.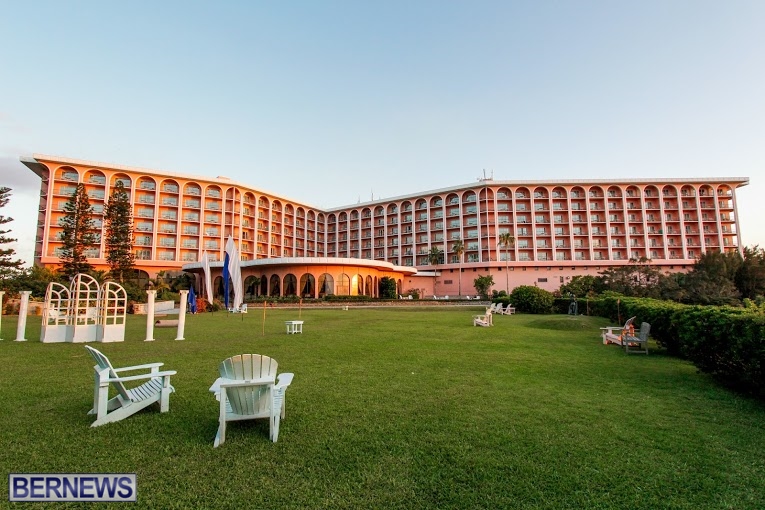 Now, however, the benefits of certain amenities, I was told, would help my recovery. I decided to casually ignore the expense this time, and went in for an experience that, frankly, left me humbled.
We checked in around 2.00pm on Saturday afternoon, got settled in our quite comfortable room, and then made our way to the Boundary Sports Bar and Grille for lunch.
The setting and ambiance of the Boundary Sports Bar were impeccable. Huge screens with all kinds of sports showing were dispersed throughout the place, and there was a pool table and shuffleboard table prominently featured, but there was elegance as well. Suffice it to say that this is probably the most upscale, classy sports bar you could imagine; and the food is … just … exquisite!
We got the 'Damn Delicious Shrimp' for the boy, because he loves…damn delicious shrimp; and they were, well, let's just say the name fits. I tried the poutine with torn brisket to start. Shoestring French fries cooked crisp, then smothered with cheese curds and gravy, and topped with perfectly prepared smoked brisket. Can you hear me drooling?
The half barbecue chicken and 8 ounce steak were both tender, juicy, and five-star worthy. The three cheese mac-n-cheese was simply divine. Compiled of three cheeses [cheddar, asiago, and parmesan] this is a dish that dances on your tongue for a moment before it goes ahead and melts in your mouth.
The fish chowder at Fairmont is famously great, so I won't go into detail here. I will mention, however, that the Bloody Caesar at Boundary [because we had to sample from the bar] is simply world class.
Oh! And the desserts! The lemon cake with raspberry sorbet was just about flawless, but it had nothing on the Ooey Gooey Peanut Butter Cup. This inspired concoction came in a mason style jar and was served with a side of warm chocolate ganache sauce that was simply heavenly.
Well, lunch was delightful, and there was only one place to go after such an abundant feast … rest was in order now.
The room supported our nap-craving bodies with rejuvenating magic, and there was bliss for the first time in a while for me, and for us all.
Later we visited the play rooms so my son [5 years old] could have a bit of fun. The amenities at Fairmont do lend themselves to family getaways for locals, as the kids definitely have an abundance of dedicated spaces to discover and explore, including a drop off camp in the lower lobby.
Perhaps the best space for families, however, is the indoor pool, which is open to all guests after 6.30pm when the acclaimed Willow Stream Spa closes for the evening. Ethan [the boy] and I hit the pool later Saturday night, and we were joined by several like-minded families, both local and visiting.
The indoor pool was easily our favorite amenity at the Fairmont. Granted, we didn't really exhaust the list of amenities on offer during this particular staycation, but maybe we'll get the chance to do more in the future. For now, however, the pool and restaurants were more than enough to thoroughly satisfy us.
As I mentioned earlier, I had been told that swimming and sitting in a hot tub would be of great benefit to joint inflammation, so I was fully prepared to stay in the pool and various surrounding hot tubs with the boy until he was good and ready to go. Five year olds are never ready to stop swimming … so we left the pool at 10.00pm, when the wonderfully attentive pool attendant, Deanna, told us that the pool was closed for the night.
Wow. Sitting in those hot tubs was utter ecstasy, and I remember thinking that the feeling I had in those moments was worth the price of admission alone. Now I know this doesn't seem like much, but the Fairmont represents quality, and when you take a couple of days to touch, taste, and indulge in quality, you want to share it. The simplicity of a heated pool on a November night in Bermuda, complete with two perfectly tranquil hot tubs … well that's the kind of simplicity I highly recommend for a busy, stressed Bermudian of any ilk.
Sleep was rewarding, refreshing, and deep. There were 1.00am chicken wings to revel in, and the magnificent purr of a soundly sleeping child. With the morning came the famous Windows on the Sound Brunch. Before brunch, however, a decision was made. We decided that another night was needed. So our fabulous staycation continued.
Brunch was awesome. The variety on offer was staggering; from the old standard codfish and potatoes, to scrumptious Belgian waffles, to made-to-order omelets, to vegetable empanadas, to that perfectly rendered brisket that featured at Boundary twenty-something hours earlier. The brisket was served at the carving station, and it was the highlight of another meal for me.
Thoroughly satisfied once again, the room beckoned. It was a home we delighted in returning to for two stupendous days, and nary a Firestick, Netflix, or Playstation was missed or even thought about.
Later, the pool called like a distant siren, promising paradise with her irresistible song. What a wonderful, surprising, quality experience. If I had to summarize my first ever 'Great Bermudian Staycation' I guess I could say: brisket, hot tub, sleep – repeat. It was certainly what I needed; the ideal fragrant plant to help my brief stop feel completely idyllic. Maybe yours will be something different, but I'm telling you, you have to make yours be.
At checkout, Leanna told me about the Fairmont's Luxury All Inclusive Food & Beverage Package. Call and ask about it, tell them I sent you [lol]. Ultimately, for the price of two adult tickets to New York City [if you get a great deal!], you can forego the hassle of air travel and take your family to one of Bermuda's crown gems for a weekend filled with magic, majesty, and delight; make it happen soon!
- Vejay Steede

20 Most Recent Opinion Columns

Opinion columns reflect the views of the writer, and not those of Bernews Ltd. To submit an Opinion Column/Letter to the Editor, please email info@bernews.com. Bernews welcomes submissions, and while there are no length restrictions, all columns must be signed by the writer's real name.
-
Read More About
Category: All, Business, Entertainment, News