Author and artist Joan K. Aspinall will be launching her new book Bermuda Mermaids and Mercats at an event at the Bookmart on Saturday, December 7 from 12.00pm to 3.00pm.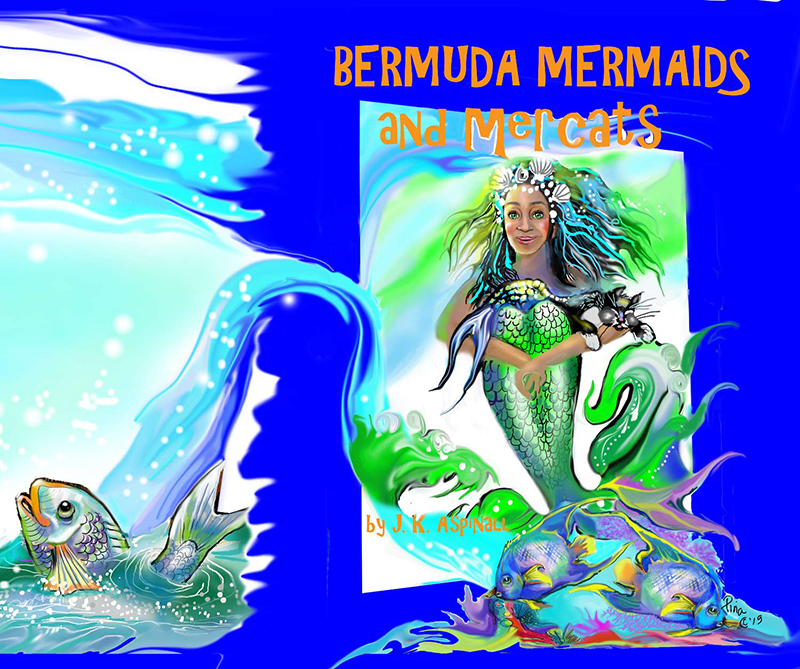 A mercat – half-cat, half-fish, not unlike a mermaid – is a popular element incorporated within the myth of mermaid art, with Ms. Aspinall saying that "a mermaid owning a mercat is not unlike a human owning a pet cat."
Designing her first mermaids, Aqua and Bella, four decades ago as logos for screen printing textile business Pina of Bermuda, Ms. Aspinall said the digital age enabled her to transform initial pen and ink art, the black-white art medium needed for screen printing, into full colour while retaining integrity of original pen and ink.
"Those two girls are on the market now on our aprons, bags, prints, etc. Looking pretty good for being forty-years old," she said.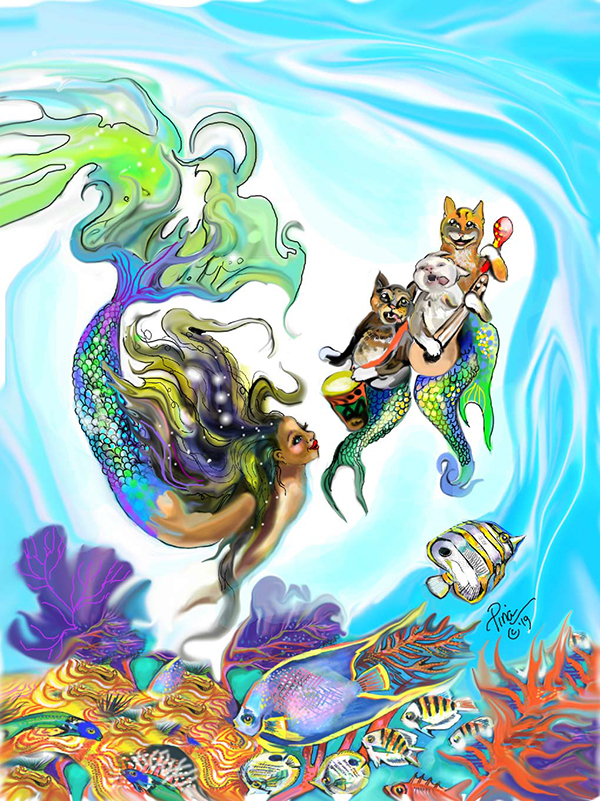 Asides from using her own art collection of mermaids, Ms. Aspinall inserted an enchanting addition in the form of Mermaid Shaylana, inspired by Bermudian teenager Shayla Brown-Smith. When Ms. Aspinall saw the green-eyed girl, she told her that she was the mermaid face she needed. Ms. Aspinall held back one page for her image in the book and also replaced the original cover to make Mermaid Shaylana the star.
Ms. Aspinall said, "This young girl radiates a magical quality. I think most Bermudians will be enchanted by the mermaids, but more so that I was able to incorporate the image of a beautiful, living Bermudian, called 'The Mermaid of Dreams'."
Ms. Aspinall added that this is the second time she has used a Bermudian in a book; the star of Gombey Baby, published in 2010, was Norhyon De-Rosa Brown.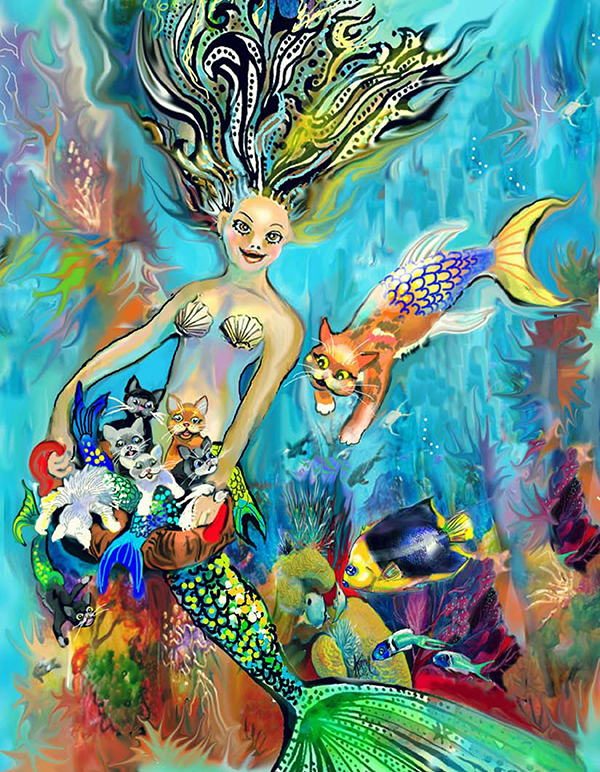 Ms. Aspinall said that the mermaid book concept was an idea put into reality when she discovered Bermuda company Pro-Serve printed limited edition quantities.
"Having this facility catapulted me back into the publishing business. My books went out of print, as I could not afford quantities of 1,000 plus books per title, cost of shipping, and no place to store them. Re-printing four titles abroad requires thousands of dollars.
"Out-of-print titles such as Gombey Baby, Shoo Cat Shoo will be following, while Goodnight Bermuda, one of my most popular, is currently on the market. My Hello Fish manuscript, completed, copy written, with ISBN number obtained in 2012, will be produced spring of 2020."
In May of this year, Dale Butler's Atlantic Publishing Company awarded Ms. Aspinall, along with other Bermudian female authors, the Crystal Butterfly Award for "outstanding Bermuda literary works".
Ms. Aspinall said, "I felt ashamed that I had abandoned a profession that I so loved, especially when I had so many manuscripts with accompanying art that had reached publishing stage. Dale's award was an awakening in my soul, revealing what I had missed all these years. He was the arrow that shot me into the publishing world again."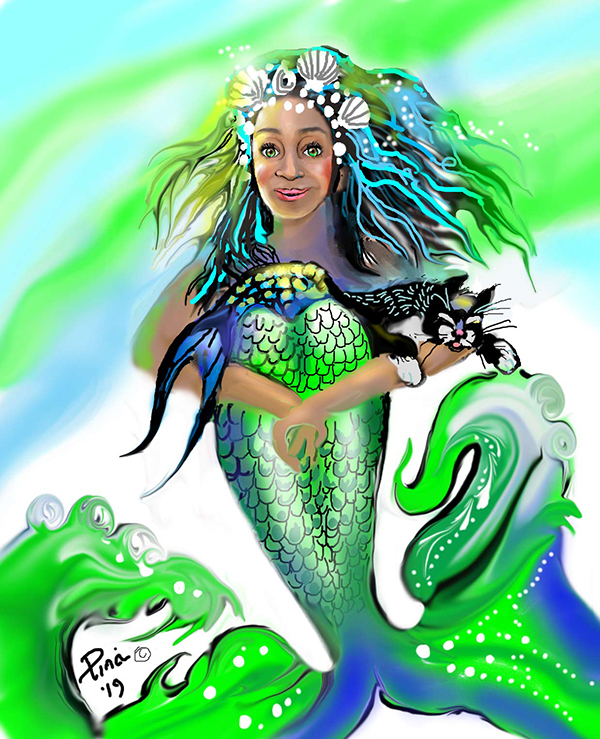 Within weeks, Ms. Aspinall had three small early reader booklets printed by Pro-Serve. The booklets were created in 2012 after hearing Joy Cowley, famous New Zealand children's author, speak at seminar at the Fairmont Southampton.
Ms. Aspinall said, "I based my Bermuda books on her format, using small scenes in my Shoo Cat Shoo series of Tuppie the Cat, granting me immediate art. The booklets lay dormant for years."
Booklets carry banner Tuppie the Cat's Bermuda Adventures with titles including Dog Biscuits for Fish [Tobacco Bay], Off to the Beaches We Go [Elbow Beach], and the Mermaid of Crystal Caves. The characters are straight from Shoo Cat with Tuppie the cat, Phyllonious Maxus Bulbous the frog, Herman the chameleon, and Gleepy Pete, Bermuda's singing tree frog.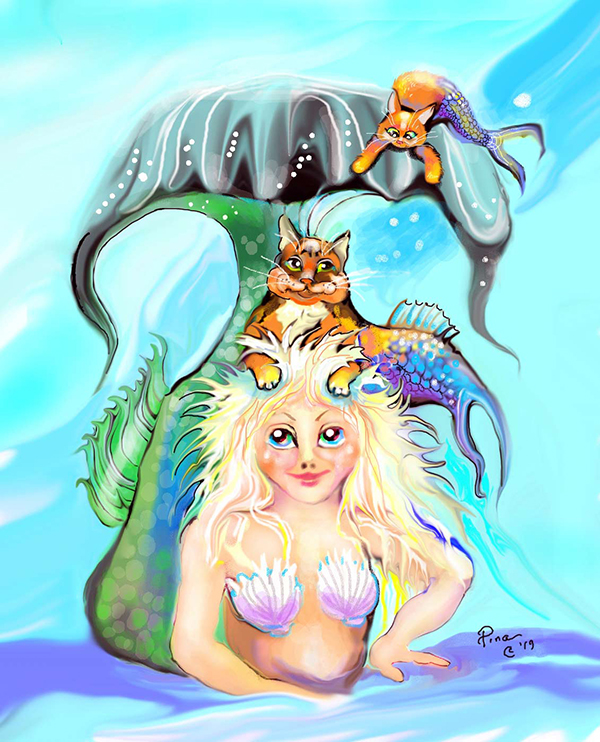 Ms. Aspinall said she can deliver to nursery and pre-schools if contacted. They are available at the Bookmart in Hamilton, Grotto Bay Gift Shop, Crystal Cave Gift Shop, National Trust Shop in St. George's, and Craft Market in Dockyard
Ms. Aspinall said, "The objective of producing booklets was to provide a product that could be sold at a reasonable retail price of $9.95 to $10.95, offering an incentive to purchase more than one. This is the most important aspect.
She does not want the booklets sold in establishments unless they adhere to her suggested retail price.
"The printer and I make a few dollars off each book, so we don't need retailers taking advantage of our low wholesale price. If they can't foresee potential of multiple sales, we are not interested."

Read More About
Category: All, Entertainment