Nikita Robinson of The Ladies Room on Hott1075 is inviting the public to read at a nursery, preschool, or primary school reading class to help celebrate World Book Day on March 5.
1,312 books will be delivered to 43 pre/nursery schools throughout the Island in celebration of World Book Day. In addition, 18 public primary school reading classes and Public Middle and High school libraries, will be receiving books as well.
World Book Day is Ms Robinson's favorite day of the year where the love of literacy is spread from one end of the island to the other by community sponsors and volunteers.
This year Reading Officer Kim Manderson from the Department of Education has lent her support by retrieving specific book requests from each of the reading specialists at our public primary schools.
"It's not too late to participate. There is one pre-school available for sponsorship or 70 books to be purchased. There are five public primary school reading classes available for sponsorship. The book lists are posted at Brown & Co. Book Donations or gift cards can be purchased for our Public Middle and High School Libraries," Ms Robinson said.
"To donate, just go to or call Brown & co at 279-5443 to purchase your favorite book or books to deposit in the book bin for the school of your choice.
"Please help me in sending thank yous to our wonderful community sponsors that are helping to share the love of reading on Thursday, March 5.
"Sponsors include Premier David Burt, Minister Diallo Rabain, Minister Zane DeSilva, Minister Jamahl & Sherrie Simmons, MP Tinee Furbert, MP Michael Weeks, MP Michael Dunkley, US Consulate General, Green Family [Hamilton Princess & Beach Club], AON Insurance, Cyril Whitter [IML], Smith Technologies, Lindo's, Renaissance Re, Inter-Island Communications, BF&M, AXAXL, Security Associates Bermuda, Butterfield & Vallis, Validus Re, Lifestyle Co. Ltd, One Communications, Community Rehabilitation Services, JEMMS, Betsy Bermuda, Janet & Tiffany Durham, Scott Pearman, Essie Raynor, Paula Cox, Marlene Taylor, Kiwanis Club of Hamilton, The Smith family, The Riley Family, The Furbert & Harris Family, Southampton Parish Council, St. George's Parish Council, Kleita & Tazara Pitcher, Department of Child & Family Services, Bruce Barritt, Traci Burgess, Sigma Xi Omega Chapter of AKA, Southampton Glebe Alumni and Sandys Secondary Middle School S1 students & Team.
"If you are interested in purchasing books, contact Brown & Co on 279-5443. If you're interested in reading, contact Nikita@hott1075bermuda.com or just call the school nearest you to participate. Thank you for helping celebrate World book Day."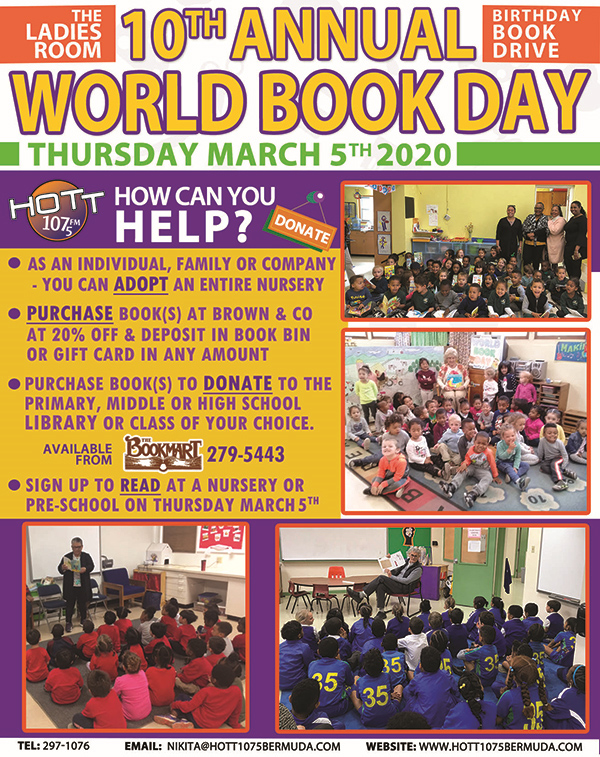 Read More About
Category: All, Entertainment