An event to mark the launch of Social Work Month was held at the Bermuda College, serving to acknowledge the important contribution they make to the Bermudian community.
To open the event social worker Danielle Cross said, "Bermuda's Social Workers are mirroring what our counterparts are doing in the US and they are taking the time to apply the theme that has been chosen by the National Association of Social Workers – Social Workers: Generations Strong!
"This is an extremely fitting theme for the month because they would not be able to highlight the vibrant profession of Social Work and its contribution to the Bermudian community without acknowledging the trailblazers that paved the way for them to be involved in such purposeful work.
"When one reflects on names such as: Mr. David Critchly, Dr. Norma Astwood, Mrs. Olga Scott, Ms. Betty Osbourne, Ms. Winnie Saunders, Mr. Randy Dickinson, the Honorable Nelson Bascome and of course, none other than Ms. Ida James, one cannot help being focused on making sure that the profession maintains its relevance in our community.
"Whilst some of the trailblazers are no longer in our midst, they certainly passed the baton on to many who are on the front line today. Social Workers are diligent and dedicated whilst they perform their various duties on behalf of the community and Bermuda College has social work students who are exploring educational opportunities that will no doubt lead them into the path of Social Work as a career."
Selena Simons, Social Worker; Tylasha Desilva, Bermuda College student/social work; Dr Duranda Greene, President, Bermuda College; Minister Kathy Lynn Simmons and Pastor Kenneth Manders, President Bermuda Conference of Seventh-Day Adventists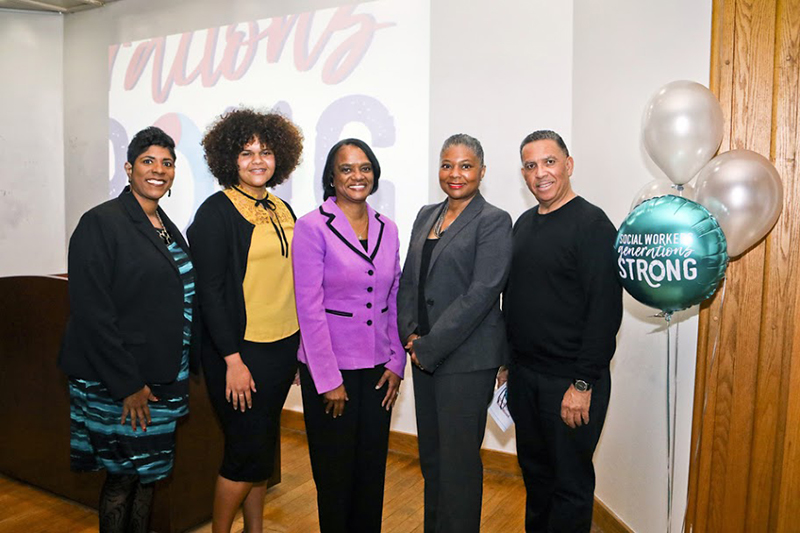 A special reading entitled 'Being a Social Worker Means' was presented by a group of retired and current social workers. The reading included these sentiments, "According to Google, the definition of Social Work is a profession concerned with helping individuals, families, groups and communities to enhance their individual and collective well-being. It aims to help people develop their skills and their ability to use their resources and those of the community to resolve problems.
"That's fairly generic and basic! Defining Social Work is neither easy nor straightforward. There are many forms of Social Work as it is a vast discipline.
"You can find a Social Worker in any of the following areas:-
Administration & Management
Advocacy & Community Organization
Justice & Corrections
Aging & Seniors
Child Welfare
Mental Health & Clinical Services
Substance Abuse Counselors
EAP Programmes
Policy Planning & Legislative Reform
School Social Work
Health Care & Disabilities
Public Welfare
International Social Work
"No matter what the professional setting is, social workers are tasked with intervening in people's lives when they are most vulnerable. This requires a high level of sensitivity and empathy. Grit, strength, and endurance are also vitally important as the intricate details of persons or families who are facing challenges can be wrought with hard to listen to or see dynamics.
Tylasha Desilva's speech
"At the societal level, social workers are activists and advocates. Demanding and fighting for change is a main core value as it is insufficient to only expect change in people. Systems, entities, legislation and communities must be prepared to make progress as well.
"You will never be bored. You will often be frustrated. You will never have two days alike. You will often be surrounded by challenges with so much to do and so little time. You will carry immense responsibility and you will find ways to be very creative to make things work. You will step into people's lives. And you WILL make a difference.
"Some will bless you. Some will curse you. You will see people at their worst and at their best. You will never cease to be amazed at people's capacity for love, courage, and endurance. You will see life begin and you will see life end. You will experience resounding triumphs and some disappointing failures, you will be surrounded by supportive team members to get you through the lows and celebrate the highs.
"You will cry, You will laugh, You will know what it is to be human and how important it is to be humane. You will work with purpose, dignity and pride. With every new day that you are blessed with, you will apply a renewed strength to this profession that is often looked down upon. Despite it all, you will be an awesome Social Worker and you will exemplify this year's theme of Social Workers: Generations Strong!"
The Bermuda Social Workers Committee have organized a series of events for the month of March to fully recognize the overall contribution of Social Workers in the community.
Read More About