Tami Ray — Bermuda's first female ferry pilot — received the Woman of the Year award at the International Women's Day celebration on Friday at City Hall.
In announcing Ms Ray as the Woman of the Year, the organisers noted that she "smashed through the glass ceiling of Bermuda's Maritime, and become the first ever female ferry pilot."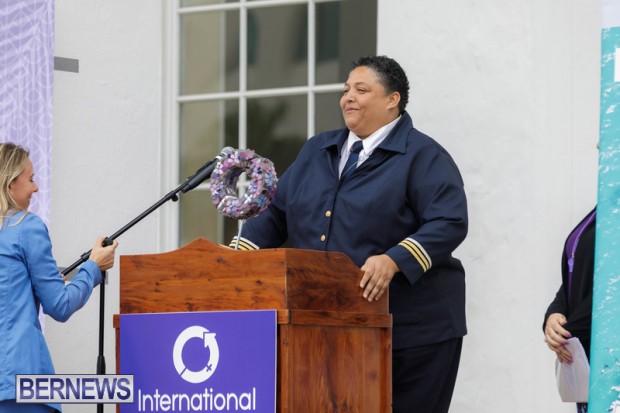 "Tami can drive and captain any of the fleets on our water. She uses her voice as an Executive of the Bermuda Industrial Union. She is a member of the Bermuda Hockey Federation, for over 30 years. A member of Women's International Shipping and Trading Association and a Secretary for the West End Sailboat Club, Tami is passionate about sharing her knowledge and strive for equality, whether at work or in her daily life," they said.
Speaking at the event, Ms Ray said, "I just like to say thank you. You do things in life not expecting to actually, not necessarily with the intention of impacting other people sometimes. For me working on the water was basically what I wanted to do. I always said that I would never go into a job that I did not enjoy, so I've been on the water for 25 years now."
"In 2009, I became Bermuda's first female ferry pilot," she added, noting that "Marine and Ports has been around for almost 70 years and it took me till 2009 to actually become the first female."
"I've been through a lot of experiences where they say 'why do we only celebrate women," she said. "I'm going to steal somebody else's line, if you want to celebrate men then you guys get a day and celebrate yourselves," she added, causing laughter among the crowd.
She urged women to "work together so that we can rise up together," adding that "everybody is an individual and we're blessed to be individuals."
Read More About