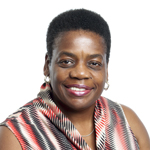 Martha Dismont — the Family Centre Founder and Executive Director of 30 years — is stepping down from her post and handing the baton to Dr. Sandy De Silva.
Justin Freisenbruch, Family Centre Board chairman commends the life's work of Martha Dismont. "Martha has steered the organization in a progressive and enlightened manner and the organization has grown from strength to strength under her leadership.
"Bermuda's families and children have benefitted tremendously through her stewardship of their care through ensuring organizational best practices and the delivery of critical therapeutic programmes and services. "
Mr. Freisenbruch added, "On behalf of the Board we wish Martha continue success in her future plans and we look forward to calling on her expertise from time to time as we navigate the next 30 years at Family Centre."
According to Ms. Dismont, "Family Centre has been a labour of love. The joy I see on the faces of children and families finding solutions to their challenges are priceless treasures that has kept me motivated for many years as Executive Director of Family Centre."
Ms. Dismont described the succession of the new Executive Director as having placed Family Centre in safe hands, saying: "Dr. Sandy De Silva has completed a comprehensive succession plan and I am confident in her professional ability, and the heart she brings to the organization."
"Dr. Sandy De Silva has been the Director of Services at Family Centre for the past 11 years and I am sure she will take the organization to even higher heights. I am truly excited for what the future will bring for the organization under her capable care", said Ms. Dismont.
Ms. Dismont plans to stay connected to the community as she has for most of her career. She will continue to advocate for children and for the vulnerable populations in the community.
When asked what is next on the horizon, Ms. Dismont shared that bringing dignity, a sense of belonging and responsibility back to the young males of our community is critical. She also shared that she hoped to be of use helping others in the Third Sector to strengthen their own agencies. Ms. Dismont will also serve on the Advisory Council for Family Centre.
She ended by saying, "It has been my distinct pleasure to be of service to this community, and I owe a debt of gratitude to individuals in the donor community, my peers, our Board and staff, who have supported me in the position that I was granted. I am indeed grateful."
Read More About