In an article entitled "The handful of countries still welcoming US tourists," CNN has reported on the nations worldwide that are allowing American tourists, with Bermuda one of the locations included.
A CNN Travel story said, "Once one of the world's most powerful travel documents, the might of the US passport has shriveled under the cloud of coronavirus, with doors slammed shut across the planet to American travelers.
"With US coronavirus cases recently passing the three million mark, many nations now view America with trepidation. No matter how much they want those tourism dollars, they're unwilling to take the risk of opening their borders.
Graphic via CNN: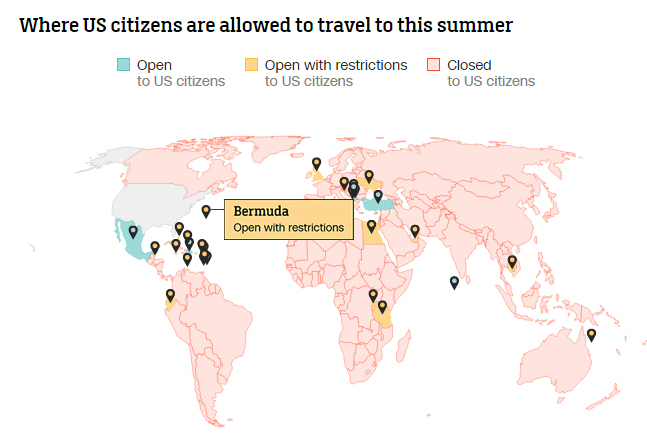 "While most US travelers are staying close to home this summer, preferring short-distance car trips to international air travel, some voyagers won't let a global pandemic curb their travel plans. And there are still a handful of options.
"Most of the Caribbean, for example, is open for US tourists. Other countries — including Mexico, Maldives and Turkey — aren't exactly welcoming US travelers with open arms [more like a temperature check and a Covid-19 test], but they are allowing visitors to cross their borders for the first time since coronavirus shut down much of the world.
As it pertains to Bermuda, the CNN report said, "Welcoming visitors since July 1, Bermuda requires each inbound passenger [regardless of age] to apply for travel authorization, at the cost of $75 per adult and $30 for flight crew and children aged nine and under. Visitors who do not have a negative Covid-19 PCR test result will not be given authorization to travel to Bermuda.
"Upon arrival, passengers must present the pre-departure negative test results, submit to an additional Covid-19 test and quarantine in their accommodation until the results are ready, which takes between six and eight hours.
"Additional testing is required after day three, seven and 14, depending on the length of stay, at various testing sites around the island. The fee for the travel authorization covers the cost of testing."
You can read the full story here on CNN Travel.

Read More About