The National Museum of Bermuda's [NMB] 'Moving the Needle': Teacher Professional Development [TPD] programme will continue virtually with a workshop entitled Building a Maritime Community & Maritime State: Early Settlement & Economic Growth [1609–1800].
A spokesperson said, "For educators and parents with children currently in the local school system, this workshop will be held via Zoom at 10am AT on Friday, July 24th [registration link below].
"This workshop is part of the second module in the Museum's 2020 TPD programme, which provides local teachers with the opportunity to explore, refine and unpack their understanding of Bermuda's diverse past, and experiment with multidisciplinary approaches to teaching history that respond to the needs of Bermuda's students. Each module in the programme comprises a free public lecture [within NMB's Bermuda and the Atlantic World lecture series] followed by a facilitated workshop.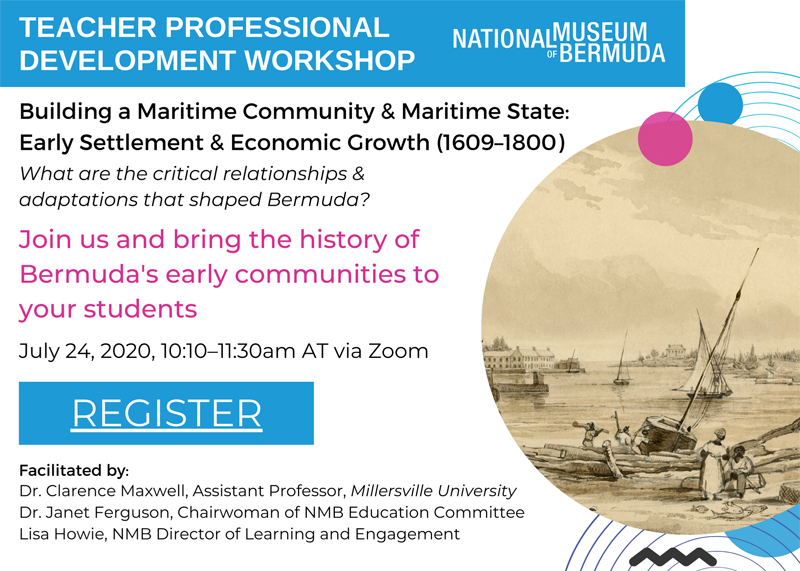 "Presented as an interactive 90-minute webinar, participants in the upcoming workshop will address content from the Museum's July 23rd lecture with the same name [registration link below] through the lens of a Teacher Resource Guide that supports interpretation and utility of Prudent Rebels: Bermudians & The First Age of Revolution [2019], co-authored by Dr. Clarence Maxwell. Prudent Rebels directly addresses the time period of this module [1609-1800].
"The aims of this workshop are to connect the lecture content with a multi-disciplinary approach to the Prudent Rebels Teacher Resource Guide [link below]; to test the functionality of the Guide by group-working activities; to discuss the ways in which teachers can utilize the Guide across various age groups and subjects; and to listen to teacher feedback. Workshop participants are asked to review the Guide prior.
When asked about the workshop, Lisa Howie, NMB Director of Learning and Engagement, said: "We have listened to feedback from teachers that an opportunity to work with colleagues across the local education systems is most beneficial.
"This workshop will provide that space for interaction and dialogue, while focused on both the lecture content and the Prudent Rebels Teacher Resource Guide that we have created.
"This workshop [and the others in the series] aim to provide user-friendly, well-designed classroom resources that are closely linked to the national curricula. Our goal is that teachers take away ideas and strategies on how to include important historical information on Bermuda's early communities into their unit/lesson plans."
"July 24 Teacher/ Parent Workshop registration [only for local educators and parents with children currently in the local school system]: here
"July 23 Lecture registration [free and open to the public]: here
"Prudent Rebels Teacher Resource Guide: here
"For questions, please email Lisa Howie at education@nmb.bm.
"The first module's lecture, entitled "The Early Atlantic Age [1250-1609]" was held in March 2020 and can be found here.
"Information and a timeline for Modules 3 and 4 will be shared on the NMB website.
"This programme is endorsed by the Department of Education and is certified as four hours of BEC professional development credit."

Read More About
Category: All