The Duke of Edinburgh's Award [DofE] in Bermuda embarked on its 'Silver Adventurous Journey' with the Bermuda Sloop Foundation's Sail Training Vessel Spirit of Bermuda yesterday [Aug 3], with the excursion to conclude tomorrow [Aug 5].
A spokesperson said, "The Duke of Edinburgh's Award in Bermuda [the Award] is extremely pleased to announce an exciting Silver Adventurous Journey with the Bermuda Sloop Foundation's Sail Training Vessel [STV] Spirit of Bermuda, currently taking place from August 3rd to August 5th.
"Thanks to the generous support from the 100 Women in Finance, this initiative has been provided at a greatly subsidized rate ensuring it is accessible to all who wish to participate.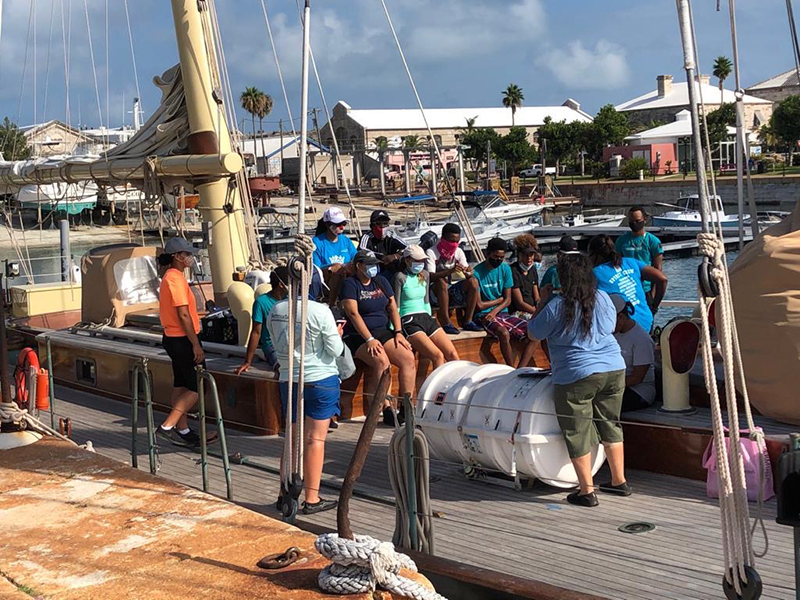 "Participants from CedarBridge Academy, Impact Mentoring Academy, Berkeley, and Bermuda High School will be engaging in an exploration type journey in and around some of Bermuda's famous shipwrecks.
"In preparation for the journey, participants have been engaging in virtual explorations researching shipwrecks and species – endemic, native, natural and introduced plants and animals found in and around Bermuda. The group also engaged with BZS's virtual Earth Day, learning about topics such as plastic pollution in Bermuda, combating climate change by growing your own food, and freediving.
"As a part of the conservation component of the Adventurous Journey, the Duke of Edinburgh's Award is pleased to have partnered with the Bermuda National Trust. Participants will be engaging in a separate conservation project clearing invasive species and replacing with endemic plants at the Butterfield Nature Reserve, Point Shares.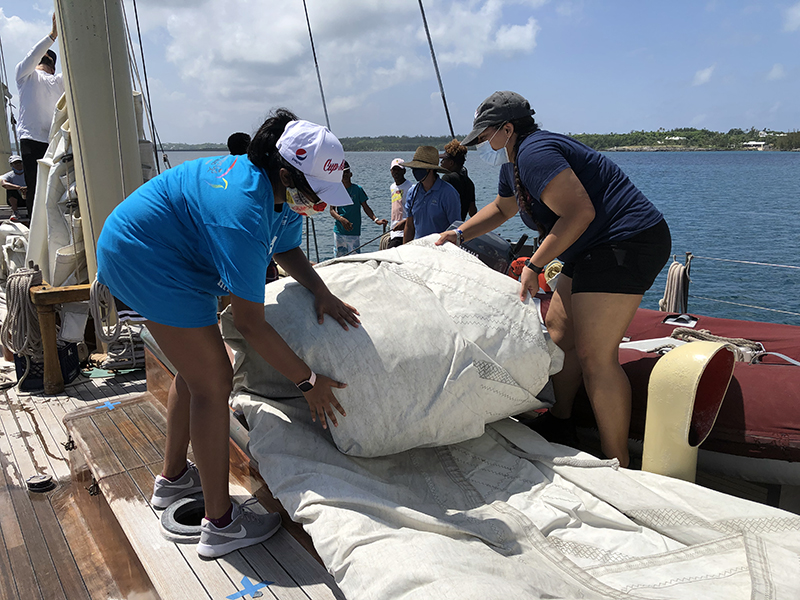 2020 Silver Participants
Aaron White – CedarBridge Academy
Jelani Simmons – CedarBridge Academy
Richard Johnston – CedarBridge Academy
Trey Vance – Impact Mentoring Academy
Yari Tucker – Berkeley Institute
Hugo Lightbourne – Berkeley Institute
Enshe-Nico Davis – Berkeley Institute
Tana van den Berg – Bermuda High School
Salayah Stange – Bermuda High School
Malsha Amarasinghe – Bermuda High School
Award Leaders and Assessors in Training
The Award's Programme Director, Karen Simmons, said, "We are extremely excited to offer this Adventurous Journey option for Award participants in Bermuda. Many don't realize that the Adventurous Journey doesn't have to be walking based; participants can travel using any non-motorized mode of transport such as sailing, kayaking, canoeing, horse riding, or cycling.
"In addition, participants can choose to do an exploration-based journey which focuses less on the journeying and more on the purpose or project being studied. The Spirit of Bermuda and the Award partner well together providing participants with the opportunity to focus on expeditionary learning, teamwork and personal development.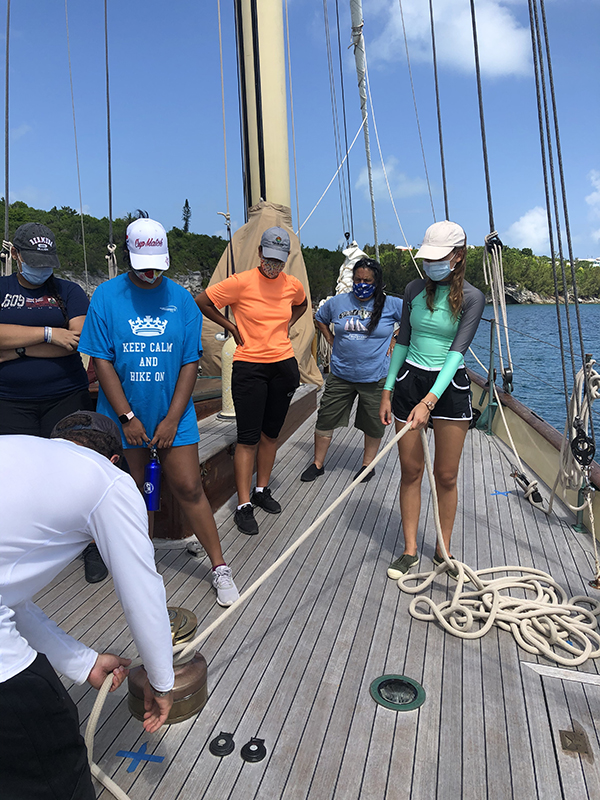 "In addition, this local Silver Adventurous Journey option allows us to continue to develop, and mentor our young Award Leaders/Assessors in Training [ALTs], Jevon Talbot and Bryana Bell. Both of the ALTs are recent Gold Award Holders and continue to give back to the Award."
Lauren Yelle-Simmons, Education and Programmes Manager for the Bermuda Sloop Foundation, said, "The Spirit of Bermuda, was built to provide world-class sail-training to the youth of Bermuda. Sail training offers a unique and powerful platform for personal development.
"Our programmes have impacted over 5000 young people since 2006. We are pleased to be working with the Duke of Edinburgh on the Silver Adventurous Journey. Moreover, it is commendable that despite these challenging times, all have adapted to continue this important work in ensuring our young people develop to their fullest."
Alison Morrison, Chair of the 100 Women in Finance Bermuda Committee, said, "We are delighted that the funds raised at our Gala Dinner held at Sandymount last year will be supporting the Silver Adventurous Journey on Spirit of Bermuda.
"We have been very impressed with all that the participants have achieved during the COVID-19 crisis and how well they have adapted to a virtual platform as well as helping in the community. Continuing our partnership with the Duke of Edinburgh's Award we will be looking ahead to host a Gala in 2021 to help support all their initiatives."
Chair of the Award, Jovanna Douglas, said, "On behalf of the Award Council, I would like to thank the 100 Women in Finance for supporting this initiative and many of the Award's programmes, which provide out-of-the classroom learning experiences that work to enhance important soft skills needed to be successful in life.
"In addition, I would like to thank the Bank of Bermuda Foundation, Argo Foundation, Edmund Gibbons Limited, the Bermuda Community Foundation, Zurich and Butterfield and Vallis who have made recent contributions to the Programme and supporters, AXAXL, and Conyers."
The spokesperson said, "The Duke of Edinburgh's Award has been a long-time partner with the Spirit of Bermuda and are pleased to offer Award participants such an exciting journey for them to combine learning the basics of sailing a tall ship with exploring some of Bermuda's famous shipwrecks.
"The Award develops well-rounded, global citizens who take pride in themselves and their communities. If you are interested in getting involved in the programme or would like to donate, please email fiona@theaward.bm or call 737-8959."

Read More About
Category: All