[Opinion column written by Glenn Jones]
We can be proud of Bermuda when she sets trends instead of merely following them.
In mid-June, the newly created Black Travel Alliance launched the Black Travel Scorecard and in a press release explained the objective of its work this way: "To evaluate destination management organisations and travel brands on not just what they say, but also what they do."
Because performance and accountability are Bermuda Tourism Authority's core values, our team answered the call – reporting Bermuda's scorecard on Black travel.
On social media, Black Travel Alliance responded favourably: "We love to see this kind of representation!"
Black Travel Alliance is an offshoot of the Black Lives Matter movement. It's part of a trend that demands consumer brands prove representation, respect Black spending power, and show support for their Black consumer base.
On this, Bermuda is a travel brand a step ahead of the trend.
In 2018, the Bermuda Tourism Authority worked with travel data experts Mandala Research, which estimated the spending power of US Black travellers at $63 billion per annum.
Mandala helped our Bermuda team drill down on an affluent subset of this audience: the media they consume and their specific travel preferences. The next step was to map that research to the cities where Bermuda's tourism marketing is strongest—Washington, D.C., New York City and Atlanta are a few examples.
These were stepping stones to the trendsetting goal announced in the 2018 National Tourism Plan: double the number of Black leisure air visitors to Bermuda by 2025, moving the needle from 4 percent of total leisure air visitors to 8 percent.
The goal is clear and accountable. It reflects our community. And, importantly, it's a golden opportunity economically. There's a multi-billion-dollar treasure trove in Black travel and Bermuda can win a bigger share. In this area, the ambition is lofty, but it's informed by data.
While Bermuda's Black Travel Scorecard this summer is far from "mission accomplished," it's satisfying to see so plainly that good work is underway to seize this economic opportunity.
The methodical and strategic way forward on Black travel continues next week with the soft launch of a new section on GoToBermuda.com. This content will, among other things, identify local Black-owned businesses, because increasingly it's the kind of detail socially conscious travellers want to know. You can also expect this section to boast key cultural events like Bermuda Day, Carnival, and Cup Match.
It's fitting that this content, inspired by Black Bermudians, will debut right after Cup Match, a cultural celebration of the island's Emancipation Day in 1834 and the local heroine who helped make it happen, Mary Prince. Bermuda's extraordinary Black heritage, including the epic stories of enslaved people and their quest for freedom and equality, is the bedrock of our island's culture and a solid foundation for tourism storytelling.
Consistently, the Bermuda Tourism Authority builds on that legacy.
Last fall, we leveraged the story of Sally Bassett. It was the cornerstone of a Black history tour by Black-owned transport company Titan Express, a series of dramatic performances at the Cabinet Office in the shadow of the Sally Bassett monument. Bermudian playwright. Bermudian lead. Bermudian director. Bermudian excellence, truly. The crowds were considerable.

In January, Ghanaian-American Chef Eric Adjepong, a rising star and Top Chef finalist, partnered with the young Black talent behind Bermy Eats to create an unforgettable meal that was equal parts Bermuda history and Bermuda culture.
Chef Eric's primary source of inspiration was Cobbs Hill Methodist Church, a sanctuary built in part by enslaved Bermudians and still standing today as a vibrant house of worship. That four-course dinner at Fourways Restaurant was buzzworthy, too.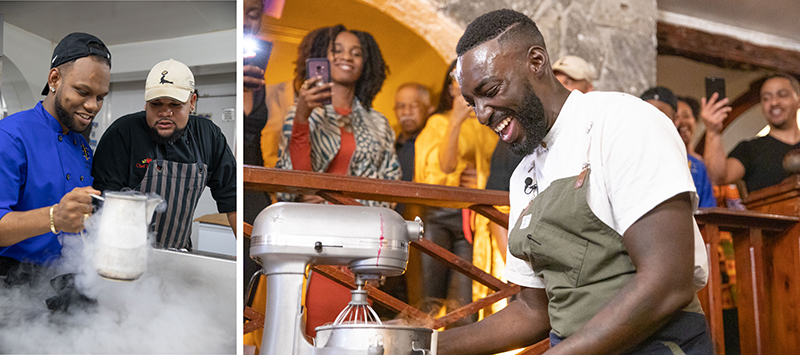 Based on coverage in Black Enterprise and other publications, events like these help spread the word about the island's Black heritage and raise awareness in the minds of all travellers about who we are culturally. These highlights are critical to attracting Black travellers, according to Mandala Research.
The dual benefit is already evident: initially, such cultural events draw heavy local participation, then grow popularity with visitors over time, not unlike the trajectory of Bermuda Carnival.
Bermuda can be proud to have Black Travel Alliance exclaim its love for what's happening out here to represent Black creativity and brainpower at every level of tourism marketing. Make no mistake, though, the grand hope is, we're all celebrating bigger accomplishments by 2025. While representation is hugely important, nothing matters more than a sustained track record of success, with the data to prove it.
- Bermuda Tourism Authority Interim CEO Glenn Jones

20 Most Recent Opinion Columns

Opinion columns reflect the views of the writer, and not those of Bernews Ltd. To submit an Opinion Column/Letter to the Editor, please email info@bernews.com. Bernews welcomes submissions, and while there are no length restrictions, all columns must be signed by the writer's real name.
-
Read More About