[Opinion column written by Agathe Holowatinc]
Buddha bowls are popping up on menus everywhere, not to mention on blogs, Pintrest, Instagram, and all over the internet, so I wanted to shine some light on what they are, what makes them awesome and healthy and how you can make them at home.
Also, to be honest, Teresa [the co-founder of FUELLED] WhatsApp'd me today asking for some ideas for bowls.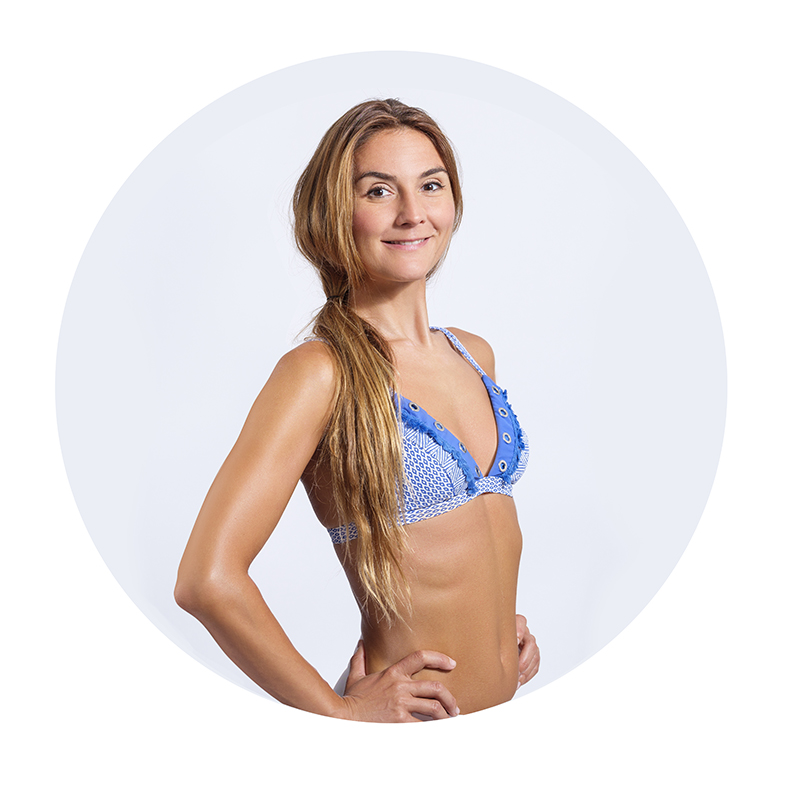 "When you get the chance, can you give me some ideas for bowls? I want to prep enough for the week and then just throw it all in a bowl. Your cabbage is as far as I've gotten, and lettuce. I'm overwhelmed with meal prep ideas but this seems easiest and manageable, if I can get the right things to do it with."
Great idea right? And I'm sure she's not alone. So I'm sharing this with everyone.
There is no doubt that one of the easiest ways to make lunch or dinner super filling, or to use up leftovers without feeling like you're eating the same thing every day, or to mix up your familiar flavour combos. is to make a Buddha Bowl.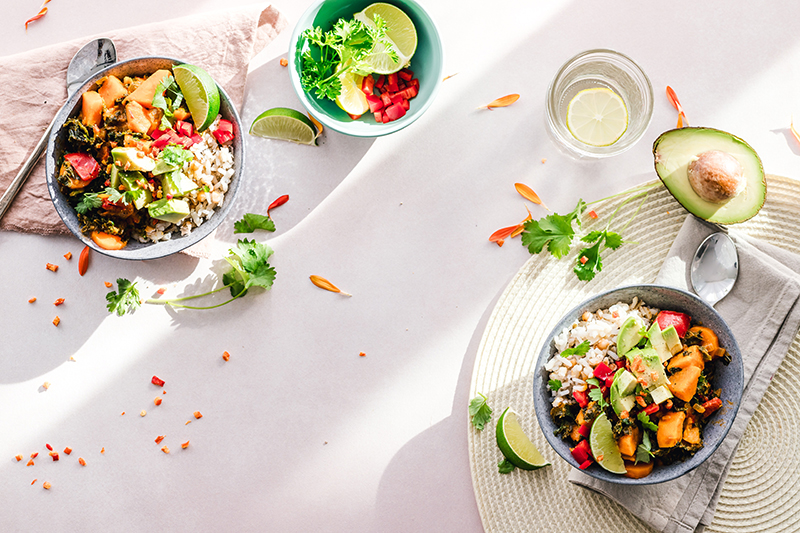 So I will dive into the How-To's here for you, so you can get started ASAP.
But first, you might be wondering how the Buddha Bowl got its name – I sure was! Well, I learned about it in Katherine Sacks' post on Epicurious [April 25, 2017], where she looked to the authors of the book Buddha's Diet by data scientist and Zen priest Dan Zigmond and digital strategist and wellness writer Tara Cottrell to learn more about the obsession with putting Buddha in the bowl.
Sacks writes, "Food for Buddha was very low-key," says Cottrell, who explains Buddha was actually very thin. [Those chubby statues you see in restaurants are of a monk who lived a thousand years later.] "The key was to keep food in its place. He didn't want food to take over our whole life."
"Buddha woke up before dawn every morning and carried his bowl through the roads or paths wherever he was staying. Local people would place food in the bowl as a donation, and at the end he would eat whatever he had been given," explains Zigmond. "So that was the original Buddha Bowl: a big bowl of whatever food villagers had available and could afford to share.
"It was probably pretty healthy, since Buddha lived before the age of cheap processed food, but it was also probably pretty simple, maybe rice and a simple curry."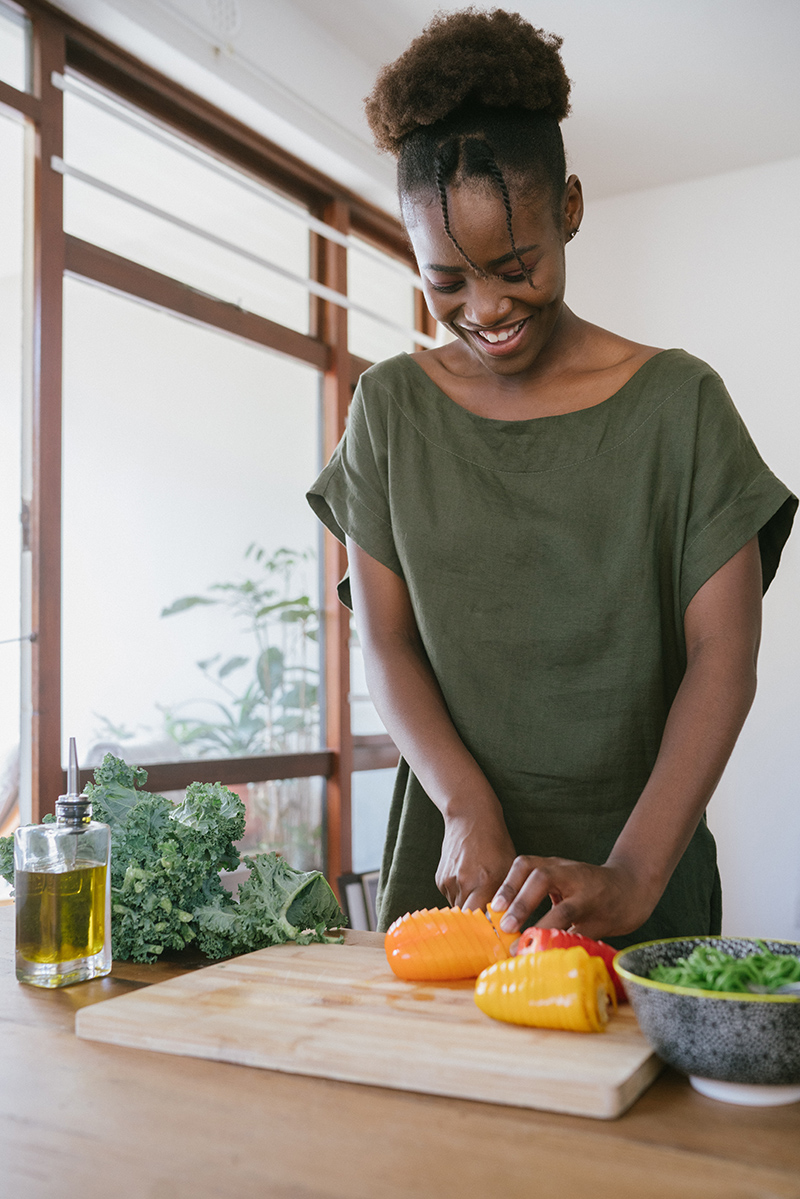 Cool, right?
Okay, so these veggie, grain, protein and sauce bowls are as delicious as they are fascinating, so let's dive into some tips.
Oh wait – they're good for you too!
They're healthy, nourishing, nutrient-loaded, and filling, in the best of ways.
Okay, I've made you read enough preamble, here's the scoop.
The Basics:
1] One Grain Or Starchy Vegetable:
You will need to put a grain on the bottom of your bowl, or a starchy vegetable somewhere in there, so get started on cooking up one of the following: some quinoa [I love the tri-coloured one], rice [brown or wild or red or black or even white, but first opt for anything but white], some non-wheat noodles [rice noodles, bean noodles, sweet potato or squash noodles, etc.], buckwheat, roasted potatoes or sweet potatoes, roasted butternut squash or acorn squash or whatever squash or pumpkin you like.
2] Veggies:
You will need some veggies to pop onto your grain and to fill up at least another third to a half of your Buddha Bowl.
Hot: So the goal is a good amount of veggies, and some variety, so you can go as simple as wilted greens like kale and spinach and beet leaves with shredded [possibly sautéed] carrots, or as big time as a bunch of roasted mix veggies with taco seasoning [my fave].
To roast veggies, turn the oven on to somewhere between 350 and 400 degrees and pop broccoli, Brussels sprouts, carrots, asparagus, beets, mushrooms, cauliflower, eggplant, bell peppers, cabbage [Teresa was talking about my roasted taco cabbage in her text], onions, garlic, parsnips, zucchini or whatever other veggie you have in your kitchen or garden, into a big roasting pan, rub with avocado or coconut oil and sprinkle with salt + pepper, or something awesome like a clean taco seasoning.
Roast until the veggies crisp up at the edges and are soft in the middle and go a bit brown [between 30 – 60 minutes depending on how many you're doing]. TIP: Make a whole freaking heap load of veggies so you can bother to do this one time only and then eat them all week. "Cook once, eat for days," is my motto.
Cold: Loads of Buddha Bowls have sliced or chunked avocado on them, so go with that too, to make it authentic looking. I mean, your bowl is legit. If your avocado is not ripe, no worries, grab organic guacamole instead. Fresh chopped lettuce or leaves from butter lettuce also taste nice, as do heirloom grape tomatoes, regular tomatoes, raw broccoli, thin slices of celery or radishes, shredded raw carrots, and don't forget those cute sprouts you see in grocery stores now in the produce section. For additional ideas, just google "Buddha Bowl" and click the "images" tab and you'll get an eyeful of ideas.
3] Protein:
You will now need to pop a protein on the top of this beautiful bowl you're creating. Traditionally, these are vegetarian bowls, but that's no longer a rule.
Veggie Protein: You can go vegetarian and top it up with sautéed beans [the kind sold in a tin with only water in it is best] that are maybe mixed with a clean seasoning you like [I recommend taco or chili seasoning]; baked chickpeas or hummus; tofu; tempeh; nuts; organic edamame beans [grocery store frozen section]; or whatever other veggie protein you like, BUT please avoid "meatless meats" or other fake vegan meat because the majority of them have inflammatory chemicals, too much sodium and non-organic and GMO ingredients.
Tip: Some chia seeds on top of your sliced avocado looks really legit, again, and has a fun texture, or hemp seeds, or sunflower or pumpkin seeds. And they're all high in protein.
Carnivore: You can go as simple as boiled eggs sliced in half, or as big time as sautéed organic, grass-fed bison, chicken, beef, turkey, or lamb [no pork], or roasted leftover organic, grass-fed meat, or local fish like tuna, wahoo, bonita or whatever else you like [like shrimp or scallops], done however you like it. My favourite is sautéed bison.
NOTE: When I say "clean" seasoning or "clean" taco mix, I mean you need to check the ingredients and make sure you know what everything is and that nothing on that list sounds like it was invented by a scientist in a lab. So, no numbers or science words, just words like: onion, garlic, paprika, etc.
4] Sauce:
A lot of people like sauces on their Buddha Bowls. Personally, if I used something like taco seasoning when roasting the veggies or sautéing the meat, then I opt for a generous drizzle of my Udo's Oil Omega 3-6-9 blend, or an extra virgin olive oil, and a dash of pink salt and black pepper, maybe some lime juice, and that's it. However, if you went for the all-natural approach in preparing veggies and protein, then you might wish to try and drizzle a little something zingy on top.
How about a ginger sesame dressing, which you can make yourself, or buy the nice and clean Bragg's Organic Ginger & Sesame Salad Dressing found in the organic isle of some grocery stores here in Bermuda [the only salad dressing I buy, to be honest], or you can make the Sweet Honey Basil or "Caesar" salad dressings from my book, or this Thai Peanut Salad Dressing [please use almond butter instead of peanut butter] [link here], or my American "French" dressing [which is coming out soon!], or you can just say 'to heck with it' and make a chipotle aioli with mayonnaise [here's a clean-ish recipe] [link here].
That's it!
Spread the love: Feel free to share these tips with someone you care about!
- Agathe Holowatinc is a Certified Integrative Nutrition Health Coach [services covered by most private health insurance companies], co-founder and director at FUELLED Bermuda Ltd., published author, health food private chef and health industry entrepreneur. She is a passionate advocate of real food, holistic approaches to health and communicating big ideas in a simple way. Visit fuelledlife.com or call or WhatsApp on 532-0426.

20 Most Recent Opinion Columns

Opinion columns reflect the views of the writer, and not those of Bernews Ltd. To submit an Opinion Column/Letter to the Editor, please email info@bernews.com. Bernews welcomes submissions, and while there are no length restrictions, all columns must be signed by the writer's real name.
-

Read More About
Category: All