Bermudians Colin Brown, Melissa Woods, and Anthony DeShields have recently launched Broadview Architecture & Interior Design, a new architecture & interior design firm.
A spokesperson said, "As Bermuda adapts and forges ahead due to the global pandemic, new working models have given way to new opportunities.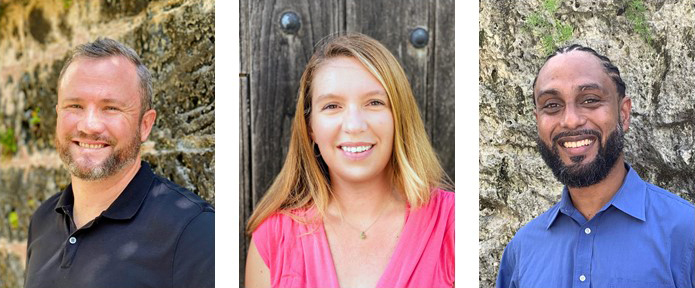 "Broadview is led by Colin Brown, Registered Chartered Architect, Melissa Woods, Senior Interior Designer, and Anthony DeShields, Chartered Architectural Technologist – who are all former Directors at OBM Ltd. Their vision is to leverage their complementary skill sets and provide a professional full-service architectural and interior design offering for clients in Bermuda.
"Colin Brown is a Chartered Registered Architect with the Royal Institute of British Architects, and registered to practice in both Bermuda and the United Kingdom."
He explains, "For some time, we have seen a trend in Bermuda that has marginalised professionals in our industry in a bid to save costs by engaging under qualified competition. It is our intention to change the public discourse by promoting professional architecture and interiors services that are attainable.
"The global pandemic has fundamentally changed the way of working, and our business model is to bring highly skilled professionals together and maintain low overheads, which therefore allow us to be sensitively priced for today's clientele. We believe this strategy will aid in attracting a wider audience."
"Collaboration is a key component to our practice, as we join with our clients and industry partners to effectively bring the design intent to life. We've worked together for many years – and so our team has an established working relationship driven by collaboration and exceeding customer expectations." notes Melissa Woods.
"Collectively, the team have worked across a wide variety of residential, commercial, hospitality and infrastructure projects, and have a thorough understanding of Bermuda's regulatory requirements."
"By entering the market in these difficult times, the objective of our team is to remain flexible and adaptive in the wake of unforeseen circumstances. The landscape has changed and by taking a broad view of the profession, we believe this is an exciting time to enter this sector with a new purpose-built model." adds Anthony DeShields.
Broadview is accepting new clients, for more information visit broadview.bm.
Read More About