On Pastor Appreciation Sunday, October 18, the congregation of the New Apostolic Church honoured Pastor Anthony Watts.
A spokesperson said, "On Pastor Appreciation Sunday, October 18, 2020, the congregation of the New Apostolic Church honoured Pastor Anthony D. Watts, a transplanted Barbadian living on the island. He has been active in the church for thirty years, having spent twenty of those years in faithful pastoral service.
"Pastor Watts recounts dreams of a Christian ministry to the island as a young man long before setting foot on our turquoise shores. A distinct feature of his spiritual dreams about the island was the time when the horse and carriage was its primary mode of transportation.
Anthony Watts was presented with a published copy of Edward Fraser's book, From Slavery to Missionary in mutual recognition of Pastor Appreciation Sunday. Photo courtesy of J.C. Hassell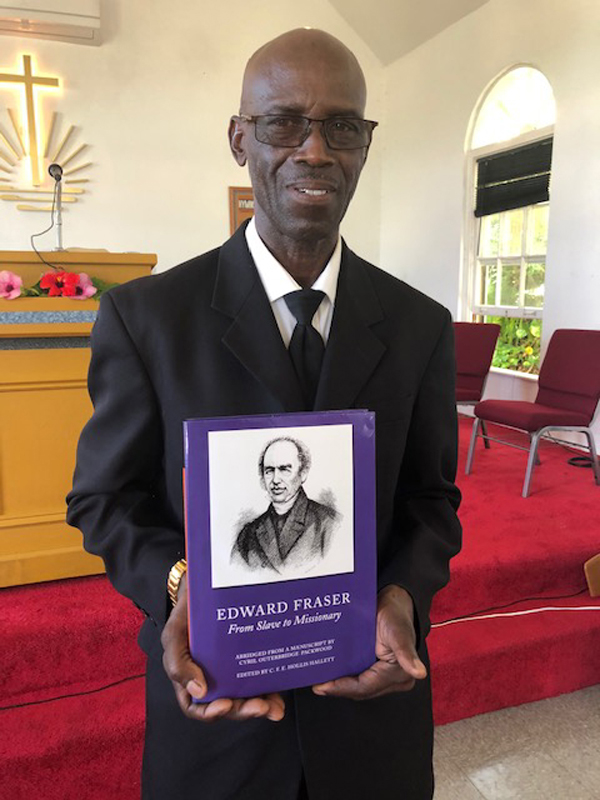 "Having settled on the island as a first-grade auto-mechanic in 1988, he had a chance meeting with Everton Berry of Jamaica and Anthony Pounder of Guyana. These young men invited him to church, where he instantly found a Christian home to serve God and his fellowmen.
"He settled in the congregation and became an ardent champion of the Lord's work of salvation. Reliable in his service to the church and guided by the Holy Spirit and love for Christ, he became a Deacon and then an ordained Priest. His sphere of ministry is helping souls remodel their lives after the gospel of Jesus Christ, thus preparing them for eternal life.
"Anthony Watts is active in the church as an administrator, dispenses Holy Baptism with water, proclaims the forgiveness of sin, and consecrates and dispenses Holy Communion.
"The Bermuda congregation is a mission of the New Apostolic Church International. The foundation of its teachings is the Holy Scripture. Led by apostles, the church developed from the Catholic Apostolic Church in 1863. The New Apostolic Church recognizes three sacraments: Holy Baptism, Holy Sealing [with Holy Spirit] and Holy Communion. [See websites: New Apostolic Church International & nac.today]
"Anthony Watts ministry on the island parallels that of Barbadian Edward Fraser. However, their start in life was poles apart from slavery to post-slavery. Born to a slave mother of a white slave master in Bridgetown, Bermudian shopkeeper Frances Lightbourn received Edward at two and a half as a wedding present from his in-laws. The Lightbourns returned to Bermuda with Edward age twenty, and within eight years he matured into a missionary preaching to fellow slaves.
"Equally relevant, although separated by an era spanning over a century and a half, these outstanding Bajans collaboratively developed rich community ties with Bermudians. The pious Reverend Edward Fraser had a flourishing ministry in Methodist Church [1827-1872] whereas, Anthony Watts priestly ministry continues in the New Apostolic Church.
"You can read of Edward Fraser's life in the National Museum of Bermuda Press, written by Cyril Outerbridge Packwood and C.F.E. Hollis Hallette: Edward Fraser, From Slave to Missionary.
"The Cobbs Hill Methodist Church, a testament to Reverend Edward Fraser is a historical landmark of the African Diaspora Heritage Trail. Fraser inspired his fellow slaves to build the church by moonlight 1825-1827.
"We salute these devote and caring Banjans for Christian service to Bermuda. Anthony Watts ministry continues to thrive, and we sanctify the memory of Edward Fraser, christened 'the perfect Christian', may he abide in eternal rest from his fruitful labours in the Lord."

Read More About
Category: All