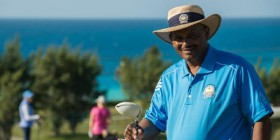 The Port Royal Golf Developmental Program, headed by Kim Swan, will be offering free golf coaching during the winter months – by appointment only due to Covid-19 – for industry concierge and front desk service providers.
Golf clubs, practice balls and golf coaching will all be free to industry service providers during this time period.
The promotion is aimed particularly at hotel concierge and tour operators — traditionally group sessions would be offered, but in keeping with safety protocols, it is important for the persons booking appointments to have the same experience as their guests.
Interested persons should contact Mr Swan by email to register at kimswan@kimswangolf.com.
Mr Swan said, "Golf is an important part of Bermuda's tourism product and it is incumbent upon us to have as many persons working within the industry golf literate and familiar with the product they are selling.
"In addition, golf encourages persons and our tourists to enjoy the great outdoors in Bermuda, with its unmatched views; the more people that appreciate and enjoy what we have, the better. This offer is a way for me to help grow the game, expose more, and share my passion and love for golf.
"This is also a way for me to give back to the game that has done so much for me on the golf course that introduced me to the world."

Read More About