Age Concern Bermuda will be hosting an information session on Monday, December 14 at the Seventh Day Adventist Church at 41 King Street, Hamilton.
A spokesperson said, "In response to the recent surge of job losses, as well as medical, financial and economic hardship due to the Covid-19 pandemic, Age Concern Bermuda is hosting an information session on Monday, December 14th at the Seventh Day Adventist Church at 41 King Street in the City of Hamilton.
"Members of the public are welcome to attend and learn valuable information on the services available to those in need, aged 50 and above. This event is open to adults of all ages, registration not required.
"Doors open at 12pm and the event runs until 3pm. Attendees will have the chance to speak to representatives from several organizations that are ready and capable of aiding them in a number of areas, including:
Emergency Housing
Addiction Recovery & Support
Medication & Patient Assistance
Food Assistance
Clothing Distribution
Spiritual Guidance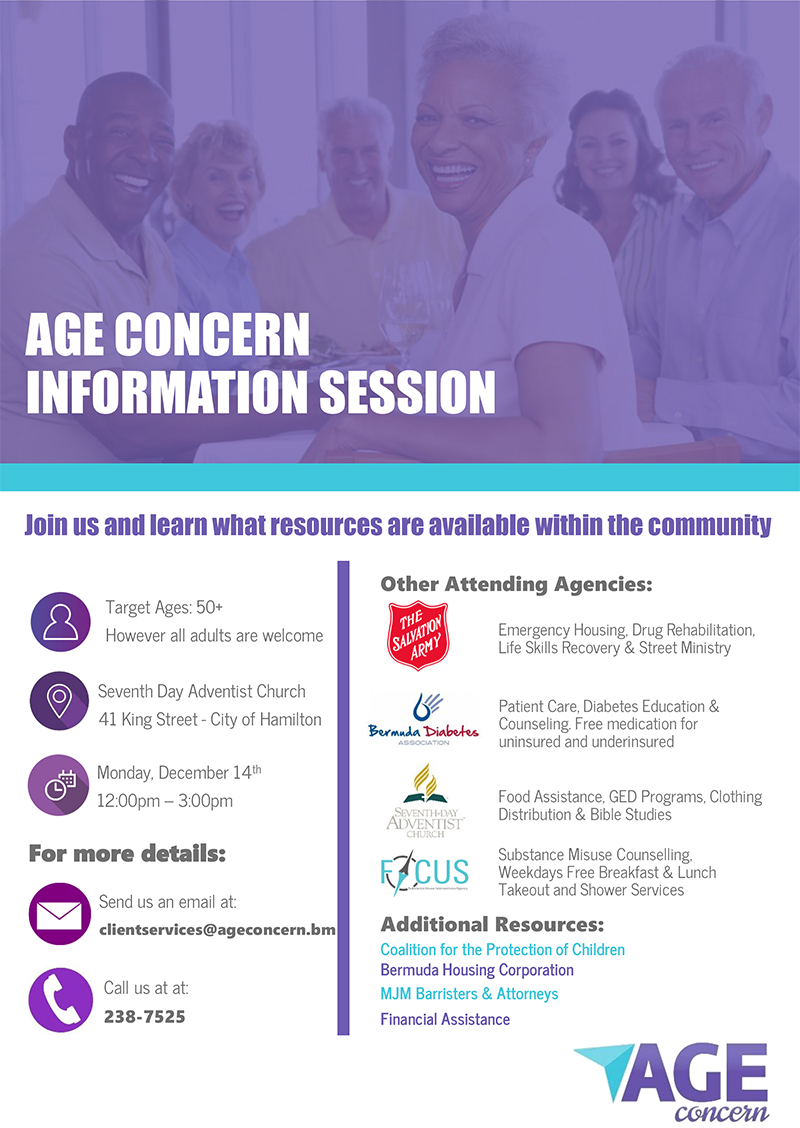 "Participating organizations include the Salvation Army, which operates an Emergency Housing Complex, Harbour Light Drug Treatment & Rehabilitation Center, Life Skills Recovery Program, and street ministry.
"The Bermuda Diabetes Association, which offers integrated patient care, diabetes education and counseling as well as a full-service pharmacy. They also offer free medication to the uninsured and underinsured through their Patient Assistance Program.
"Seventh Day Adventist Community Services, which runs a food assistance program, GED training, clothing distribution, bible studies and addresses special needs on a case-by-case basis.
"Focus Counselling Services, which offers substance misuse and abuse counselling, a food takeaway service for breakfast and lunch, as well as available showers, both offered from Monday to Friday.
"Age Concern representatives will also provide information on services available through the Coalition for the Protection of Children, Bermuda Housing Corporation, MJM Barristers & Attorneys and Financial Assistance."
Dr. Donna Outerbridge, Age Concern Client Services Associate, said, "In these difficult times, it is more important than ever that we, as a society, address the needs of our older adult population, including those of working age.
"We are proud to work with our dedicated partners and look forward to meeting with members of the public to see how we can help."
The spokesperson said, "For further information on this event, email clientservices@ageconcern.bm or call 238-7525."
Read More About
Category: All