"How we move forward will depend on the actions each of us take over the next two weeks," Premier David Burt said, adding that "between now and the middle of December will be critical in determining if we are able to continue to move around freely or go backwards and introduce further restrictions on activities."
The island has recently experienced a spike in Covid-19 cases, with more than 50 new cases recorded in November, and the island's status changing from 'sporadic cases' to 'clusters of cases'.
Speaking at last night's [Dec 1] press briefing, Premier Burt said, "Many have contacted me requesting that I immediately revert the country back into Shelter in Place; or asking the Government to close the airport to scheduled commercial flights; wondering when another curfew will be put in place; and unfortunately due to rumour people have started panic buying again.
"Let me be clear…right now, we do not see a need to bring back Shelter in Place or even to revert to curfews; however circumstances can change quickly.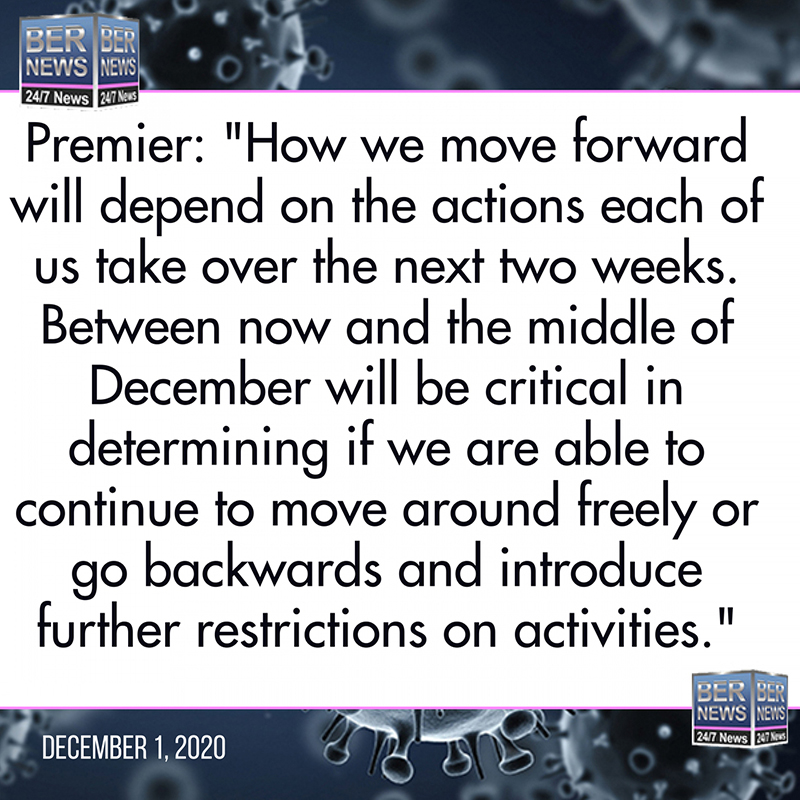 "This Government made a choice. A choice to have some form of a tourism season in order to ensure that thousands were able to return back to work. Yes, there are some who feel that we should not have done this – but that is the decision that we took for the collective of the country.
"Now is the time we all support our fellow Bermudians in the hospitality and tourism sectors, persons who are not salaried who rely on hourly wages and cannot work remotely. We must support them by all doing our part.
"How we move forward will depend on the actions each of us take over the next two weeks. Between now and the middle of December will be critical in determining if we are able to continue to move around freely or go backwards and introduce further restrictions on activities. I know no one wants to go backwards, especially over our Christmas holidays.
"Our students are returning from overseas where in many places record infections of the coronavirus are being experienced. It is important that all persons are disciplined and practice increased vigilance to ensure they are not a source of infections for their family or friends.
"We are aware that some people are returning from overseas travel and not sticking to the quarantine requirements. As the Minister of Health alluded to, the Cabinet considered new measures today to deal with these challenges, and they will be announced by the Minister of Health in the House of Assembly on Friday morning via a Ministerial Statement. The Minster will consult with our Parliamentary colleagues, business and tourism groups prior to the announcement of these further actions.
"Given the unfortunate nature of the situation overseas, it is likely that these may include further restrictions of persons who arrive in Bermuda from overseas. Our testing regime worked well when the situation overseas was more managed, where we were not seeing record infections and in some cases positivity rates exceeding 50%. But the recent spikes mean that we must take more actions to protect our country.
"It is important that we all continue to adhere to public health guidance that is designed to keep us safe. I have received calls and messages to my office, detailing people at venues and social events not wearing masks.
"As a reminder, if you see activities taking place that are in violation of the laws that are in place to keep up all safe, please call 211 and advise the Bermuda Police Service who will take appropriate measures. If the activity takes place within a local establishment, you are encouraged first to address the issue directly with the appropriate manager.
"Some residents have expressed frustration that the 211 number has rung busy when they have called. As of tomorrow, the Bermuda Police Service will add additional resources to manage the volume of calls and to support us all doing our part to make sure that we remain safe.
"As I have said repeatedly and as the Minister of Health has said repeatedly, this is not the time to relax. Unfortunately, many of the infections that we have seen over the last few weeks could be due to persons not following the rules and not following the guidance, especially workplace guidance. Quite simply, they were avoidable. These protocols will prevent the spread of the coronavirus and can save lives. As I stated last week, the virus only survives if we let it survive. If we follow the simple measures to mitigate virus spread, Bermuda will be OK.
"There are people who have the coronavirus this week, who didn't have it last week. This is a worrying, stressful, and frightening time for them and for their family members. We must hold them in our thoughts and prayers as they move towards recovery.
"Many in our community, including our leaders, are feeling the stress of living in a pandemic era. We are reminded daily to wear a mask, to wash our hands, ensure that we stand six feet away from others. I have heard from many people who have expressed their frustration and are just tired of this. As the Minister of Health said, we do not have that much longer, as there is help that is on the way but we must continue to do what we have been doing better and to continue it to ensure that we can reduce this current outbreak.
"We all remember what life was like last year this time. Many recall what we did to prepare for Christmas. Like every holiday and every celebration this year, Christmas will be different. Some families are considering eating outdoors. Those who would have traveled are investigating virtual gatherings. And yes, we all have to be creative. We must do everything we can to ensure that we do not contract the virus or create opportunities where it is spread in social and other settings."
To prevent the spread of the virus we must do the following:
Unless it is absolutely necessary, please do not travel over the Christmas and New Year holiday;
If you must travel, take extra precautions while abroad;
If you have returned from travel and even if you have had negative tests, we ask that you are careful. That means to ensure you do not attend large gatherings; do not use a gym; be sure to protect babies and seniors and persons with chronic conditions. Do not go near to those persons who may be vulnerable.
Officials have also repeatedly asked that community please follow public health guidelines, including but not limited to, wearing a mask, washing your hands frequently and adhering to social distancing and any quarantine rules that may be applicable to you.

As the island and world deals with the Covid-19 pandemic, we are doing our best to provide timely and accurate information, and you can find more information on the links below.
Read More About