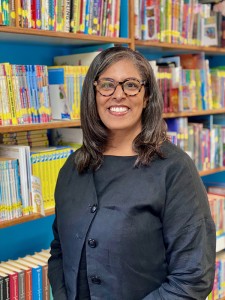 The Reading Clinic announced the appointment of Dr. Kendra-Lee Pearman as their new Executive Director.
Dr. Pearman will succeed fellow Bermudian Dr. S. Glenn Faries, who is stepping down after five years in the role.
An educational psychologist, Dr. Pearman has more than 15 years of leadership experience in academic and healthcare fields and her skills include teaching, formal assessment, learning differences and academic support.
Dr. Pearman joins The Reading Clinic after working at Bermuda Hospitals Board for the past 10 years and most recently as Director, Learning and Talent Development. She has experience in organisational development and human resources.
She holds a Bachelor of Science degree in Elementary Education and Psychology from Atlantic Union College, South Lancaster, Massachusetts; a Master's degree in Teaching Students with Special Needs from Wheelock College, Boston; and Doctor of Philosophy in Educational Psychology from Andrews University, Berrien Springs, Michigan.
Prior to returning to Bermuda to work, she was involved in a wide range of academic support initiatives at Atlantic Union College, which included supporting students with learning differences. Dr. Pearman served the college as Assistant Professor, Education/Psychology Department and Director, Centre for Academic Success.
Since 2009, she has served as an Adjunct Lecturer at The Bermuda College, where she designs instruction, plans and implements classroom objectives, assessment and assignments."
Dr. Pearman said the Executive Director position is the job she had been looking for for many years. "As an educational psychologist, I wanted to work in an environment where I could use my talents, education and experience to make a difference and add value."
New Executive Director Dr. Kendra-Lee Pearman outside The Reading Clinic with her predecessor, Dr. Glenn Faries, who is retiring after 5 years in the role.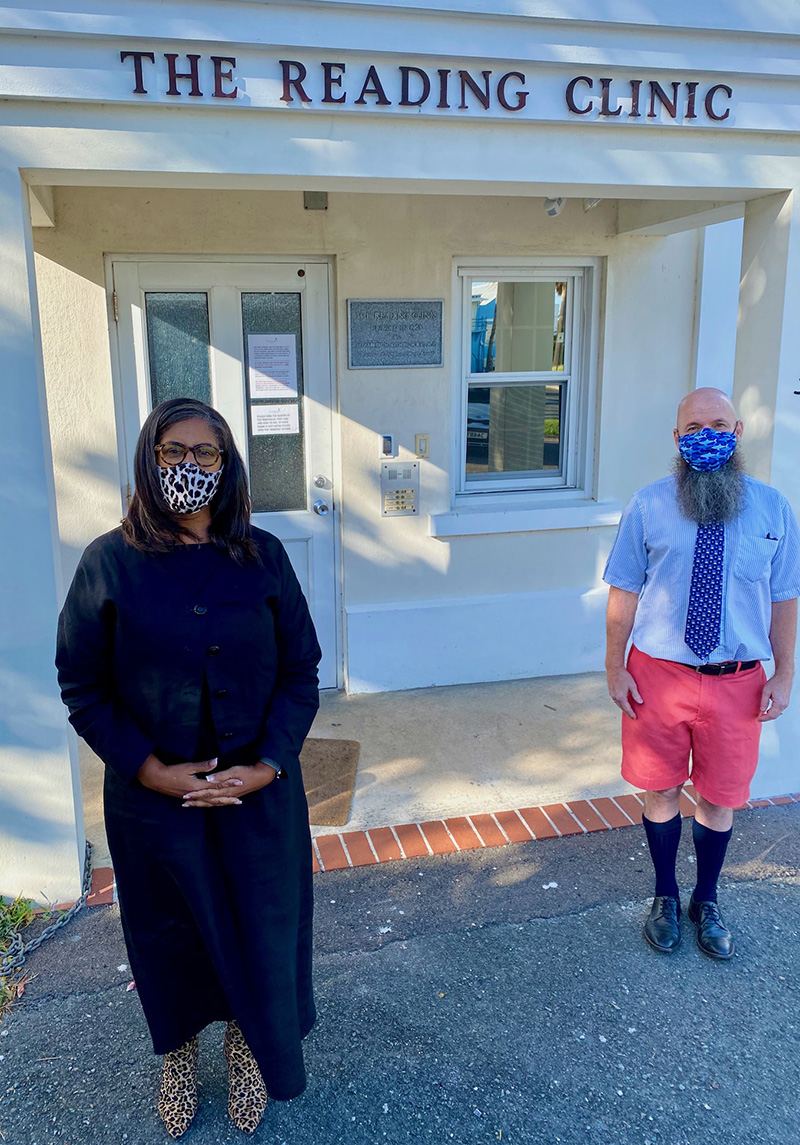 She said the Clinic's mission to provide services that positively impact the lives of children who learn differently also struck a personal chord.
"My only son was a child who learned differently and who required individualised instruction to help him navigate through his schooling years," she said.
"He struggled in school because no one took the time to discover what worked best for him. As a result of his struggle, I obtained my Master's of Science in Teaching Students with Special Needs so that I could assist him and help others who also learned differently."
She added: "I could not be more pleased and excited to lead this charity and its team of dedicated individuals who share the same passion that I have in the love of education and children.
"Due to my experiences in both educational and non-educational settings, I see my role as continuing to build on the legacy of the Clinic's founder, the late Mrs. Betty Kitson and the work of Dr. Faries who has contributed significantly to its continued growth and development. By nature, I am progressive and thrive on introducing new and more efficient ways and/or services to complement what is already in place.
"The Reading Clinic has an amazing team that works closely together to ensure that the best outcomes are realised for the children in its services. Therefore, my role will look to enhance what is in place and focus on how the team and I can take it to the next level. We are already looking at progressive platforms to introduce to the Clinic that helps make the experience more user friendly for parents and integrative for the team."
Greg Swan, President of the Board of Directors, said: "We are excited that Dr. Pearman has agreed to join The Reading Clinic team. Dr. Pearman's broad range of professional experience and passion for education will be instrumental as we build on the well-established foundation of excellence here at the Reading Clinic.
"On behalf of the Board, Trustees, staff, tutors and numerous volunteers, I would like to express our sincere appreciation to Dr. Glenn Faries for all he has done during his tenure as Executive Director with the Reading Clinic.
"His dedication, work ethic, professionalism and commitment to excellence has played an integral part in ensuring the Reading Clinic will be recognised as a charitable organisation and community service provider that Bermuda can continue to be proud of."
"Dr. Faries, who is retiring from full-time work for personal and family reasons, said: "My time at The Reading Clinic has been one of tremendous personal and professional growth. I am a big believer in the concept of lifelong learning and was happy to be able to continue to embrace that concept even at this stage of my career.
"The Clinic has been a great place to work, due in large part to the tremendous team spirit of trustees, board members, tutors, parents, volunteers, and especially the amazing staff, who all carry the philosophy that we are all in this together for the benefit of our students. Each person who has been a part of our staff at whatever level has been encouraged to use their own skills, strengths and style to build upon the foundation that others have laid before them. That keeps the organisation fresh, vibrant and always growing.
"I am proud and humbled to have been a part of that chain, and I am excited to see where Dr. Pearman will be taking the organisation from here. She brings a lot of strengths to the table, and I have every confidence that she will put her own stamp on things, make changes where they need to be made, and take The Reading Clinic to even higher heights."

Read More About