One year after George Floyd was murdered by former Minneapolis police officer Derek Chauvin, the U.S. Consulate in Bermuda observed 9 minutes and 29 seconds of silence to "honor his life" and to "acknowledge how far we need to go for a more just and equal United States."
The U.S Consulate tweeted the photo below, saying: "For 9 minutes and 29 seconds, we stand in silence to reflect on the death of George Floyd. One year later, we honor his life and acknowledge how far we need to go for a more just and equal United States."
Last year on May 25th, Mr Floyd was murdered by former Minneapolis police officer Derek Chauvin, with Chauvin kneeling on Mr Floyd for nine minutes and 29 seconds. Chauvin has been found guilty of murder and manslaughter, and is scheduled to be sentenced next month.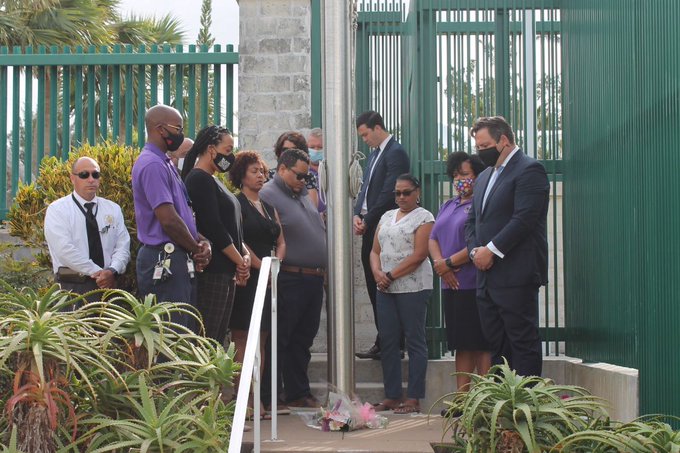 "As the nation honored the life of George Floyd with memorial events and marches, Floyd's family and supporters said they have been encouraged by the progress made in the year since he was murdered by a Minneapolis police officer," CNN reported.
"From Dallas to Washington, DC, to Minneapolis, Floyd's name is echoing across the country in recognition of a man who has become a symbol in the fight for racial equality and police reform.
"Several members of Floyd's family, including Floyd's daughter Gianna, Gianna's mother, Roxie Washington, and his brother Philonise Floyd were in Washington to meet with President Joe Biden, House Speaker Nancy Pelosi and other lawmakers."
President Joe Biden released a statement saying the Floyd family has shown "extraordinary courage" over the last year."
"Although it has been one year since their beloved brother and father was murdered, for the family — for any family experiencing a profound loss — the first year can still feel like they got the news a few seconds ago," President Biden wrote. "And they've had to relive that pain and grief each and every time those horrific 9 minutes and 29 seconds have been replayed."
Read More About