Condé Nast Traveler – one of the world's leading luxury travel publications – recently reviewed Bermuda's St. Regis Resort.
The Condé Nast Traveler website said, "This is rest and relaxation on repeat: Spend a glorious few days parked on this boomerang of perfect pink sand, where the ocean—and a top-notch cocktail—are never more than a minute away.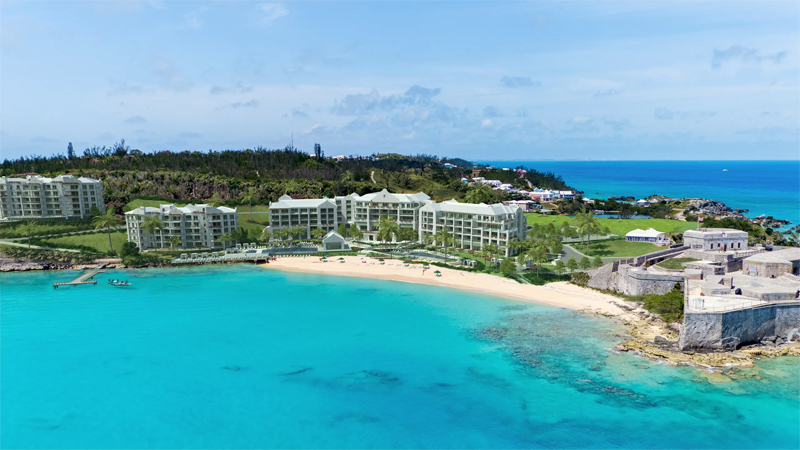 "If you're aching for an easy but high-caliber dose of down-time—one where you can practically roll out of bed and onto the beach and have a foamy cocktail placed in your hand just a few minutes later—this new St. Regis fits the bill, and then some.
"Away from the buzzy harborfront of Hamilton, the St. Regis's location—on a quiet beach on St. George's Island, on the northeast tip of Bermuda—feels right on brand for the hotel's low-key, laidback feel. Far from late-night revelry and shots on the beach, this is a place for languorous days around the infinity pool, sprawled across cushioned lounge chairs with a Dark and Stormy in one hand and a Rachel Cusk novel in the other, and long, slow dinners overlooking the ocean.
"There's an 18-hole Robert Trent Jones Sr.-designed golf course, too, just across the way from the resort's main entrance, so you'll find a cadre of 30- and 40-somethings, decked out in sweat-wicking baseball caps and short-sleeve polos swaggering back from a day of play, along with young families meeting up with other young families, and couples celebrating or just taking a long weekend from the East Coast.
"There were a lot of babymooners in particular, but it made perfect sense: it's an easy trip, and though it's an island resort, hardcore drinking and partying isn't really on the menu. Sure, the cocktails are great and you can sip them to your heart's content, but at its core, this place is really all about R&R. All you have to do is get yourself here, and they'll take care of the rest."
You can read the full story here on Condé Nast Traveler.

Read More About