Twenty-one young women recently completed the 'She Leads: A Real-World Readiness Programme' after a week of "guided workshops, inspiring speakers and personal reflection at BHS."
A spokesperson said, "Earlier this month, 21 young women completed the 'She Leads: A Real-World Readiness Programme' after a week of guided workshops, inspiring speakers and personal reflection at BHS.
"This public/private partnership was offered to students from BHS, The Berkeley Institute and CedarBridge Academy in their penultimate year of high school through generous sponsorship from HSBC. The week-long programme was designed to teach the young women coping skills for stress, boost their confidence, strengthen their resilience and ultimately build their leadership skills."
One of the coaching groups during the WeSpeak boot camp: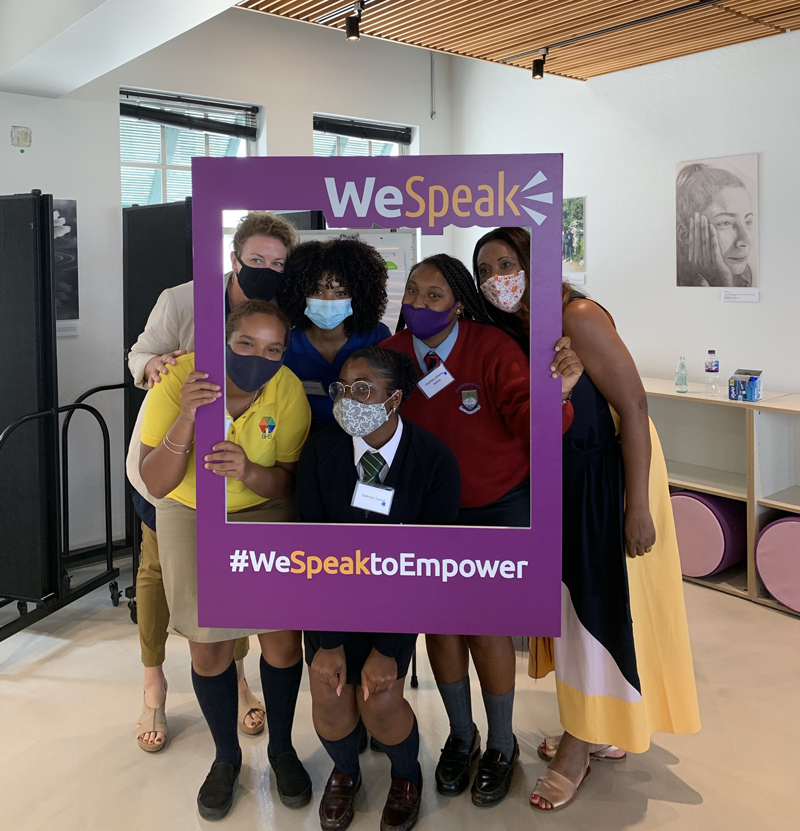 She Leads Coordinator Julie Butler said, "We were thrilled to be able to welcome the students to the BHS campus for the week. These young women learned from inspiring women in our local community who shared their stories, experiences and expertise over five days.
"As well as learning the tools, frameworks and mindsets they need to be successful, an additional positive aspect of the She Leads Programme is the connections these young women made with each other throughout their time together.
"New friendships were formed and as we grow the programme over the years, these She Leads "graduates" will form an invaluable network of women who will support each other in their careers and beyond."
The spokesperson said, "During the course of the week, a range of women from the local community shared their stories and offered advice and tools to inspire the students and equip them with strategies for success.
"Suzanne Khan, of Naked Zero, spoke about the importance of making decisions today to shape their futures and in how to create a life that reflects their values and passions. Lorrie Peniston, of Synergy Ltd., helped the girls discover their personality strengths, how to use them in order to build their resilience and how to engage with positive emotions to improve their overall well-being.
"In a virtual session, Shelle Hendrickson, Head of Healthcare Bermuda, AXA XL, shared ways for the girls to make their own opportunities through the i3 Opportunity AccelerateHER framework.
The HSBC women with the group after their financial literacy workshop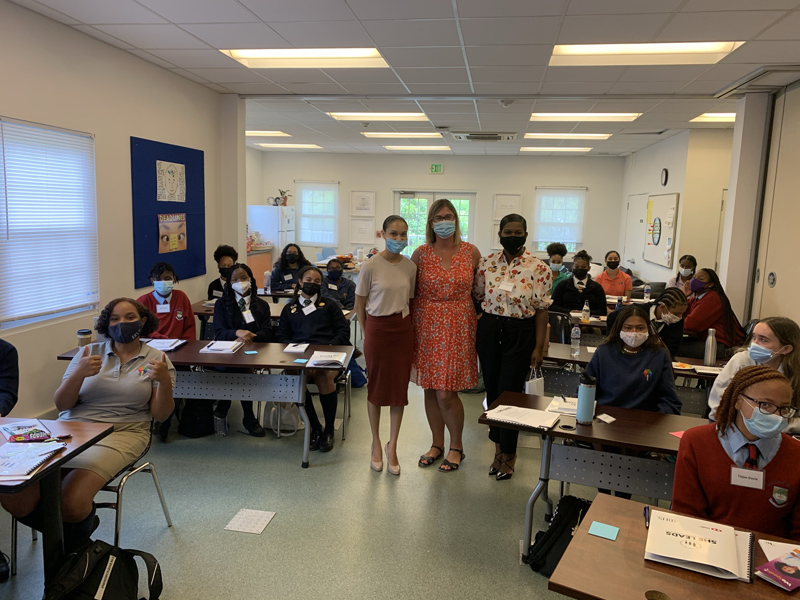 "In a three-hour boot camp on Tuesday morning, 14 coaches from WeSpeak volunteered their time to teach the girls invaluable public speaking skills. The transformation in some of the students from the beginning to the end was remarkable – with one standing up and stating, 'I walked in here with no confidence at all, and I'm really walking out of here with more confidence than I ever thought I would have.'
"The experience was not only informative but fun, as Patrina O'Connor, aka Power Girl, MC'd the morning, encouraging the girls to power pose and be proud of themselves and own the room. For the students, the impact of their time with the WeSpeak coaches, women from all sectors of the community, helped them realise the power of networking, believe in their abilities and own their right to be heard.
"As well as offering financial support to run the programme, HSBC also facilitated a workshop during the week on Financial Literacy. Tanya Bule, Head of Wealth and Personal Banking, Selita Daniels, Premier Relationship Manager and Keisha Burgess-Davis, Wealth Sales Manager, Premier, walked the students through the basics of budgeting, saving, planning and investing for their futures."
The girls after their workout with Eilidh Franklin of Beyond Fitness Bermuda: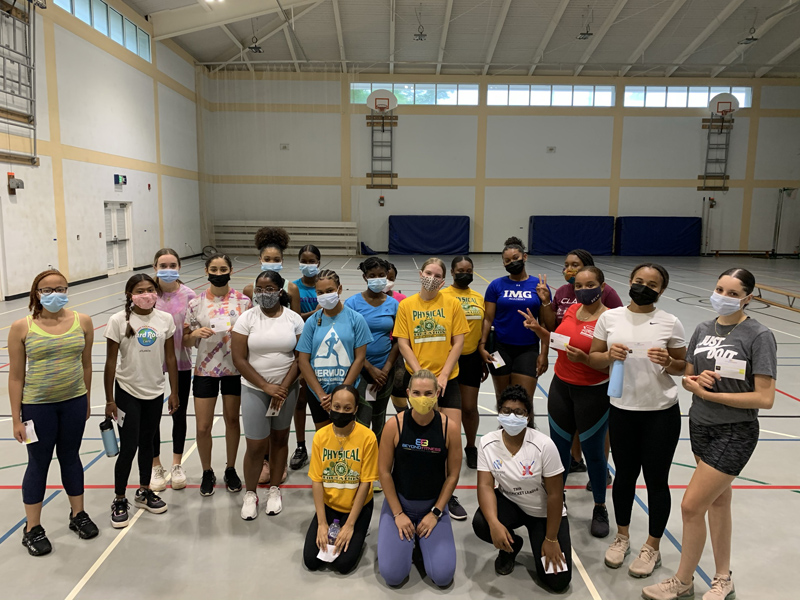 Judy Doidge, the HSBC Bermuda Executive Sponsor of the She Leads Programme, said, "When BHS first approached HSBC with the concept of a young woman's leadership conference two years ago, we were excited about the possibility of an initiative, offering 30 students from BHS, The Berkeley Institute and Cedarbridge Academy the opportunity to integrate with and learn from one another while building relationships.
"At HSBC Bermuda we believe that this particular initiative has been an excellent opportunity to help break down some of the barriers and stereotypes encountered by students in relation to public versus private schools in Bermuda. We are proud to be a part of this forward-thinking and important initiative."
Socially distanced photo of the 2021 cohort: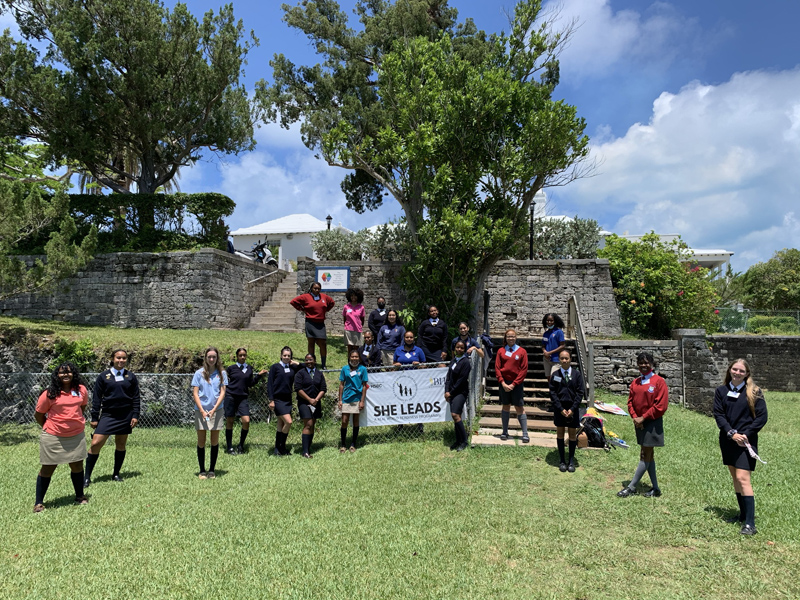 "Other workshops included Crushing Your Inner Critic and Unleashing Your Inner Confidence, How To Quit Overthinking, Nerves and Networking, Optimise Your Time, Your Energy and Your life and a workout with Eilidh Franklin of Beyond Fitness, Bermuda, who talked about the importance of prioritising health and self-care.
"On the final day, She Leads invited Danielle Paynter, Director of Corporate Affairs, Bacardi and founder of the Nab App, to speak with the students about personal branding. Ms. Paynter also shared invaluable advice about the importance of networking and interviewing.
"The final workshop was a panel discussion entitled 'Leading by Example. How to Take Risks and Bounce Back from Challenges' and three speakers shared their career paths and advice with the girls; Christine Dailey of Beyond Fitness, Bermuda; Joanna Stapff, 1609 Jewellery and Jasmine DeSilva, Horseshoe.
:These women had very different career paths but shared a common message of belief in one's goals, their ability to learn from challenges and the importance of relying on their networks for advice and a push, when needed.
Entire group on the stage at BUEI after their final presentations, flanked by Shirley Kelly of BHS on the left and Cindy Smith of the Berkeley Instituted on the right: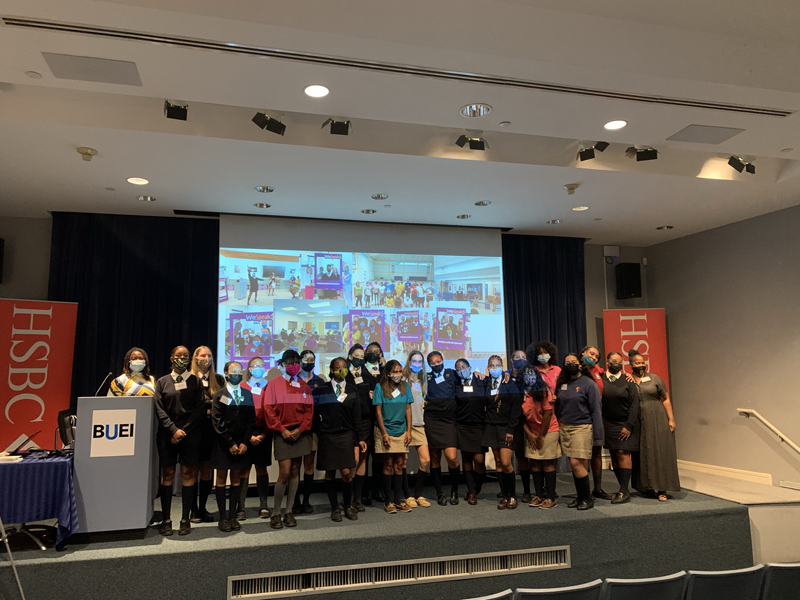 "For their final presentations, a small COVID-friendly event was held at BUEI with the students, and a few invited guests, which included Linda Parker, Head of BHS, Keisha Douglas, Principal of the Berkeley Institute, Kenneth Caesar, Principal of CedarBridge, Judy Doidge of HSBC Bermuda and She Leads creator, Christie Hunter-Arscott."
She Leads Teacher, Shirley Kelly, said, "I love working with young people – it gives me a peek over the horizon and what is coming down the road before everyone else. These young ladies have had a real world-readiness week.
"They have interacted with amazing, powerful, inspirational and kind women on how to become the leaders they already are inside, and they have built a community that is enviable. From my peek over the horizon – our future is bright!"
The spokesperson said, "The girls presented their group and personal projects, and displayed the skills they had learned during the week. They were confident and poised, with each one remarking on the invaluable lessons they had learned."
One student said, "This experience has taught me so much; not just educational but personal. The skills I have learned this past week, the people I have met and everything I have gained all add to me being the best me I can be right now and I am so grateful for this amazing opportunity. I look forward to sharing everything I have learned with others."
Student during one of the workshops: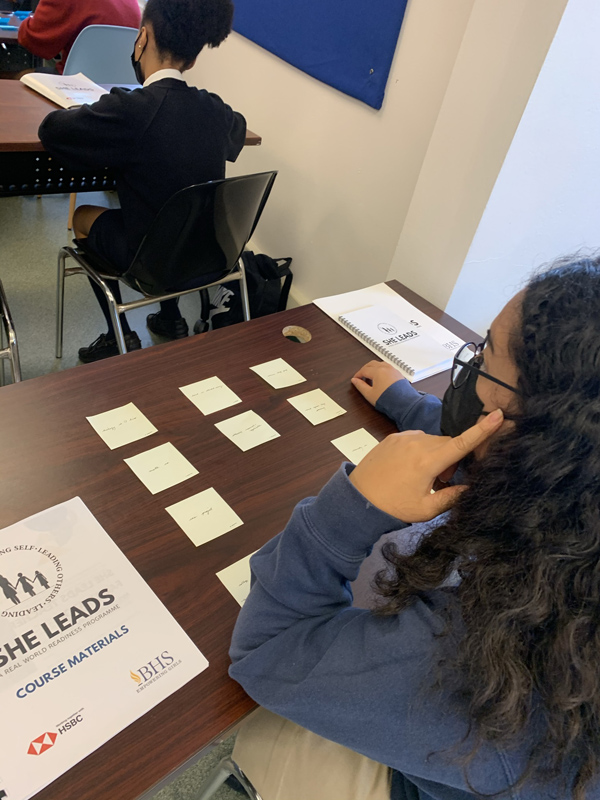 Head of BHS, Linda Parker, said, "Thank you to HSBC for fiscally supporting this programme which empowers young women and gives them the tools to be successful in the real world. This programme is phenomenal and it is so lovely for our BHS young women to be shoulder to shoulder with young women from Berkeley and CedarBridge.
"You have all shown your potential today and I am so proud of each and every one of you – you took it on with open eyes, open hearts and open minds. Congratulations to you all."
The spokesperson said, "Having completed the course, the students will return to their schools in September and share the course materials and topic guides with their peers. This unique student-to-facilitator progression means that more young women will be able to benefit from the course materials, and it will give participants an additional opportunity to deepen their learning, develop their leadership skills and put those skills into practice.
"The girls will also meet up throughout the school year for further workshops and to foster the connections and network they created during the week.
"Applications for the 2022 She Leads Programme will open in April 2022. For more information on the programme, please contact She Leads Coordinator, Julie Butler, at jbutler@bhs.bm."

Read More About